On January 3, 2004 we left Fair Lawn for Florida. Our first night out was spent in Virginia between Washington D.C. and Richmond at Paramount's King Dominion. The amusement park was closed but the campground was open on the honor system. We never saw an attendant just a sign that said leave cash or a check. We left a check. It was a balmy night we had dinner and I flushed the antifreeze out of our water system. In the morning we headed further south and stopped for the night at Santee State Park in South Carolina. Before we started camping at Santee SP we would pull in to the rest stop just below the exit, go out the back fence and walk 3 miles on an old bridge over Lake Marion. In fact we didn't start camping here until they began locking the back gate. From Santee we drove down through the remainder of South Carolina, through Georgia and stopped for orange and grapefruit juice at the Florida welcome center. Then we stopped for the day in a private campground just off I95 in Daytona. After setting up the trailer we drove over, parked and walked about 5 miles on the beach. After Daytona we camped for a night at John Prince County Park in Lake Worth. Debby bought a bushel of grapefruit at Palm Beach Grove a few miles away. I'm on Lipitor and grapefruit is contraindicated. In the morning we continued going South and camped below Miami at the Miami/Everglades KOA where I was able to connect to the internet through WIFI using my airport card and paying $5.
On the morning of the eighth we drove over to Robert's our favorite produce stand. Robert started as a child with a little produce stand at the edge of his father's farm. The stand has grown to a full fledged business. We bought some produce and some Thai peanut sauce. We also had Key Lime shakes and bought a Key Lime pie. The pie would last about two weeks. We always buy several pies at Robert's but we only bought one this time because I wanted to lose some weight. After putting our produce and pie in the refrigerator, it's easy when you bring you house shopping with you, we continued the remaining 30 miles to John Pennekamp State Park.
This would not be our first stay at John Pennekamp another of the top 200 state parks in America. Reservations at Florida State parks can be made eleven months in advance. At Pennekamp and several others especially on the Keys must be made eleven months in advance for the winter months. The reservation office opens on line or phone at 8 A.M. Eastern Standard Time so while in California we were up at 5 A.M. Pacific Time. At about one minute after eight or five in our case all the available sites are gone. We were lucky and made reservations at all three of the Key's campgrounds with only one day in between. In order to accomplish this we had to make 4 phone calls all at 5 A.M. in the morning but it was worth it.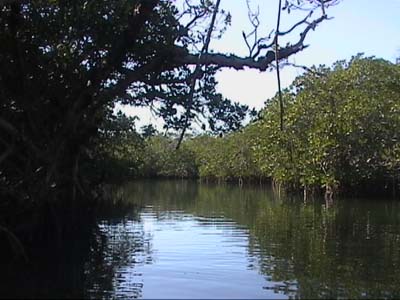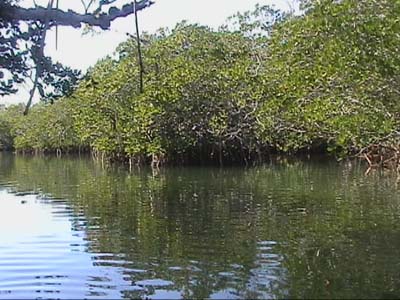 Canoe Trail at Pennekamp
The beach at Pennekamp is not the best and we have to walk on the bike path along the Oversea highway but the sun,weather and snorkeling is superb. There is an old ship wreck with ship parts and guns that are just off the beach. Ninety five percent of the park is underwater. As the first underwater park in the United States it protects approximately 70 square miles of coral reefs, sea grass beds and mangrove swamps. Except for a dip and snorkeling from the beach we stayed on the dry uplands working on our tans at the beach, smoozing with people at the campground and friends from the old neighborhood who visited. Last time we took the glass bottom boat and rented a spyak (kayak with a glass bottom).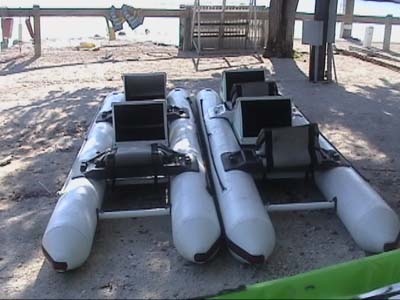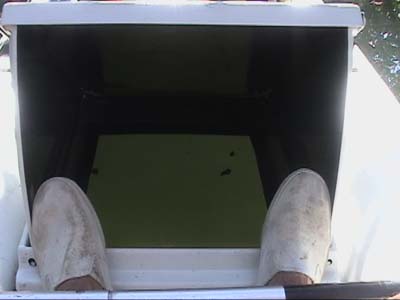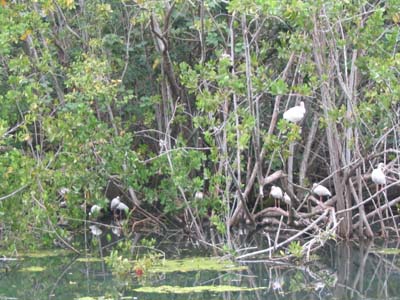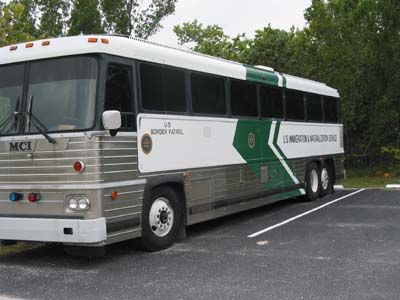 The Ibis are hanging out in the campground and the Boarder Patrol "Black Maria" is usually parked at the John Pennekamp Marina. You didn't know that Florida was a border state but it is the coast of choice for many illegal aliens. According to some campers people from Miami come to the park to party on the beach and when they leave there are some who come by boat and leave by car.
While at John Pennekamp we also visited Biscayne Bay National Park which is also mainly in the water so we took a boat out to Boca Chita Key.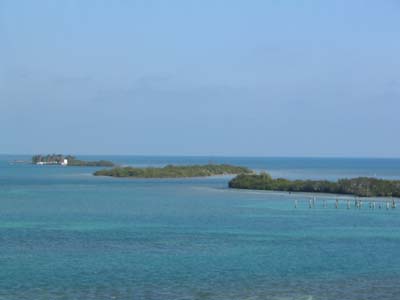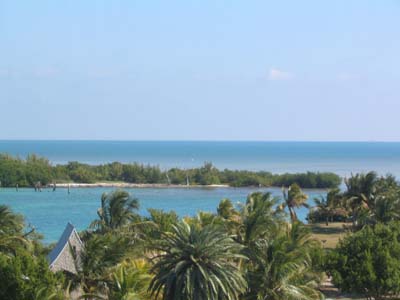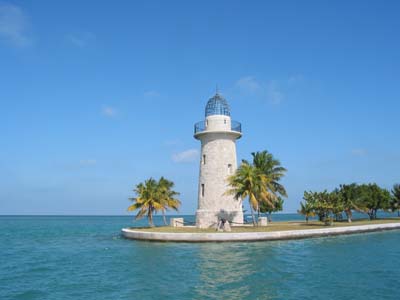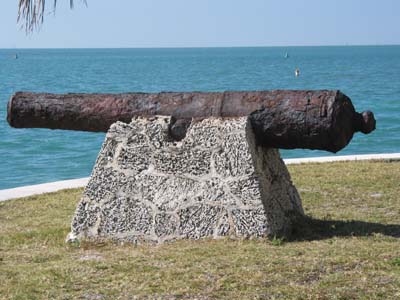 At the end of our two week stay we spent a night at a private campground just below the park and I had the opportunity to use their modem connection for bill paying, statement downloading and money transfer. The next day we headed South on the Oversea Highway and went to Bahia Honda State Park.