Albuquerque is quite similar to other American Southern cities with tall buildings, a depressed downtown struggling for rebirth and a growing retirement community. Albuquerque's history is entirely different then Santa Fe. The original town now called "Old Town" was close to the Rio Grande River but when the railroads came they built the station to the east so the entire town moved over and "Old Town" languished. Then someone decided to revitalize it, restore its adobe colonial period look and set up small shops and restaurants to attract the tourist trade. We took a walking tour of old town and stopped for nachos at a restaurant but it wasn't as impressive as Santa Fe. In fact the walking tour is free with a modest entry fee to the Albuquerque Museum."Old Town" is not the depressed downtown working on rebirth that is further west. We visited there also just to stop in and work through the New Mexico Holocaust Museum. A small store front museum with posters and few original artifacts except for a "shower head" on loan from another museum. The visit was worthwhile, if unsettling. The museum also had a section devoted to the Greek and Armenian exterminations as well as several Native American Massacres. There is no admission charge but we made a donation anyway. While there Debby asked a volunteer and director about the two restaurants we had chosen from Zagats. there were no Southwestern restaurants listed and we weren't very enthusiastic about these two. The volunteer suggested another restaurant which had not been listed in Zagats where her son was the chef. we took a ride over to one of the ones from Zagats and the one suggested by the volunteer and selected the latter. The High Noon Restaurant and Saloon is located in Old Town, Albuquerque in a building built in 1785. Luckily the meal was somewhat fresher and quite delicious. When I get internet access I will certainly add a rating to Zagats. I had a Grilled Salmon, with mixed fresh fruit couscous, glazed baby carrots finished with a lemon caper cream sauce. I wanted the dish Debby had but the pancake had sesame so it was a no no for me. It was Grilled Ahi Tuna on a Chinese pancake and braised Bok Choy finished with a pinot Noir reduction. We shared a Spanish salad with glazed apples, brandied currents, toasted hazelnuts and blue cheese topped with seasoned fruit chutney vinaigrette. We also shared an crab cake appetizer with sweet lump crabmeat breaded then fried with grilled pineapple salsa and chipolte aloili.
While in Albuquerque we visited the Petroglyph National Monument which is at the outskirts of the city.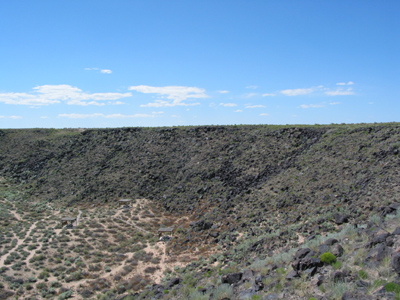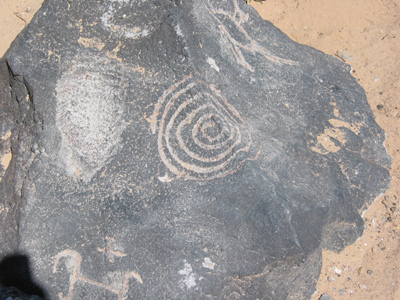 We left Albuquerque for Mountainair, NM and a meeting with Linda the Marketing Rep for Heritage Ranch. Heritage Ranch is a new concept to sell subdivisions 20 to 40 acres on working ranches in New Mexico. The sub divisions come with water, electric, phone and DSL service and a conservation easement prohibiting further division. It is the responsibility of the purchaser to build a one story house in earth tones minimum 1600 sq ft on the property in a location selected by the seller to be hidden from the other subdivisions dwelling. Each of the ranches is a working ranch and homeowners can participate in ranch activities. One of the ranches is a wildlife preserve with reintroduced wolves other ranches have areas involved in archeological project. Several ranches are located close to National Forests., the Cibolla and Gilla and Mountainair has a population of 1170 and the Visitors Center of the Salinas Pueblo Missions National Monument but not much else. On the other hand it appears to be growing maybe in a few years it will have a sizable population for now however a decent supermarket is an hour and a half away in Albuquerque. After viewing the properties with gorgeous views in mountainair we drove over to the Corona Ranch. Corona is smaller then Mountainair and we spent the night in our trailer at the ranch. They have a guest house but it was otherwise occupied during our visit. The next day during our morning walk we met one of the residents who was from Chicago. We had an interesting talk about life at Corona Ranch. After breakfast Linda came by and took us to several of the 40 acre subdivisions and gave us all the appropriate paperwork.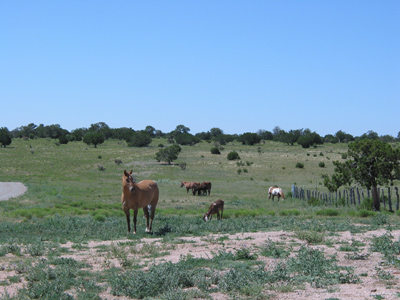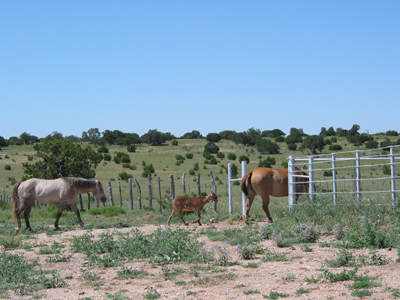 We left Corona Ranch that afternoon and camped for the night at the Santa Rosa Reservoir State Park a Corp of Engineers Dam and ark operated by the State.
I woke up the next morning with excruciating pain in my right side. I tried to walk it off but was unsuccessful so we hooked up the trailer and drove to the hospital in Santa Rosa. They examined me in the ER and determined I had a Kidney Stone so they admitted me to the hospital. I was hooked up to IV's and spent that day and half of the next trying to pass the stone. Debby spent the night in the trailer in the parking lot of this small county hospital. The county has three doctors and they all work out of this one small hospital. They took ultra sounds and a CAT scan and sent me on my way with a prescription for Antibiotics and the recommendation that I see a Urologist within 7 to 14 days. In the meantime Debby walked around the town's swimming area and lake called Blue Hole. It was quite a pleasant swimming area and a local scuba attraction. Debby wasn't to happy with the thought of buying the land in New Mexico and my hospital visit put the finishing touches on that idea.