After Springfield, we drove to Starved Rock State Park. You may remember we stayed there on our trip out. By this time my pain and discomfort had subsided so I joined Debby in walking the canal trail. From there we drove to the Lazy Days Campground in West Bend, Wisconsin where we were to spend the weekend with Michael, Jennie and the kids along with both dogs.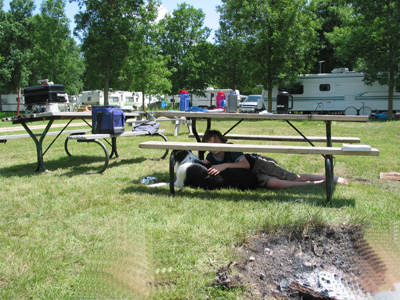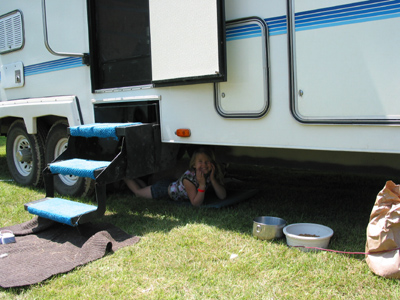 On Saturday we hung around the campground while Michael and Jennie went to check out a local "timber framed covered bridge".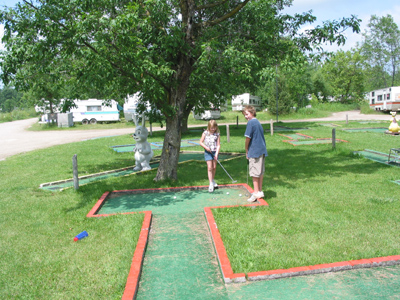 That night we had dinner and sat around a campfire. On Sunday Michael, Jennie and Leah took the dogs and headed home to visit the Dane County Fair to pick up some ribbons the kids had won through their Four H activities. Debby, Jesse and I went to visit The Wisconsin Family Farm. The farm a pre modern era 1800's farm would have been a complete bust as it was geared towards younger children then Jesse's eleven years but we gave him Debby's camera to practice his technique.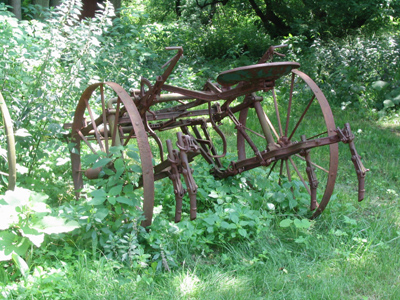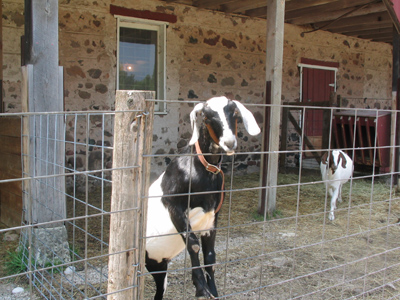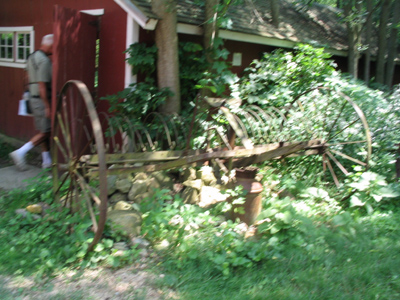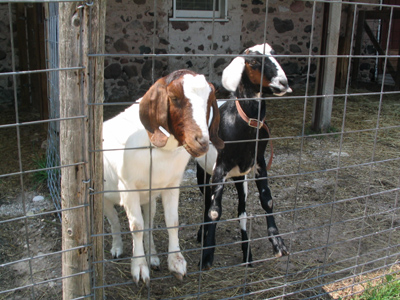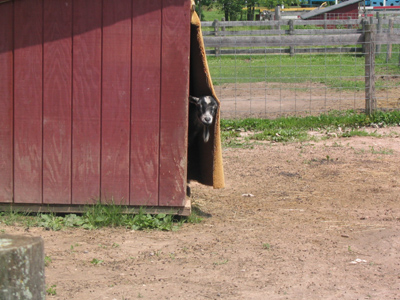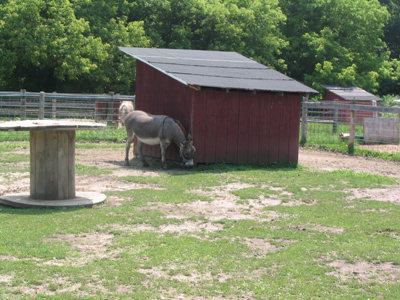 On the way the the farm we got lost and ended up at the same "timber framed covered bridge" that Michael was interested in.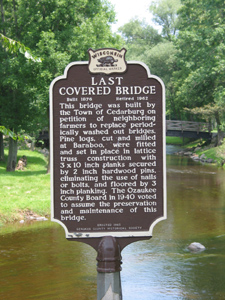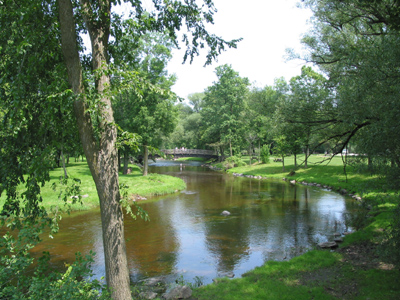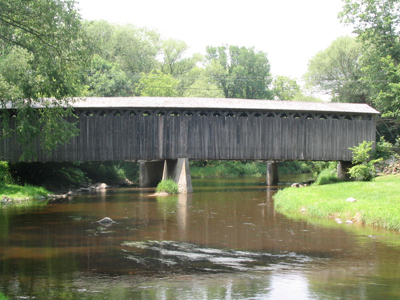 The town adjacent to the bridge was very quaint and gave us the opportunity to sample the local ice cream.
After dinner at the campground we went to the River Walk in the town of West Bend and walked from were we parked the truck to a soft serve ice cream store. Jesse took some more pictures including some self portraits.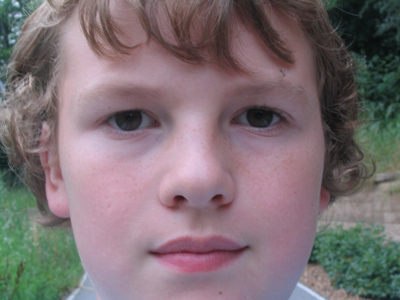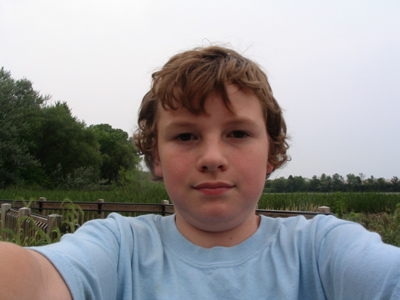 As well as an uncomplimentary picture of me and one of my back.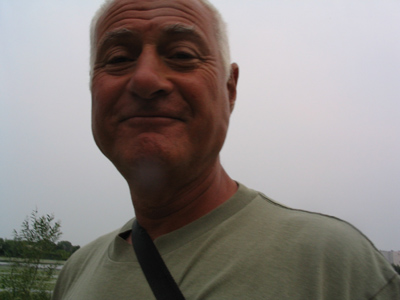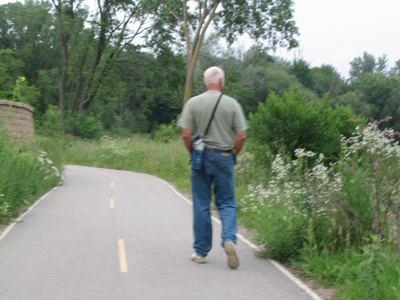 Those of you who knew me when, will notice that the nick name regarding my anatomy still describes me.
David Ganzler's 1992 "Tableau in Steel" displayed in Regner Park, West Bend, WI
The week prior to our visit to lazy Days Campground was very rainy and wet. While the weather during our visit was sunny and pleasant the ground was still wet. As we tried to pull out of the site we sank into the mud. We made several failed attempts with help from neighbors and wood under my tires to get out of the site before some campground employees came over and pulled us out with a tractor. Sorry I don't have pictures. After being freed with mud coated tires we drove up State to High Cliff State on Lake Winebago just across the river from Oshkosh. The next day the three of us drove into Appleton, WI to meet Jennie and Leah at the Harry Houdini Museum. It seems Harry's father was a Rabbi in Appleton when Harry was a young boy although he was born in Budapest and only spent a few years in Appleton he claimed that he had been born there. It was a very interesting museum with news clippings, pictures and hands on demonstrations tricks. Many modern day magicians are opposed to the museum because they describe how he performed his tricks. We enjoyed the visit. Jennie returned home and the four of us went shopping with a stop at Culver's for soft serve ice cream. Culver's makes the best soft serve ice cream we have ever had, the chocolate is to die for. The company started in Wisconsin but has spread to many neighboring states. I hope it doesn't come to New Jersey because I will, quickly reach 300 pounds.
High Cliff State Park is a pleasant park built on the limestone cliffs overlooking lake Winebago. We explored the park but couldn't swim in the lake.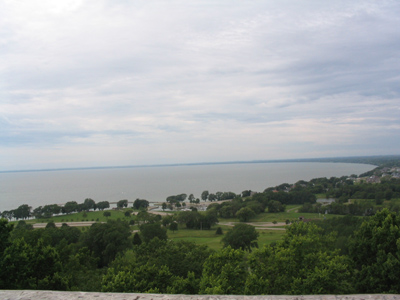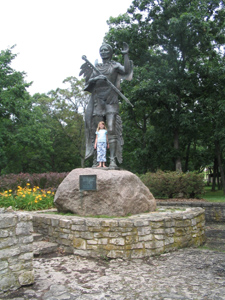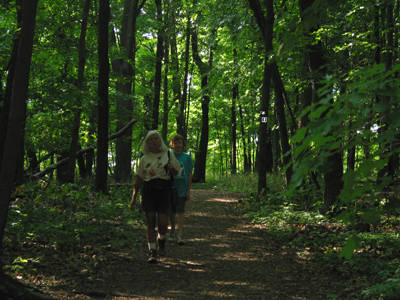 The lake was off limits because of an attack of green algae. Instead, we went to a nearby town to a municipal swimming pool. We also spent one day hanging around the campground with sporadic rain. During one of the dry spells we were able to make some clay pots using clay from an Artifact kit, designed to mimic Native American pottery.The eventual goal was to cure the pottery in a fire and after drying we put it in a fire with stones for added even heat. Unfortunately, the rocks that we used blew up in the heat of the fire and destroyed our pieces which were now actual artifacts.
After dropping off the kids Debby and I headed home so I could visit my doctors and resolve this kidney stone thing.