After several weeks of not knowing what was going on with my body having an x-ray and an IVP I was told that I must have passed the stone in my right kidney but that I now had a small stone in my left kidney which was too small to do anything with. The next day we drove down to the Atlantic City area picked up our trailer and started a mini trip.
We started our trip at Birch Grove Park in Northfield, NJ. We have been going to this municipal park and campground for over 30 years. From this park we go to the Atlantic City beach, restaurants and casinos. This trip we didn't go to any casinos but we did go to a restaurant with friends. It was a new restaurant for us one with a 23 Zagat's rating. While there are some 23 rated restaurants that I would go back to, Girasole isn't one of them. The food was good but it was pricey and not worth it. Our decision to go out with friends was a last minute thing so we didn't have many choices.
From Atlantic City we drove down to Chincoteague, Virginia a barrier island. We had another flat tire on this trip but the trip down was otherwise uneventful. There is really nothing on Chincoteagu itself but it is the entrance to the Virginia side of Assateague Island home of the Chincoteague Wildlife Refuge and a great Atlantic Ocean beach. We camped at Tom's Cove Park Campground and were surprised to realize that we had camped here many years before when we first discovered Chincoteague, Misty the Chincoteague Pony and almost lost Richard at the fireman's auction and fair.
We took our morning walks on the refuge and went to the beach in the afternoons. While at the refuge we noticed two things by their absence. One was the Chincoteague ponies and the other was their droppings. We asked at the Refuge and were told that the ponies no longer had the run of the Island but were kept behind a fenced area because of people getting hurt trying to feed and pet the horses.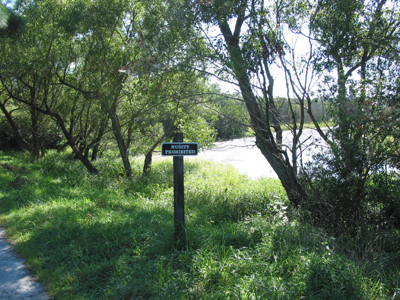 I don't know if you can read the "Nudity Prohibited" sign but we were surprised and asked the Ranger who told us that Playboy once had an article claiming that the beach at the refuge was a good place for nude sunbathing.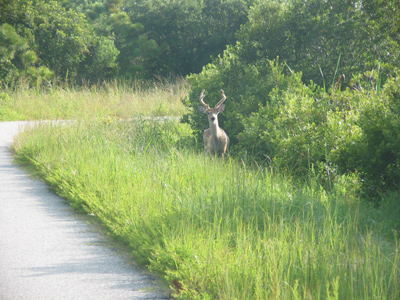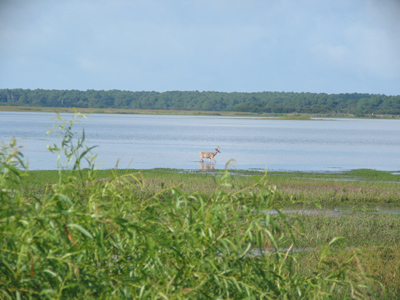 On one of our walks we spotted a stag who seemed to cross the refuge in view of the road that we were walking on.
From Chincoteague we drove up to the Maryland side of Assateague and camped at the Assateague National Seashore. We had a lovely site complete with horses and horse droppings. The horses even joined us on the beach.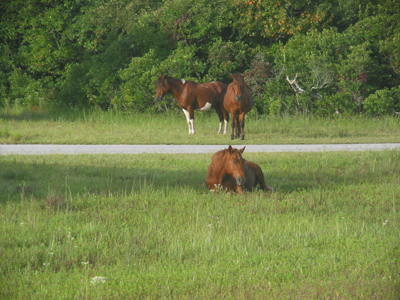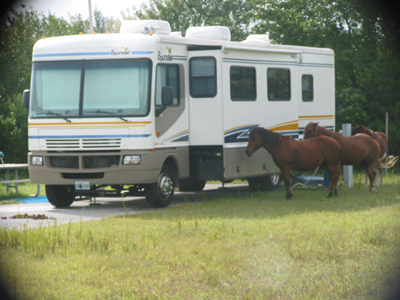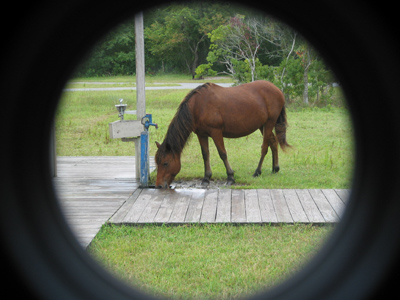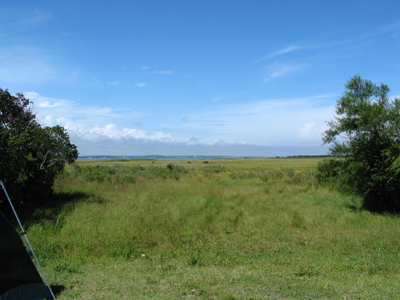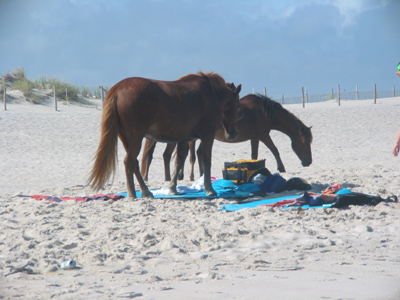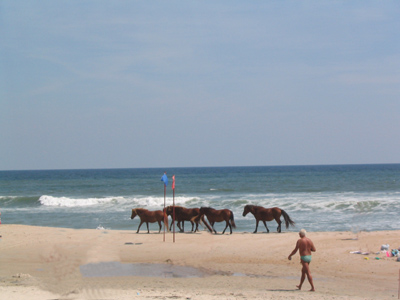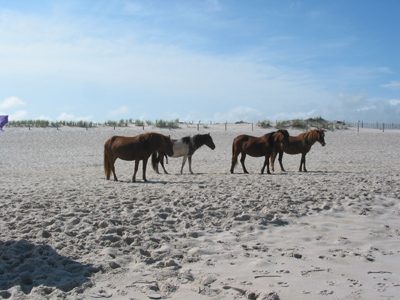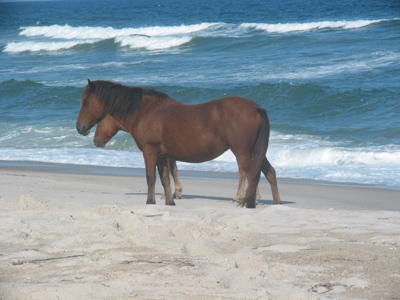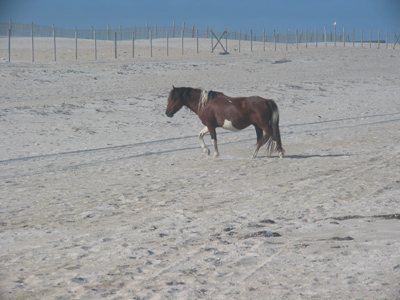 The island even has an extensive heard of Formosa Sica Deer as well as a handful of white tail deer.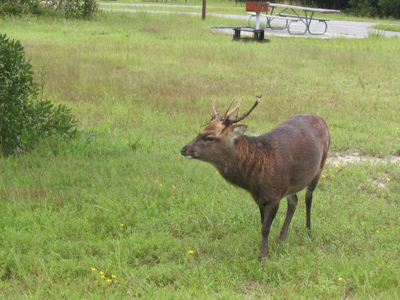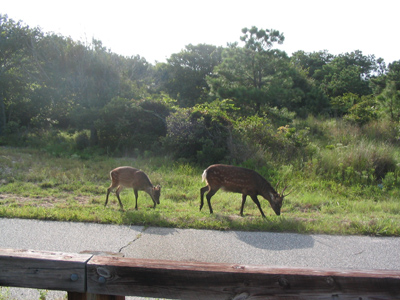 The island has a three mile bicycle path which we walked in the mornings except for the one day we went to Ocean City, MD and walked on the boardwalk. We also went out to dinner one night to an Ocean City restaurant that is somewhat of a favorite of ours. Zagat's doesn't rate Ocean City Restaurants but the triple A gives them 3 diamonds. In their own word which are better then mine and true " A magical and fun culinary experience - A sensual explosion of color and artsy atmosphere, high energy whimsical architectural design and the boldest and hottest menu on Maryland's Eastern Shore...the Galaxy's menu changes daily reflecting the region's freshest ingredients and latest catch to the locally grown vegetables and herbs... The culinary staff's adventurous approach showcases every course from appetizer through dessert... Galaxy is a singular and unique experience in a series of surprises that await each guest."

We shared a salad of Baby spinach, crisp bacon, Vidal;ia onions, spiced peanuts and local blueberry vinaigrette topped with banana fritter. I had Smith Island crab cakes, crispy roasted corn polenta cake and local squash and tomato ragu and Debby had Broiled Chilean Sea Bass, mashed white sweet potatoes, yazu creame sauce and sauteed Provident farms organic eggplant.

We each had a separate fancy dessert, Debby didn't care for her amaretto ice cream in a pastry cup while I sort of enjoyed my cinnamon ice cream and beach dough sunday.

What more can I say except that we have been to this restaurant severtal times over a number of years and have been pleased each time we went. from Assategyue we returned to Birch Grove Park for the labor day weekend and then went home.

The RV Lifestyle | August 20, 2004 - September 7, 2004