We left Croton Point Park on June 30 and headed North. While on 495 near Lawrence Mass there was an accident right in front of us and a car with three passengers flipped over. Surprisingly they were all Ok. People in other cars stopped and flipped the car back upright. Since I was the next vehicle behind them my Dash Cam recorded the whole crash. I gave the mini chip to the State Trooper who promised to mail it back to me. He did and now that we are back in Croton and I got my mail here it is.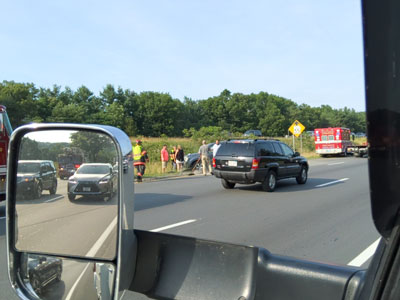 We continued on our way to Wells, Maine and Gregoire RV Park a frequent stop over for us on our way usually to Bar Harbor but not this time.

Next morning we up I 95 to Houlton, Me on the Canadian border and stayed in My Brothers Place, not my brother, not Debby's brother but a nice grassy camp ground of that name.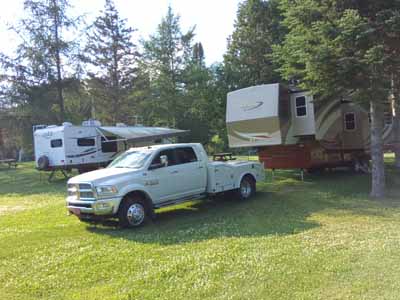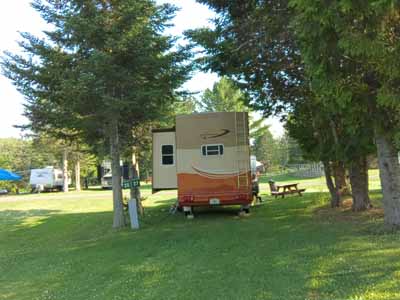 When we called from Florida to make the reservation the owner who answered the phone was in Tampa, Fl. I wonder what percentage of seasonal business people stay up North in the Winter?

The next day we crossed the border into Canada and as in the past it was uneventful although I had unlocked my cabinets on truck and trailer just in case.We also lost an hour as New Brunswick is on Atlantic Time. That night we stopped in Loch Lomane RV Park in Amherst, New Brunswick. I didn't know it when I planned it but Anne Murray the Canadian Country singer came from there and has a center for visitors unfortunately we didn't visit. I liked one of her songs something about getting up in the morning and nothing bad was happening in the world, Wish full thinking but a nice song.
The next morning July third and our 55th Anniversary we drove to North Sydney, Nova Scotia . Debby received several congratulatory phone calls as we drove. I only mention that because when we got to Newfoundland there was no phone service. We learned from Verizon tech support using my phone that they have no partners in most of Newfoundland. For that mater turns out they have no partners in New Brunswick either. The whole thing with Verizon turned out to be a real mess as she received emails from them notifying her of about $300 in excess charges. We called using my T- Mobile phone which we have also been using for internet and got them to credit her account. Every ?Verizon Representative we spoke to while in Newfoundland had a different story. Needless to say we aren't using her phone or our Mifi and Internet radio devices for the rest of our stay in Canada.

We pulled into the ferry terminal, took a short walk in town and went to dinner. Fortunately it was not the worst anniversary dinner we have had. Quite the contrary it was very good.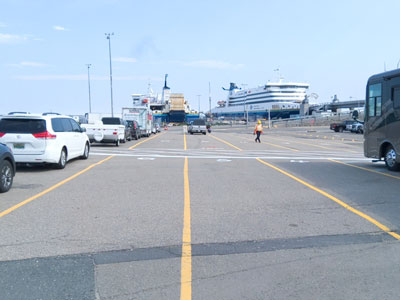 After dinner we returned to the Ferry terminal until it was time to board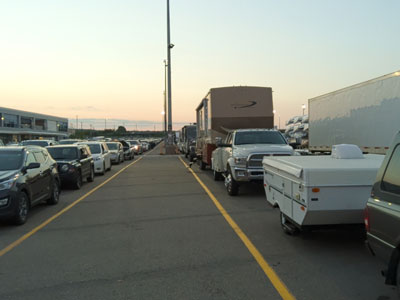 As you may know or not passengers cannot stay in their vehicles while on-board these ferries. Although we had booked a stateroom for the 14 hour return this was only a 7 hour crossing so we elected to spend it in one of the lounges and only catch's cat naps. A number of people with sleeping bags stretched out on the lounge floor although I have read that is not permissible.

When the ferry docked around 7 AM we had lost another half hour since Newfoundland is on its own time zone. Drove off the ferry and stopped at the visitors center before proceeding to the Codroy RV and Tent park for a two night stay.
After parking the trailer and eating breakfast at about lunch time we proceeded to the Codroy Valkyrie Wetlands Visitors Center. We took a nice walk on the wetlands but didn't see any wildlife.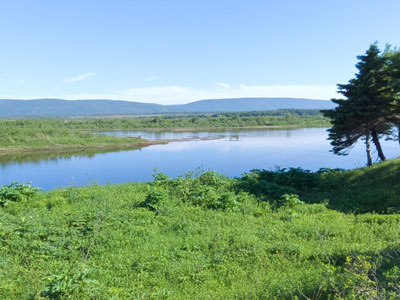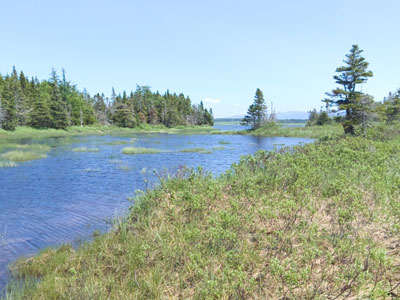 After the walk we drove to the Aguila light house and the most westerly point on Newfoundland.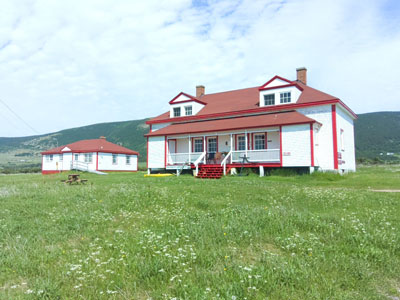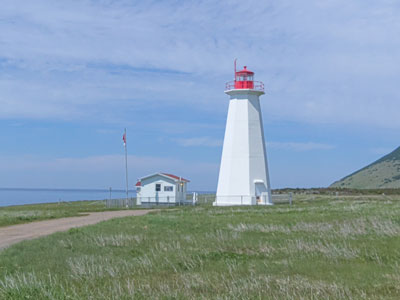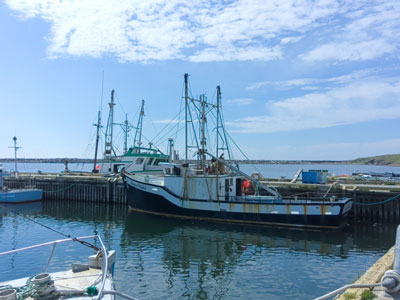 From their we went to the beach were plovers nest but didn't see any on the beach. We did meet and chat with several other tourists both Americans and Canadians before returning to the campground.
The next morning the 5th of July we drove back past Port Aux Basque and onto a scenic winding road to the lighthouse a rebuilt granite building. Possibly the only remaining granite lighthouses. After a brief walk up the hill we went into the light house. While there I climbed the circular staircase until I saw a ladder at the top and decided I wasn't going up there. Debby and I had a nice chat with the two young docents in the lighthouse.Canada hires high school and college students as docents for their Federal tourist attraction including the national parks in the summer. We had learned this during our last visit when we saw the operating the manual locks and bridges on the Ridou Canal.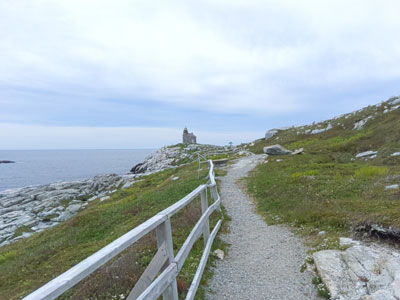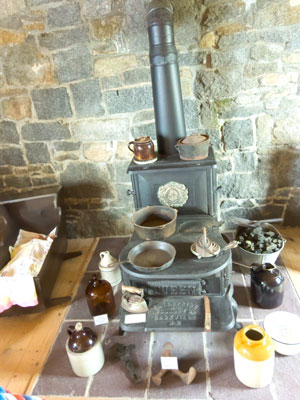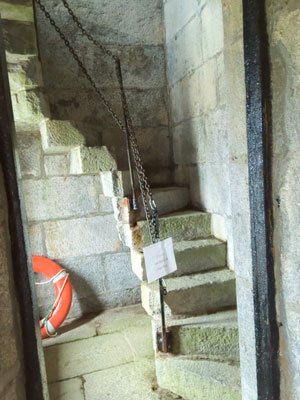 On the drive back we stopped and walked Barachois Falls and on Harvey's trail. George Harvey was a local hero who had saved shipwreck victims about 200 of them between 1828 and 1838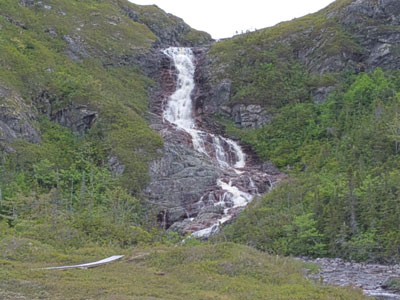 We went to a grocery store in Port Aux Basque for some produce unfortunately we didn't buy enough because there aren't any grocery stores in Gros Morne National Park but we didn't know that at the time. The next morning we went to the KOA in Rocky Harbor a short distance from the visitors center in Gros Morne National Park. Which we visited after setting up the trailer. From the visitors center we took a short drive into town and took a walk in a light drizzle on the bay.
The next day we drove about an hour to Woody Point on the other side of the bay and the Gros Morne National Park Discovery Center before proceeding to the Tablelands for a walk on the earths mantle. Except for the meager vegetation it looks more like the moon then the earth.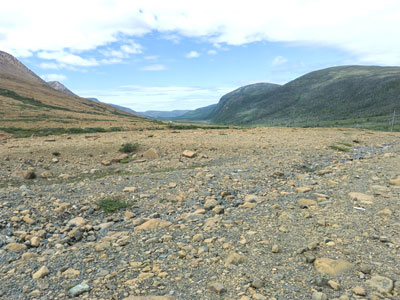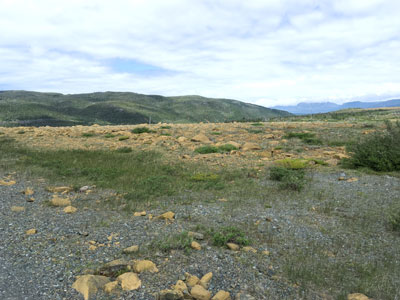 Before returning to the campground we took a brief walk to another waterfall.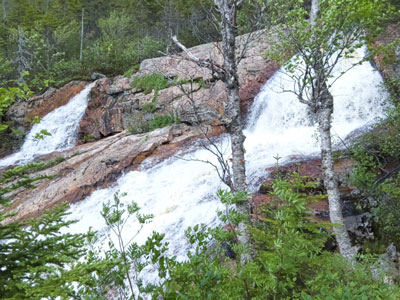 In the morning we drove to the Western Brook Pond (Some Pond) stopping for a brief walk on the beach and the last resting place of the S. S. Essie that had run aground on.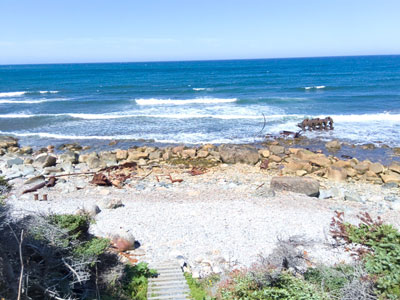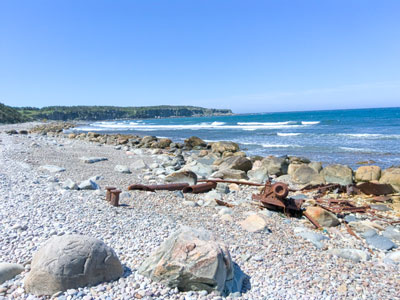 Then on to the pond parking lot from where walked about a mile and a half to the tour boat in this land locked fjord for a 2 hour cruise.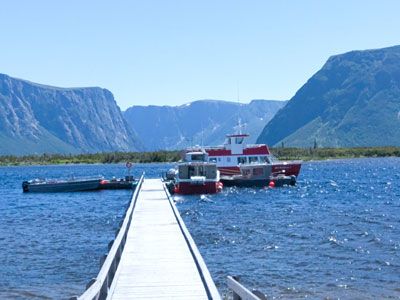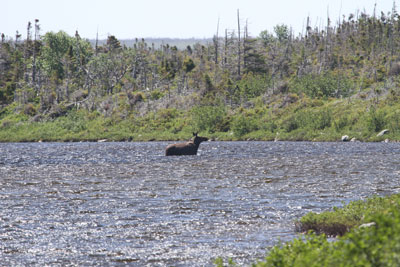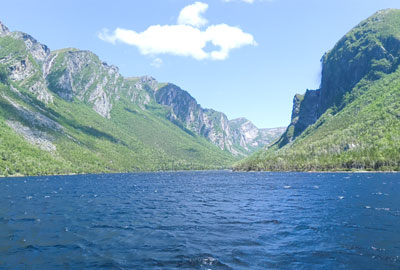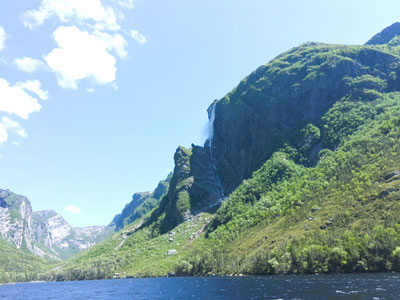 We returned to the Campground for dinner and then went to a cute child oriented program describing why Gros Morne is a World Heritage Site at the visitors center.
We were planning to drive about 50 miles North to Arches Provincial Park but decided to stop when we left Gros Morne instead we went to a geology talk at Green Point. Gros Morne is a UNESCO World Heritage Site partially for its contribution to the modern theory of plate tectonics. There is a weathered Plaque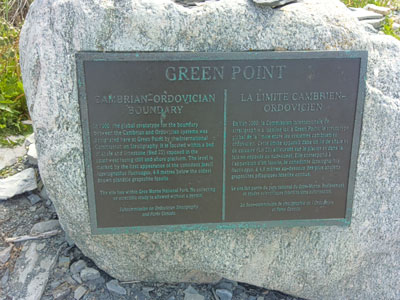 on the beach in English and French this being Canada that reads in English:
Green Point
Cambrian - Ordovician Boundary

In 2000, the global stratotype for the boundary between the Cambrian and Ordovician systems was designated here at Green Point by the International Commission on Stratigraphy. It is located within a bed of shale and limestone (Bed 23) exposed in the southwest facing cliff and shore platform. The level is marked by the first appearance of the condodont fossil lapetognatgnathus fluctivagus 4.8 meters below the oldest known plank tic graptolite fossils.
The site lies within Gros Morne National Park. No collecting or scientific study is allowed without a permit.

Subcommission  on Ordovician Stratigraphy and Parks Canada.
The same Ranger from the previous night did the presentation.

The wall at this beach site represents the boundary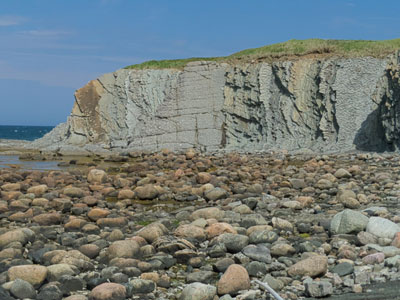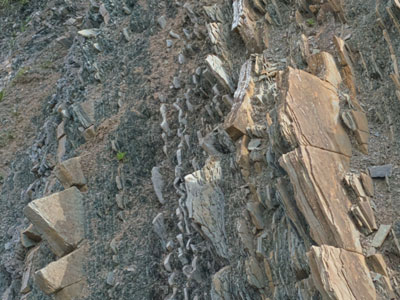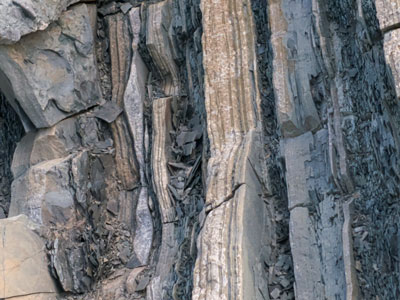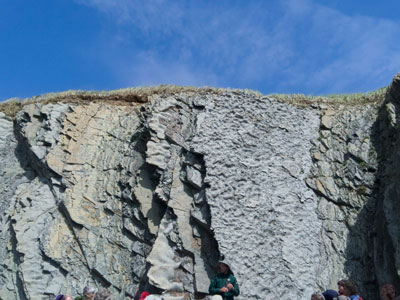 You may not understand this any more then I do but you can see the layers each was originally flat and probably under water put into the vertical position by "uplift" the last panel of mottled rock was an ancient beach where the water receded rapidly. Each of these layers took hundreds possible thousands of years to develop

From there we drove further north to Bound Brook and a fishing site. Three brothers along with their wives and 3 children lived and commercially fished here during the Spring and summer. One brother had two children, one had none and the third had adopted their deceased sisters son. They caught lobster and cod, salted the cod and canned cod that they sold when the season was over.

The all lived in the white house.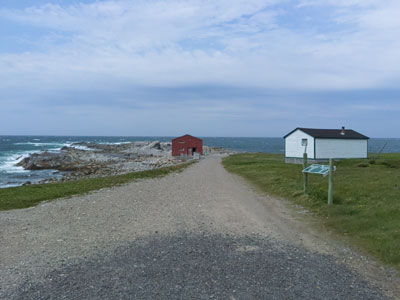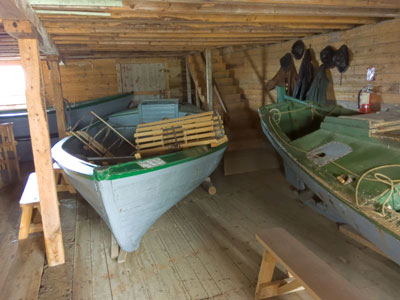 Six adults and three children must have been pretty crowded but at least they had a washing machine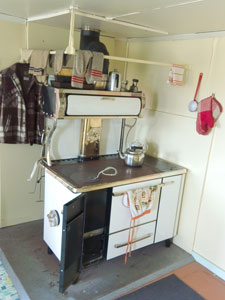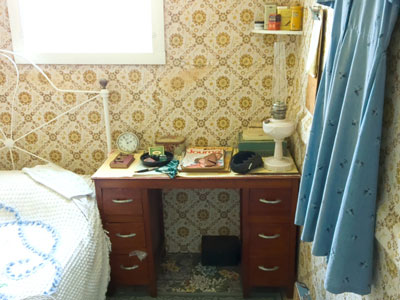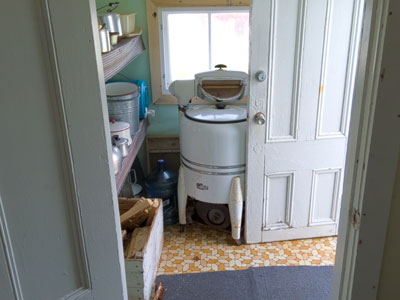 After that we drove slightly further North to Cows head for a grocery stop and short walk in the forest. There were no actual groceries near our campground and we were getting produce challenged.
That night we went to a music program at the Lobster Point Lighthouse for a folk music program. A local music ethnologist and the musical director of the Gros Morne theater sang and explained Newfoundland folk Music.