The first town and our first stop in Arizona is Willcox, Arizona. There are several campgrounds in town we picked one and drove in, paid for several nights and set up the trailer. Then we walked in the street to the Visitors Center which was closed by the time we got there. We we're consoled by apple pie and ice cream at Apple Annie's Cafe next door.
Apple Annie's is the outlet for Apple Annie Apple Orchards about a mile out of town which. is becoming the wine capital of Arizona. Lots of wineries and tasting opportunities but not for us because we don't drink.
The next day we drove about 35 miles to the Chiracaua National Monument and went on several hikes in this gorgeous rocky park that had once been home to the Chiricauan Apaches.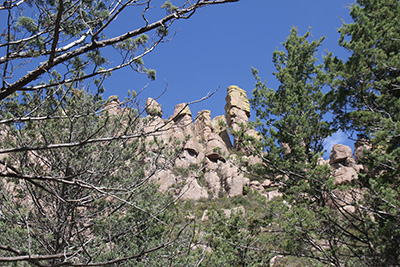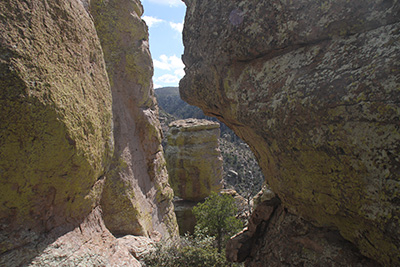 I am sure many of you have heard of Cochise and Geronimo both Chiricauan Apache. It is rumored that Cochise was buried around this area but the Apaches hid his grave and it has never been found.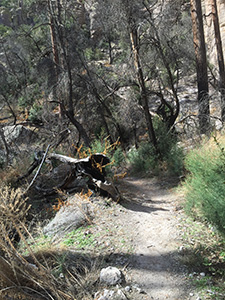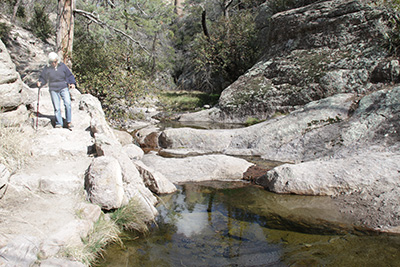 The next day we drove on the same road but not as far, after we left the pavement we drove another 8 miles on a dirt road for the privilege of hiking a mile and a half to the Fort Bowie Historical Site which contain the ruins of the old fort.
Fort Bowie was the Calvary Fort responsible for making piece with Cochise, capturing Geronimo and keeping Apache Pass open for people traveling west.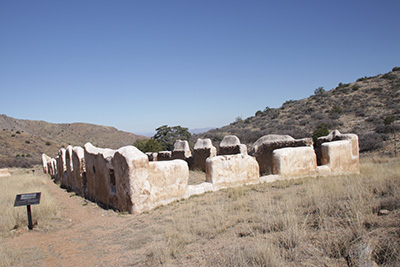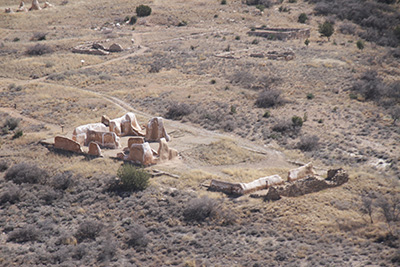 Typically Dressed Cavalry from Fort Bowie
The next day we took it easy, Stayed in town and walked to the Rex Allen and Marty Robbins museum.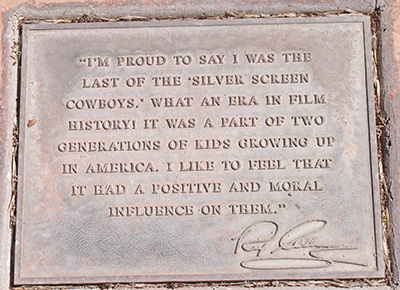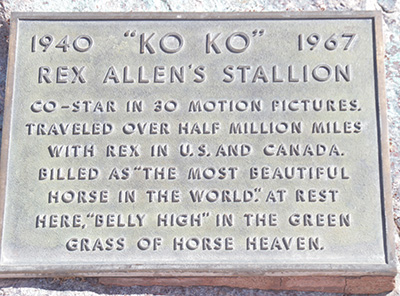 Rex Allen had been born and grew up in Willcox before becoming a radio and movie star as a singing cowboy. Marty Robbins on the other hand had been born in Glendale Arizona. A neighbor of Rex Allen's had a very extensive Marty Robins collection and Rex Junior convinced her to open a museum next door to the Rex Allen Museum. We aren't Museum people but it was a nice way to spend an hour or so. On our way back to the campground we stopped at Dairy Queen for some Blizzards.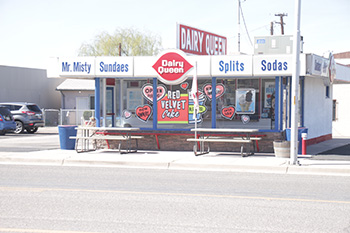 Not wanting to spend more time in Willcox although there were probably places we could hike so we moved to a membership park in St David near Benson. After parking we went out into the BLM land next door for a hike where we took a trail that wound through thorn bushes. On the return we bushwhacked cross country looking for a better trail which we never found. It was worse then the original trail so we again cut across country to find our way back getting stuck all along the trails. We looked like bloody pin cushions by the time we were finished.
We left St David on Sunday February 22 and went to Apache Junction and a Cal Am park that had offered us a free week when we were at the Tampa RV show. Obviously they wanted to sell us a park model home but they were not very pushy. In fact I had to call them for a tour of the very nice manufactured homes with RV ports. They weren't bad and if I could get one in Florida I would be interested but not Arizona for a variety of reasons. Some friends of ours from our South African trip lived in the next community so we met for dinner and had a nice evening on the night of our arrival. We also got to see their manufactured home as well. They were the current Wagon Masters for the trip we had taken and had to leave the next day for the Good Sam Rally in California. We spent our time in Golden Canyon hiking in a nearby park although once or twice we walked out on the desert behind the campground.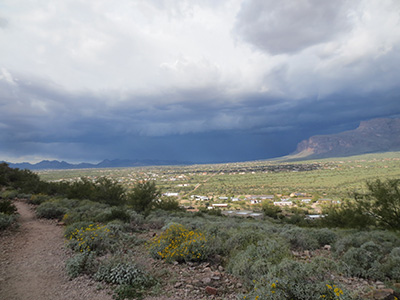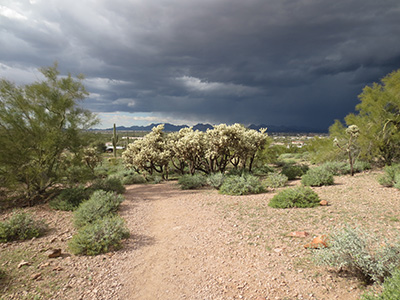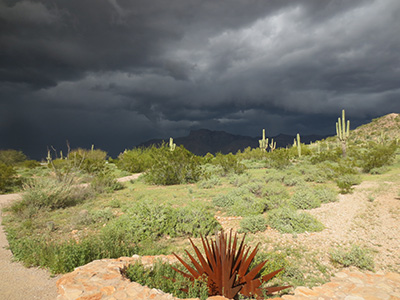 One Day we drove to the Boyce Arboretum a State a Park in Surprise, AZ. This park more like a botanical garden was very enjoyably with many different desert food species brought for preservation from around the world. The park also included an Australian Outback display.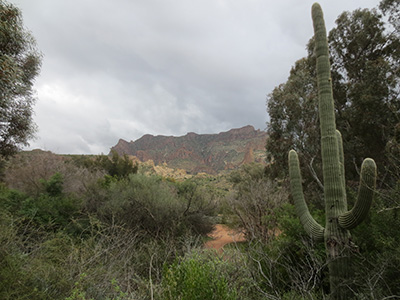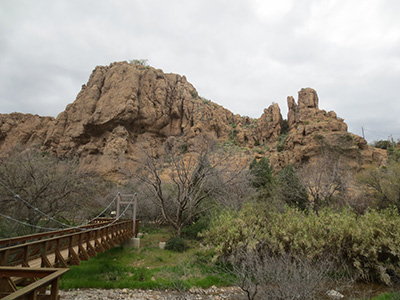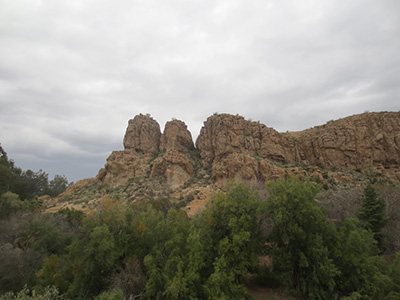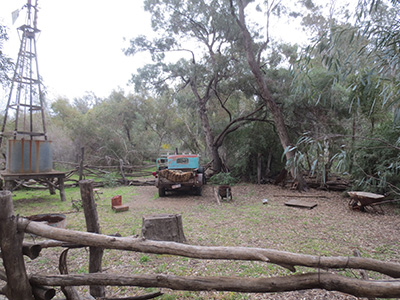 F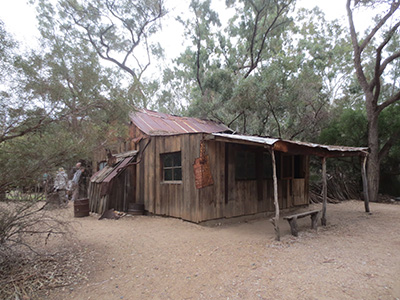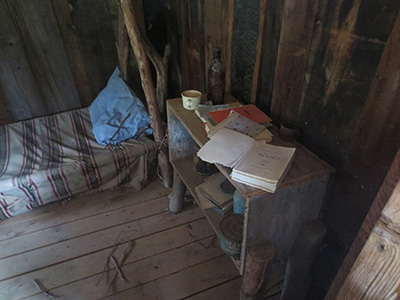 From Golden Canyon we went back East not far though to Casa Grande for a week at a former membership park. There is a nice mountain park in Casa Grande where we were able to hike.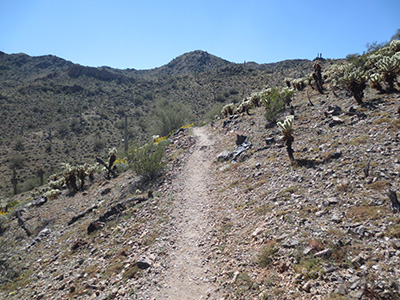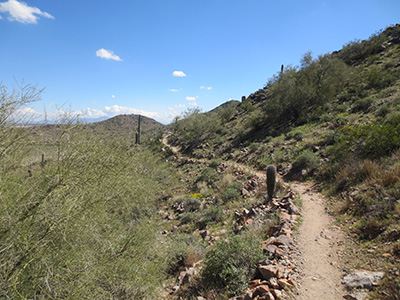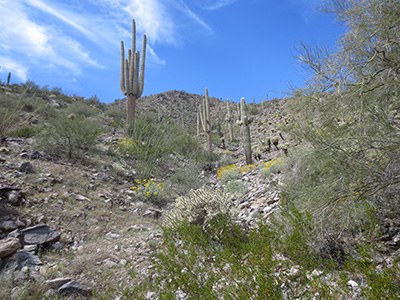 After the week we went back to Tucson and the Pima County fair grounds for the the annual Escapees RV Club Escapade. A week of Seminars, socializing and meeting new people. We met some nice couples who we hope to meet again in our travels. In this life style you never know and often cross paths with the same people. We also discovered some very nice Rails to Trails trails nearby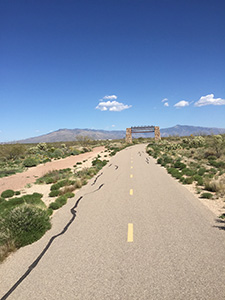 and visited the Saguaro National Park.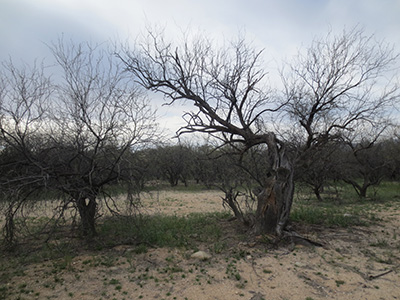 Remains of a Farmers Apple Orchard which incorporated into Saguaro National Park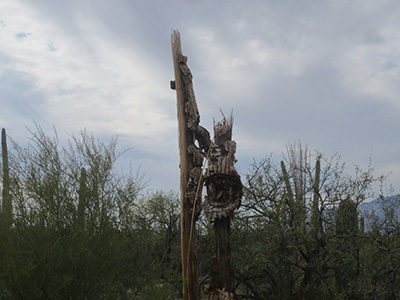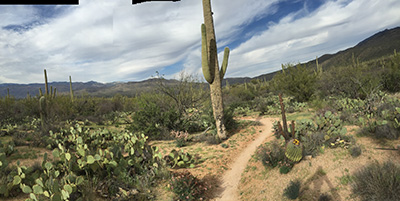 When the Escapade ended on March 13 the Escapade we went to the other side of Tucson and the Wishing Well RV park to visit with our son Richard's first wife's parents. Caryn died too young at 37 but we are still friendly with her parents and it was their 50 wedding anniversary. From Tucson we drove out on the Pinelas Parkway a road I always enjoy past a Tom Mix memorial.
to catch I10 going West. We stopped for a night in Quartzite, stayed in a campground this time and visited with friends. From there we went to Desert Hot Springs, California