After the New Year Holiday we got our new tires and went to Rancho Jarupa A Riverside, California County Park Campground, where we had stayed while waiting for Richard and Jennifer's wedding in 2013, we followed this with a week in Lytle Creek and another membership park we had staid in while waiting for the wedding. In Lytle Creek we hiked on the Etiwanda Falls Trail in Rancho Cucamonga.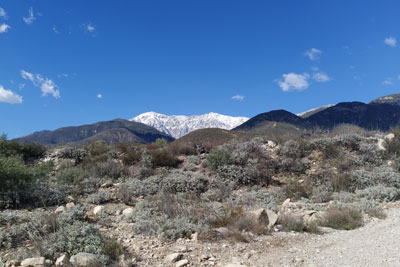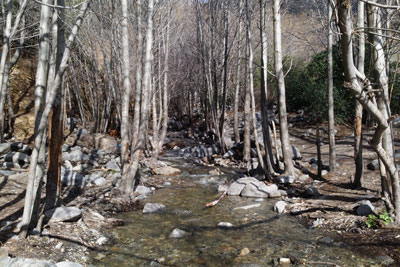 From Lytle Creek we went to Desert Hot Pools the former membership park in Desert Hot Springs, California which had been our home park. While there we hiked in several places including
Andreas Canyon
which is open to the public for hiking, picnicking and horseback riding all for a fee. The canyon is in Palm Springs on the Aqua Caliente Band of Cahuilla Indian Reservation. The the Aqua Caliente Band of Cahuilla Indians live on this reservation which is their ancestral home and own the nearby Aqua Caliente Hotel and Casino.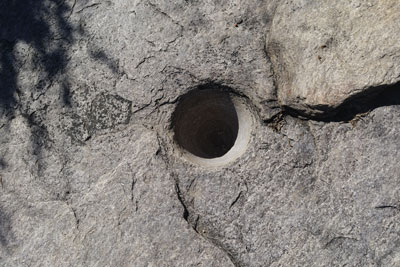 Hole in rock caused by grinding grains and nuts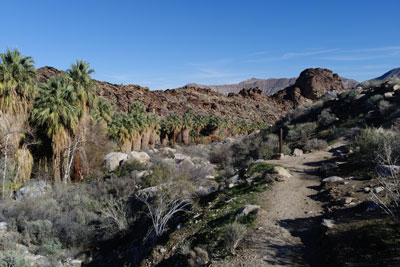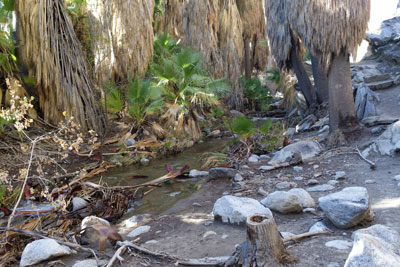 We left Desert Hot Springs and spent a night in Ehrenberg, Arizona at the Colorado Oasis Campground, another former membership park that still honors our membership for a discount rate. From there went to the annual RV gathering in the desert at an impromptu village, which appears at the same location on approximately the same day every year on the BLM lands surrounding Quartzsite, AZ called, Boomerville. It's populated by the RV'ers of the Escapee's Boomer group. We are not actually in that age cohort but the group is not ageist. There are members older and members younger in addition to actual Boomers.