From Skagway we drove our trailer onto the Ferry for the short trip to Haines. It took longer to load and unload all the motor homes and trailers onto the ferry then it did to go between Skagway and Haines. In fact after pulling in close to a wall I and every one else had to back up in order to get off as there is only one entrance and exit from the ferry. A member of the Ferry loading crew had to back up one of the motor homes as it's owner didn't feel up to the task.
Haines, Alaska is a very quaint small quiet town. It has about half a dozen streets but 3 state parks and some amazing scenery. We camped in a pleasant campground with lush green lawns with the mountains facing our door.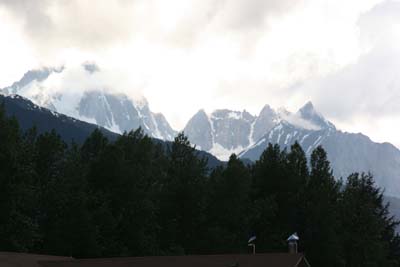 We visited two of the State Parks. One had bears and eagles but no hiking trails. We walked through the campground and visited with the Hosts a lovely couple from Connecticut and their two dogs. Alaska State parks have no hook ups and neither do the hosts but they like the weather, fishing and scenery. Unlike most senior RV'ers these folks like the cold and spend their winters back home in Connecticut.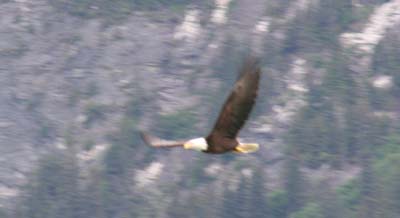 The other State Park must have had bears and eagles but we didn't see them but we did get a chance to hike a coastal forest trail and ended up on a beach overlooking two glaciers. The couple hosting in this park didn't have an RV but there was a lovely cabin overlooking the water and glaciers. I guess the only drawback was no running water and no electricity. There was a water pump in their front yard and an outhouse 50 feet down the road. The cabin had a great deck and a wood burning stove but no refrigeration so they stored their food in coolers and shopped weekly. The hosts of all three parks got together occasionally for social visits. This couple are first time hosts and only there for a month but they plan to return next year for the entire summer and you thought Debby and I were roughing it.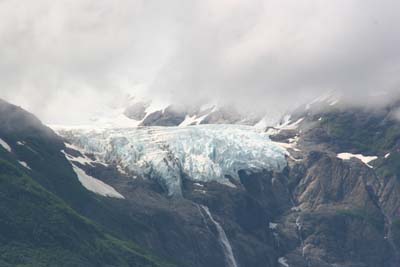 Haines is the site of the old abandoned Fort Stewart part of which was bought by entrepreneurs who built a hotel out of the officers quarters. The parade grounds are being used by the local Tribal Council. They built a meeting hall where they have interpretive shows for the tourists and a gift shop. We attended the show which was a costumed presentation of old Alaskan Native folk tales.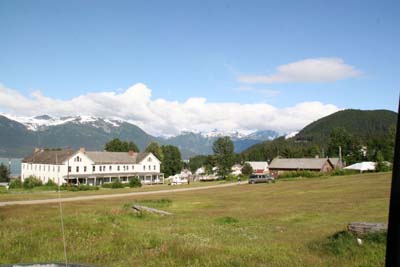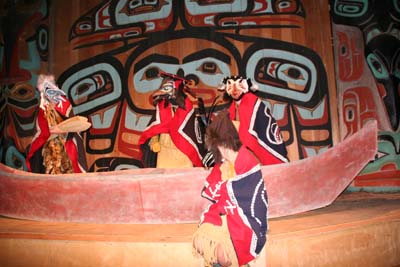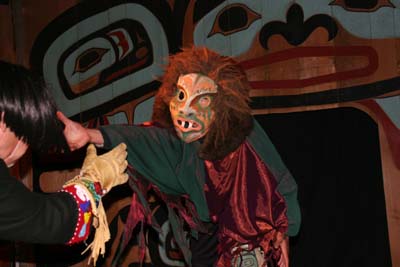 The next day we drove the Haines Highway between Haines, Ak and Haines Junction, Canada to rejoin the Alaskan Highway for the trip to the upper part of Alaska. before continuing through Canada to the upper portion of Alaska. On the way we had an opportunity to climb a defunct "rock glacier:". It seems that glaciers can be made up of millions of rocks which are held together by ice and are so heavy that they move along the ground the same as ice glaciers do.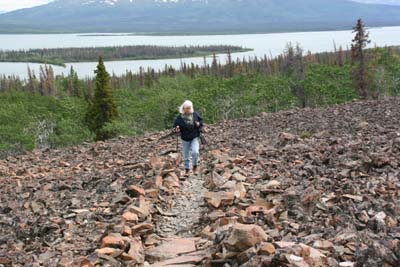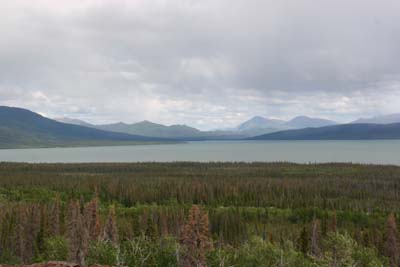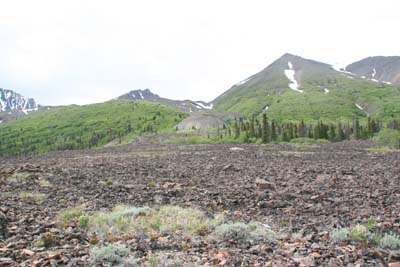 We camped one more night in Canada before reaching Alaska.