We left Williwaw Campground and went to the Kenai Princess Lodge and RV Park in Cooper Landing on the Sterling Highway which goes from mile 37 on the Seward Highway to mile 142 in Homer,a quiet little drinking town with a fishing problem. All miles on the Kenai are measured from Seward. And yes that is the same Princess that runs the tour boats to Alaska. Princess lines runs tours and owns a number of lodges around Alaska . For some reason they have a campground at this location probably to house employees who come up for the summer. We stopped at the Princess because a friend was so impressed that she contemplated working there next season. We couldn't understand why as there was nothing spectacular about the place. I guess it's a case of "different strokes for different folks". In any event she told us about another lodge in Cooper Landing where we could get great salmon chowder She was right. If you looked at or in Grim's you might not want to stay but the salmon chowder was so good we went back a second time.
While we were at Cooper Landing the weather was kind of overcast and drizzling with moments of sunshine. When we arrived we went on a hike to the Russian River Falls and there the sun came out and we saw salmon swimming upstream.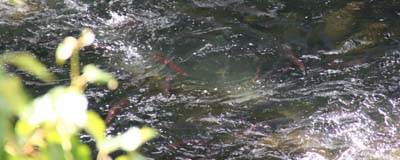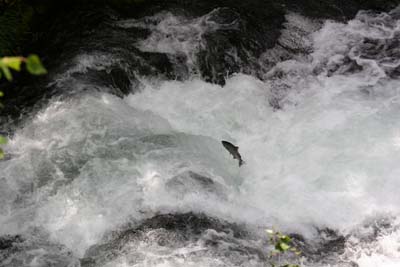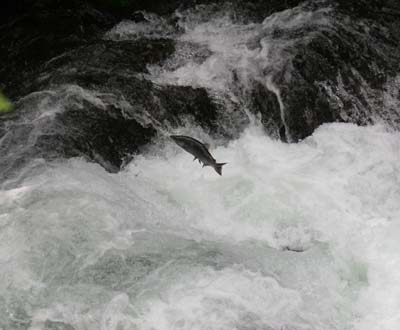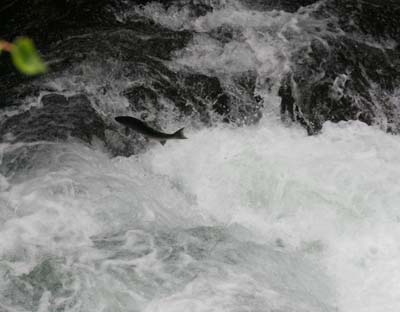 After the hike we went for salmon chowder, appetizers and dessert for dinner. The next day was drizzling but that didn't stop us from going on a 3 hour float trip down the Kenai river. Our friends had seen bears from the rubber boat. We saw plenty of eagles, gulls and fishermen but no bears. Nonetheless it was an interesting experience.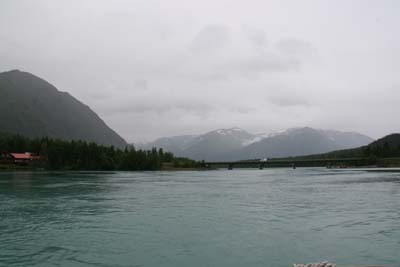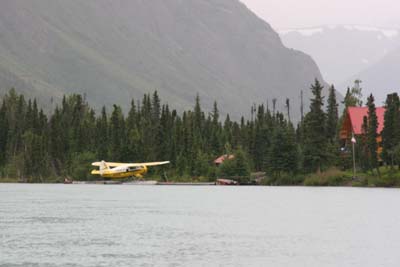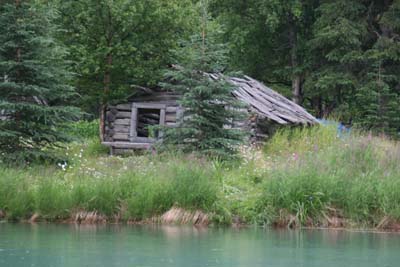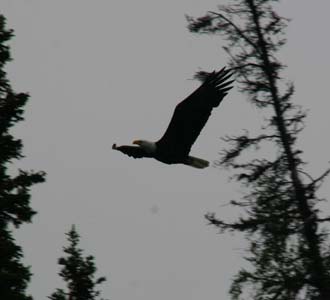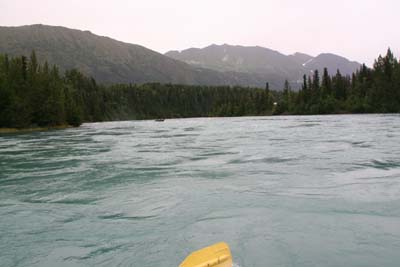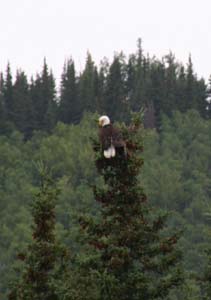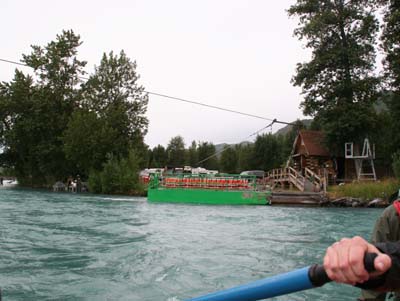 The above picture is the Kenai river ferry which takes the fisherman to the other side where the fishing is apparently better.
Since we had skipped breakfast in anticipation of the boat ride we stopped for a breakfast of salmon chowder and salad without dessert when the ride was over.
The next day we continued on our way to Homer, AK passing scenery that was somehow reminiscent of Cape Cod. When we got to Homer we camped on the famous Homer Spit. Homer is a little over rated unless your a fisherman or into boating. Homer Spit is comprised of river rocks and gray glacial flour. When glaciers move they scour the mountains grinding them down until nothing remains but a fine dirt as fine as flour sometimes but not here with gold and gold flakes. Buildings on the spit resemble any other small fishing town except that this one has restaurants and gift shops along with the charter offices.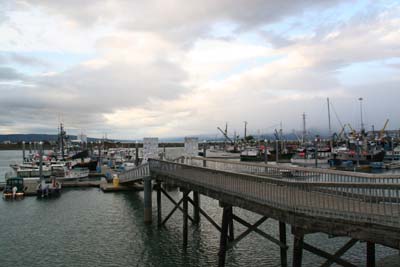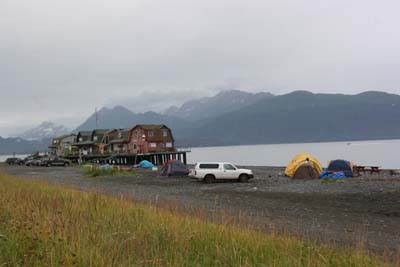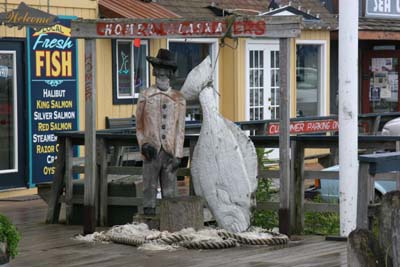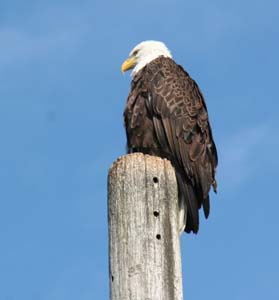 The house or actually what is called a park model and gardens are home to the famous Eagle Lady. She feeds the bald eagles especially in winter so they are frequently seen in the area. The overgrown garden is the result of the long hours of sun light. ( A Park model sometimes called a mobile home is a large trailer type building not really designed for the open road)
While in Homer we visited the Kenai National Wildlife Refuge visitors center and the Pratt Museum. The visitors center was very interesting providing an overview of Alaskan history as it pertained to maritime, wild sea life history and ongoing research. The Pratt museum is a collection of local historical artifacts and natural history. One interesting feature is their live web cam and TV feed in conjunction with the National Geographic Society from the McNeil River Wildlife Refuge which focuses on the feeding brown bears (On the coast the bear we have always called a grizzly bear is called a brown bear). http://www9.nationalgeographic.com/ngm/wildcamgrizzlies/index.html
We took a walking tour of the harbor and learned about the different types of fishing boats along with information concerning how the spit reacted to the 1964 earthquake and a tour of the Salty Dog saloon the only remaining pre earthquake structure and the only saloon with a geodesic survey marker which US geologic survey engineers placed there as a gag. (Sorry my picture is blurred).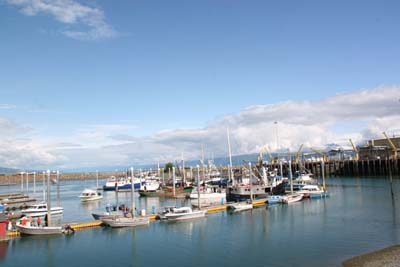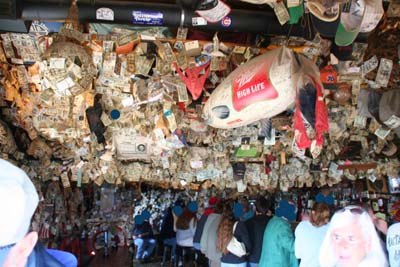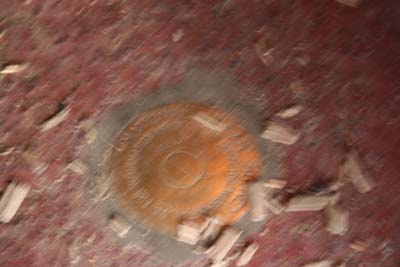 You may not believe it but this couple teaches in an Anchorage public school during the school year.
Homer even has a theatre group so we went to the theatre and saw a locally written musical about some "60's type flower" ladies, their husbands and two unsavory characters. It was cute and surprisingly well done. The highlight of our visit was a ferry ride and dinner at Halibut Cove. A small enclave on the other side of the Katchemak Bay which can only be reached by boat. We enjoyed our meal of wild salmon wrapped in bacon and dessert of peanut butter pie. We took an interesting walk on the boardwalk that surrounds this picturesque cove. While walking we met and walked and talked with a lovely Jewish couple from Ohio and their daughter who was working as a producer and on air personality at the local Anchorage PBS radio station. During the winter only ten permanent residents remain in the cove . The others return to Homer or Hawaii which is closer then you would think.