Prior to coming to Fairbanks we or I had considered a trip to Prudhow Bay on the Arctic Ocean. I thought about taking the trailer to Coldfoot on the Dalton highway and then driving the rest of the trip to Deadhorse without the trailer. I also thought about taking a three day van excursion but after our 12 hour experience on the bus in Denali National Park I had pretty much given up on Prudhowe Bay. We were however planning to go to Chena Hot Springs only about 50 miles out of Fairbanks. Unfortunately I started urinating blood again so we had to return to Anchorage to have my kidney stone smashed to gravel. We drove the 372 mile Parks highway from Fairbanks to Anchorage on Wednesday and I had the procedure on Thursday. On our way to Anchorage we stopped and walked in Denali National Park and we tried to meet up with some friends who we discovered were not only in Alaska but were traveling the Parks Highway as well. Through the modern benefit of cell phones we were able to talk several times but never did meet up.
After the procedure we stayed in Anchorage two more days to say hello to friends coming from the Kenai. After picking their brains we headed down the Seward Highway to the Kenai Peninsula. On the way down we stopped along the road at Beluga Point overlooking Cook Inlet. Unfortunately we didn't see any Beluga Whales.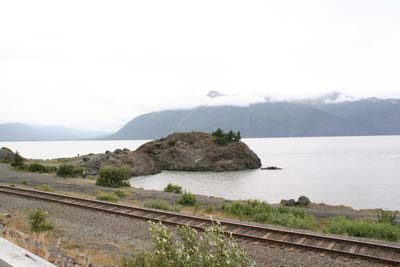 From there we continued down to mile 79 to the Whittier/Portage Glacier Access Road. At mile 4 is a really nice US Forest Service campground called Williwaw where we camped for two days while visiting the Portage Glacier and the Begich Boggs visitor Center. Some of you older folks might remember Hale Boggs, Louisiana Congressman and House Majority Leader who was lost in a small plane in Alaska while campaigning for Nicholas Begich who was also lost in the same plane in 1972. The visitors center is named in their honor.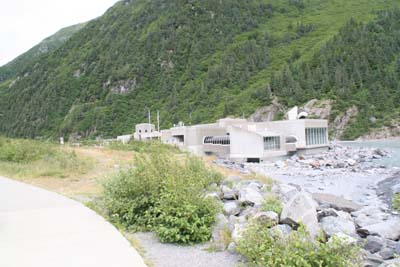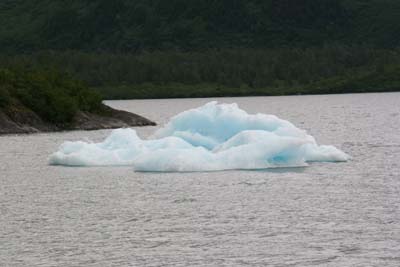 Several chunks of ice that had fallen off the Portage Glacier were floating in the lake, this was the largest piece. From the visitors center we took the tour boat in the rain to see the Portage Glacier. According to the tour boat captain and the Forest Service Ranger on board the three kayaks you see are much too close to the glacier.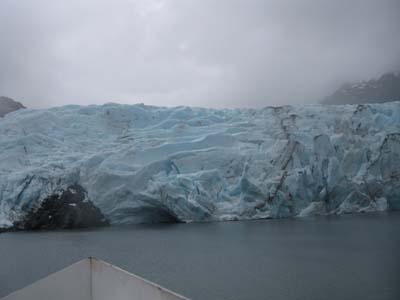 There were several other glaciers in the area including the one hanging over our campground and the Byron glacier which we walked to.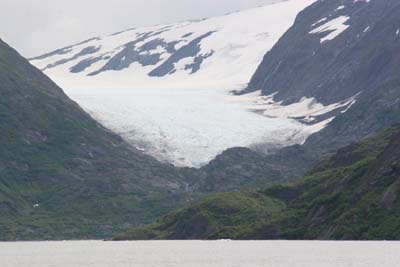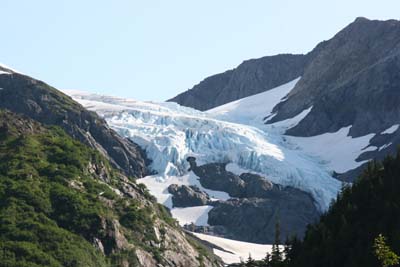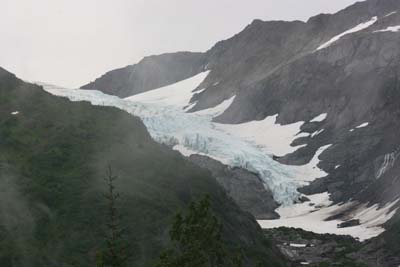 The next morning after visiting Byron Glacier we drove back to the Seward Highway and went to the Alaskan Wildlife Conservation Center. The center specializes in rehabilitating lost, orphaned and injured animals. They also have a collection of non native elk and prairie bison along with native coyote, red fox, black, brown and grizzle bears, woods bison, musk ox , moose and caribou. I only took pictures of the moose and caribou. Center is located on the site of the town of Portage which was destroyed in the earthquake of 1964
When we got back to the campground we walked over to the Salmon viewing station to view the salmon swimming upstream to spawn but as you can see there were no salmon