We left Brisbane the next morning heading for Ballina 157km -95mi. We passed Surfers Paradise which according to the internet had a more active shule then Brisbane. We also passed Miami before arriving at Tropical Fruit World for a tour, since we weren't in caravan we had to wait for all of our group to arrive. Once everybody was there we departed on a wagon pulled by a tractor into the orchards where the tropical fruit trees grow.
This attraction was a working Tropical Fruit Farm which augments its income by showing the farm to tourists.
The guide pointed out all the trees along the way and stopped at the Macadamia nuts.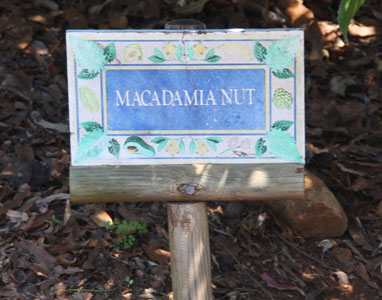 Our group got off the wagon and picked up nuts which they cracked and ate on the spot. Several of our fellow travelers also stuffed their pockets for later. We then reboarded the wagons and went a short distance where we got off again , walked on a trail, fed some emu, got into a small river boat and went about 10 minutes to a sit on train ride. Some hobbyists were fixing the miniature engines while we were there.
We then got back onto our wagon and returned to the front where we were treated to a demonstration of ripe tropical fruit with samples and the opportunity to buy. I went to the store and bought five pomegranates which came from elsewhere as they are not in season in Australia. I later found that they had been imported from the USA. This fact did not diminish my enjoyment.
We left the Tropical Fruit World and continued to Byron Bay, Australia with the rest of our tour. They all drove to the Lighthouse.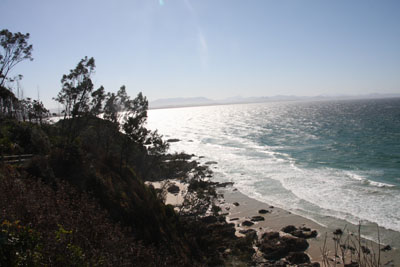 we parked in town and walked about two miles up along the bluff. This lighthouse is the most easterly point of the Australian continent and is very scenic. The climb was quite strenuous but provided a good workout for me as I haven't walked much since we got here, Debby on the other hand does her exercises every day. When we got to the top we rested took some pictures and Debby had some ice cream.
We decided for the trip back down to take the inland route, which is a little shorter and not as steep. On our way we came across a platform overlooking the bluff that is used by people hang gliding. It seems that somebody had placed the following sign on the guard fence.
As the Jewish New Year was approaching you can imagine this made our day to see a "good year" in Hebrew.
We continued our hike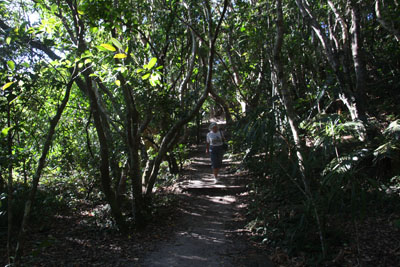 When we got back to the town we went to a grocery for produce and found some taco mix that didn't contain traces of sesame after which we continued to Ballina for the night.
The next morning we walked in a small nature preserve attached to a housing development,
We passed this power box and realize this people are serious
At Bellina there was another gorgeous beach and another Royal Spoonbill
After our walk we ate breakfast, attended the morning briefing and drove to a World Heritage Rain Forest at Iluka National Park
where we walked to the beach and climbed to an overlook. People had seen whales and dolphins from this site but not on the day we visited.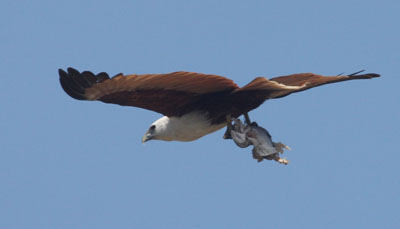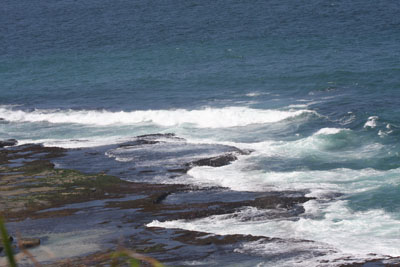 We continued to a an Aboriginal Center but it turned out not to have a visitors center or tourist facilities before completing our days drive to Arrawarra 183 -110mi from Ballina. We missed the Lorikeet feeding at 3 PM but before dinner we went to a nearby golf course and observed a whole lot of kangaroos.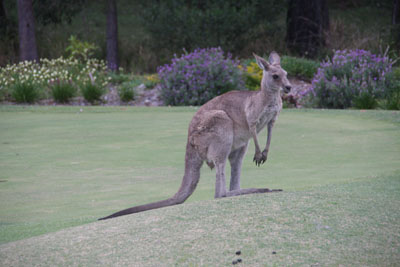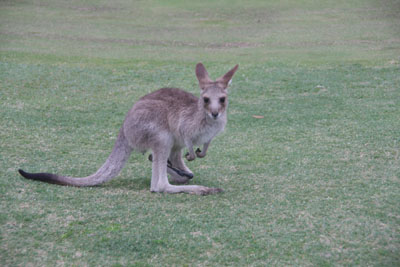 An ex pat at the golf course complained that they were pests whose droppings fouled the course and had no nutritional value for the soil and grass. That night Marci and Steve joined us in the communal kitchen for a modified traditional Rosh Hashanah meal. The four of us also spent some time talking to an Australian couple with three kids who were on holiday. They were an interesting couple, he from Scotland she from Britain. They met on plane bound for the US for a college study and work program, eventually married and moved to Australia. They will soon be taking a trip to South Africa to visit his sisters before going to England and Scotland with their kids. It seems that if you work for the same company for 10 years you get a ten week holiday.