When we left Wanaka we first stopped at the grocery to purchase produce for dinner before heading through the mountains for Franz Josef ,288km 173mi. The road was winding with sharp curves sometimes going up and sometimes going down on 28 occasions we crossed single lane bridges. On some we had priority and could go first if a car was approaching from the other direction and on some the approaching car had priority. Twice when I had priority one truck and one car entered the bridge from the approaching direction, not wanting to cause a jammup I waited for them to drive through. I guess not everyone observers the rules of the road.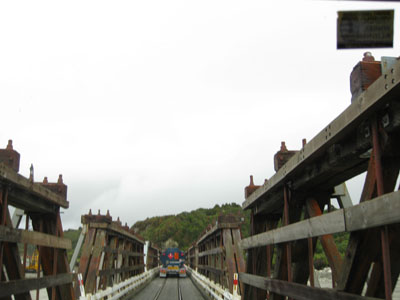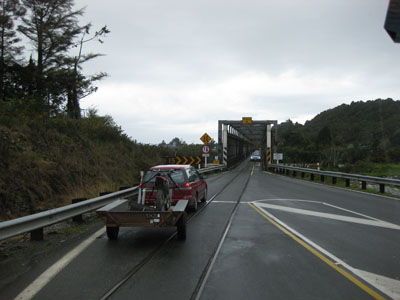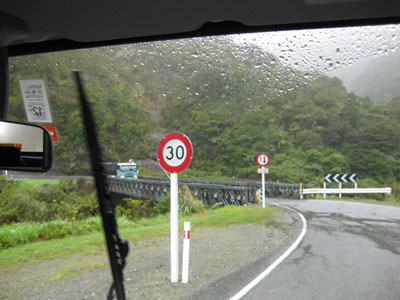 This would have been a tedious day under the best of circumstances but we had to do it in the rain. Of course driving was bad enough but there were tracks (paths) to walk and water falls to visit rain or no rain. At one point we hiked to the blue pools which were pretty, we were told they are much prettier in the sunlight.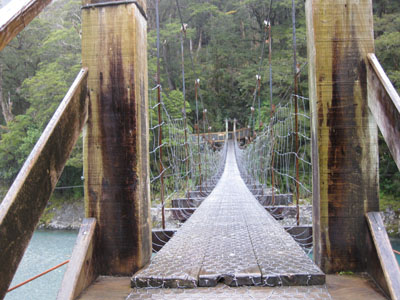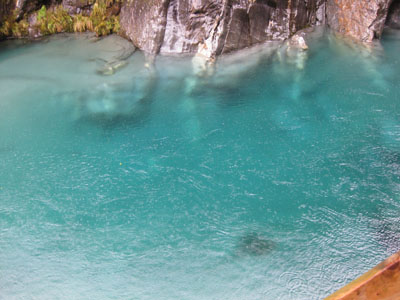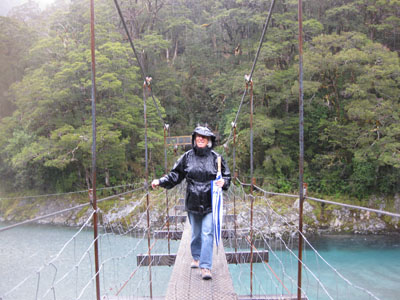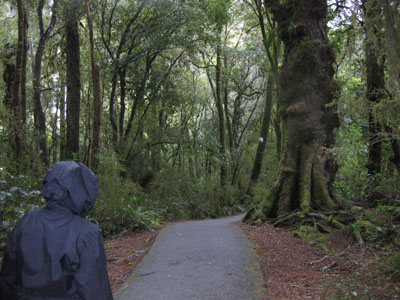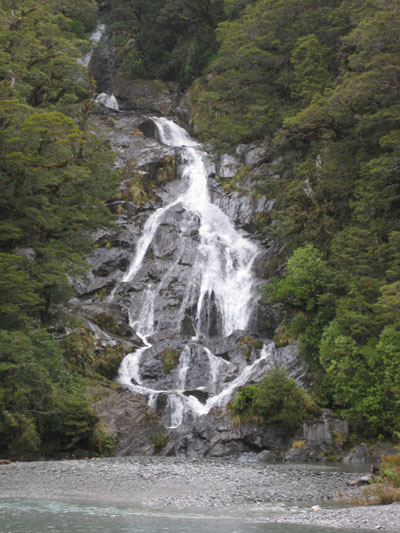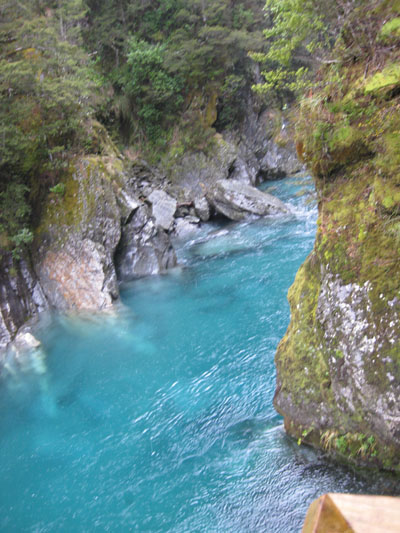 We continued on our way and walked forested dunes and a beach as well as a swamp which looked as if it should have alligators but New Zealand is too cold even though it seems to have tropical rainforests. The highlight of our day was visiting a salmon farm and having some salmon chowder. I don't eat farmed Salmon anymore but it was tasty chowder and a nice break. After the chowder we made a visit to the Fox Glacier. We were supposed to continue to Franz Joseph glacier but do to the rain and lateness of the hour we called it quits and and went to the campground. A friend who was more dedicated and didn't want to miss a thing went to both glaciers and said that Alaskan glaciers are more appealing..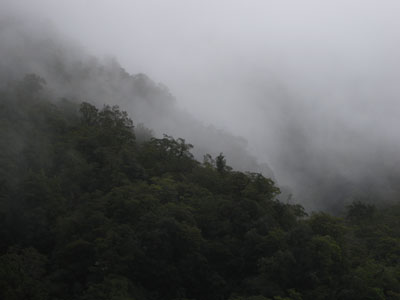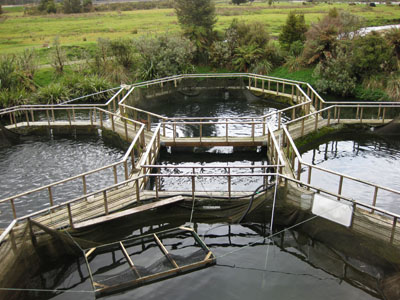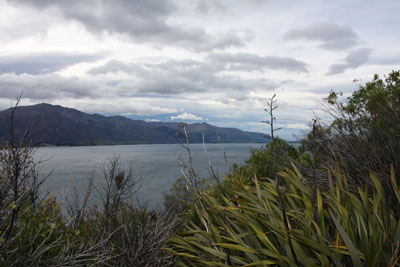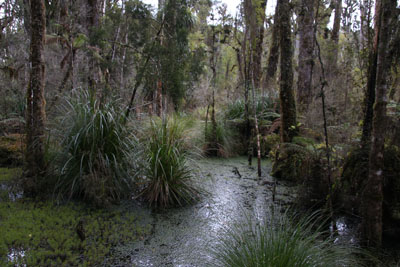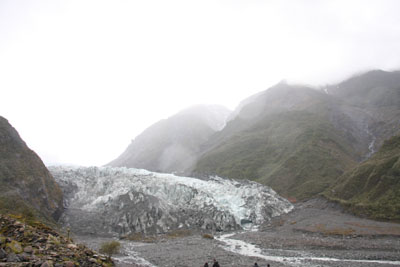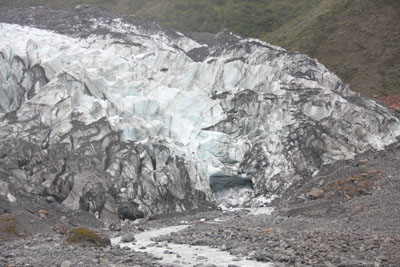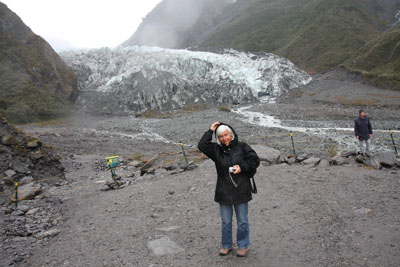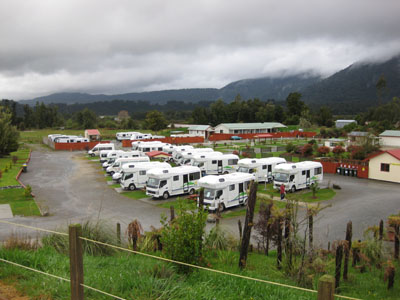 The driving between Franz Joseph and Westport 281 km 169mi was similar to the day before, rainy, mountainous, numerous curves and many one lane bridges. We stopped at the Bushman road kill cafe for some coffee and a little political argument. Unfortunately that anarchist that owns the place wasn't in. None the lest Debby bought some jewelry and we continued on our way.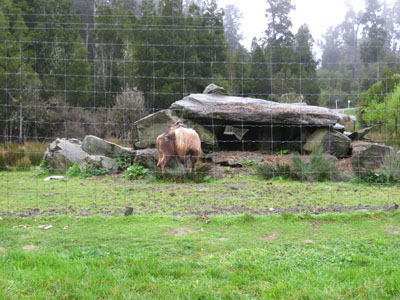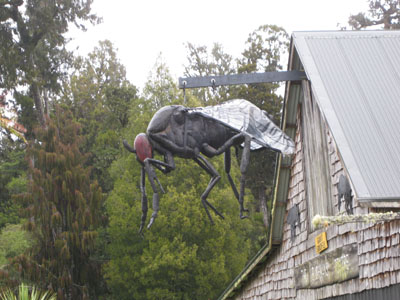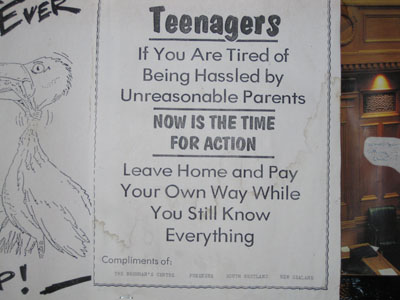 We also stopped at the Ross Goldfield center to see some historic buildings and walk the trail.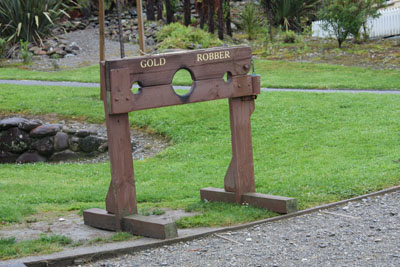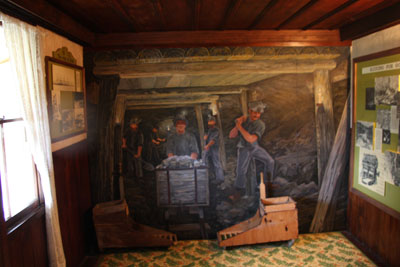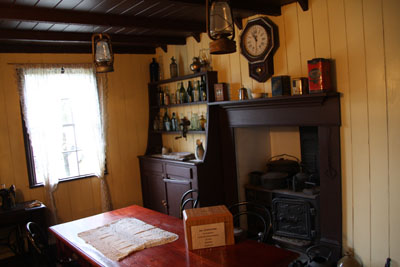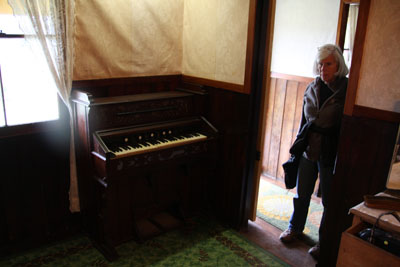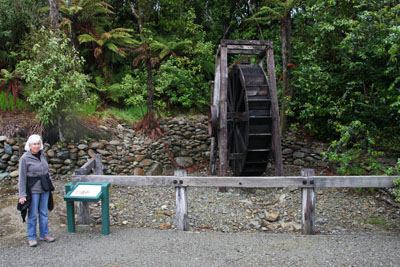 We visited Hokitika which is the Jade capital of New Zealand but didn't buy anything.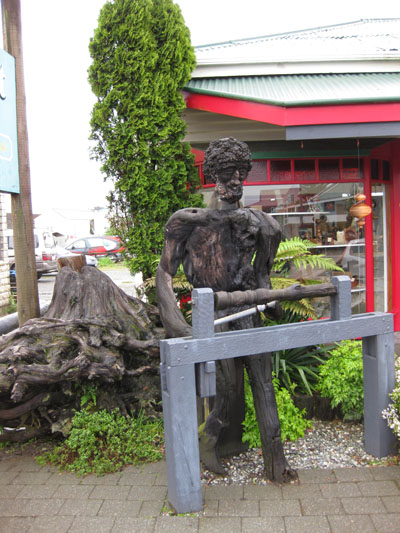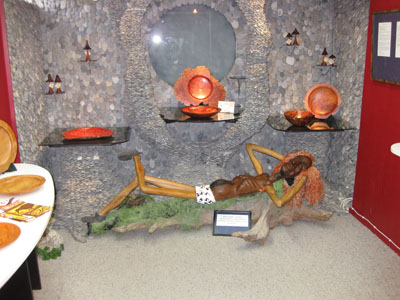 The man in the wood store told us that we might find the kaleidoscope we were looking for at the Pancake Rocks visitors center so we continued on our way.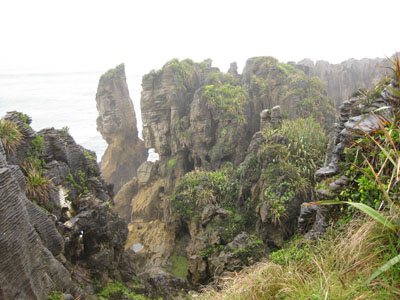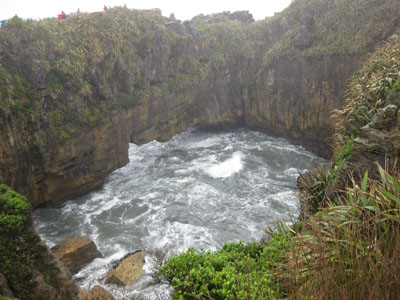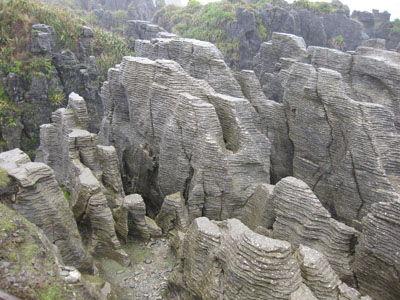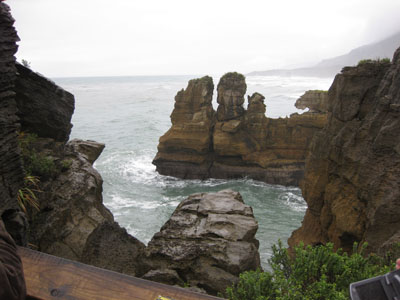 Pancake Rocks got their name from the rock layers which have been exposed by water erosion. So addition to looking pretty the formations make music of sorts and whistle at high tide. The man in the wood store was correct we found the very kaleidoscope that we had been looking for in the Pancake Rocks gift shop and there lies a small world tale. Several years ago Richard bought a wooden kaleidoscope on a trip to New Zealand. Unfortunately that kaleidoscope has been misplaced and Debby wished to purchase the same or similar kaleidoscope so we had been looking from the moment we got to New Zealand. We were beginning to despair that we wouldn't find it but were successful and were able to purchase what we believe to be a duplicate or very similar scope. That night when I logged onto the internet I had a note from my cousin Michael responding to an email I sent announcing the update to my web site and telling people we were in New Zealand. Michael informed me about friends of his and his wife Joann's who live in New Zealand and also make kaleidoscopes. I followed the link Michael provided and found that Michael and Joann's friends were the artists that made the kaleidoscope that we had bought. I emailed the artists, Michael and Richard to tell them what a small world we all live in. Following our visit to pancake rocks we stopped at the Truman track to the coast line and then drove to the Cape Foulwind seal colony to view the seals .After checking into the campground we went to dinner with the wagon masters at a quaint restaurant called the Bayhouse Cafe for a rather pleasant meal.