Camping with Debby and Charlie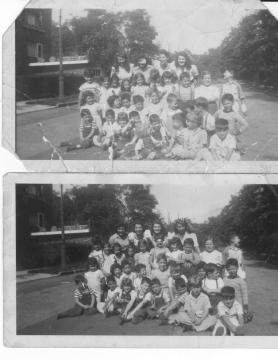 It could be said that Debby and I started camping early. Admittedly,the camping we did at age 6 in Circle Pines Day Camp in front of the Shule (not seen) and Joan Zachem's house, the private house of a classmate of mine across the street from the Co-Op apartment house I lived in and in the park is different from the camping we are doing today.

We started camping with our boys the summer before Susan was born. We were in a tent that we borrowed from my brother Eddie. Then we bought a 12X12 umbrella tent that was easy to set up.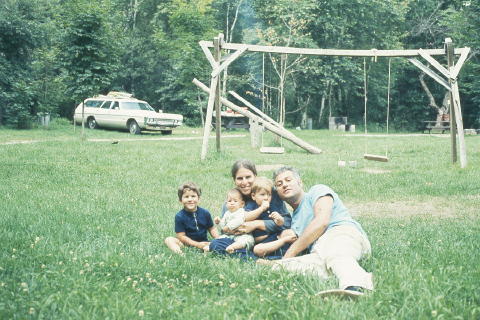 We camped in that tent for about 13 years then we bought a pop up. We camped in the pop up for also about 15 years. First with the kids and then by ourselves when the kids were to grown to come with us.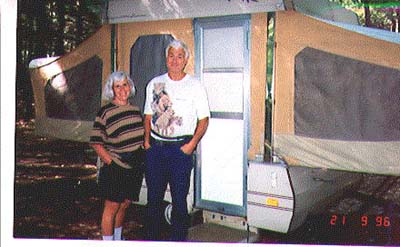 When I retired we decided that we needed indoor plumbing but first we wanted to make sure we were compatible. So we took a 7 week trip through Canada into Michigan, Indiana, Wisconsin to see the Grand Kids
and down into Iowa, Nebraska and and Kansas to look at fifth wheel trailers. We bought one in Kansas and took delivery September 1999 after Floyd.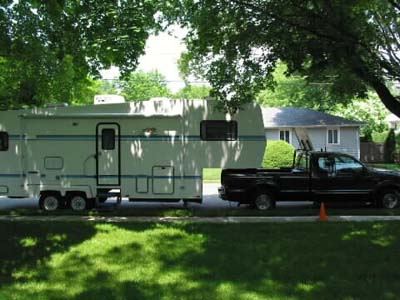 We spent the next 3 winters camping in Florida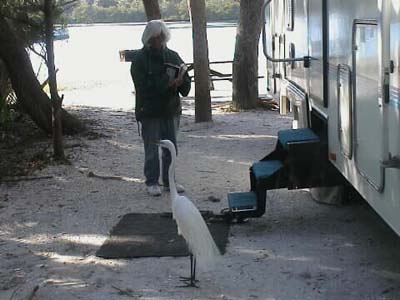 and then after the Winter of 2002 we wanted to go out West.

Before beginning this big trip we had some family functions and a friends wedding to attend.As a result we had some time on our hands so we went up to Acadia National Park.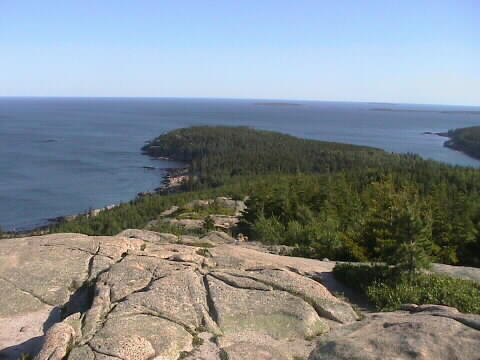 Where we climbed a few small mountains


and walked on some of the 45 miles of Carriage trails that David Rockefeller donated to the Country.
Then we went down to Atlantic City,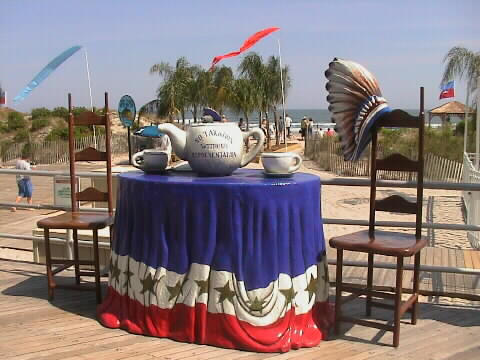 We ate in some nice restaurants and sat on the beach in the Summer's worst heat wave. While we we were in Atlantic City , actually Northfield, NJ returning to Fair Lawn on July 8th.

The plan was to go out west and return sometime after the Winter. Actually we were away from our home for 14 months coming back in the Fall of 2003. At that point we realized that living in the trailer was not unpleasant. Quite the contrary we agreed that living in the trailer and traveling around the country was preferable to living in a fixed house. What RV'ers call a stick house.

From that point on until we left our house for the last time in 2006 we were in and out of Fair Lawn more out then in and we continued living on the road until November of 2019 when we moved into a Boynton Beach Condominium that we had purchased in May of 2018 prior to a trip to Newfoundland.

The entry's in this weblog are the history of that extended journey which lasted 16 years full time and is still continuing.
We spend 6 months on the road and six months in our condo.

Debby and Charlie Yaker in front of the home we owned in Fair Lawn, N.J. when this journey began on July 15, 2002