While Savannah is on the border of South Carolina, St Mary's Georgia is on the border of Florida. For the past several years as we headed north past the first exit in Georgia we were curious and somehow drawn to Crooked River State Park. Until this trip it always seemed less appealing then Brunswick and the Golden Isles a little further up on I95. The campground itself has large level sites with gravel pads surrounded by saw palmetto. There is no swimming but there is river access for fishing. There are several trails which we walked while the mosquito's fed. The town of St Mary's is a quaint picturesque Georgia harbor town where the Crooked River meets the Atlantic . It is also the home of King's Bay Naval Submarine Base and St Mary's Submarine Museum which we didn't visit, the first pecan tree in the United States which we couldn't find, the Cumberland Island Visitors Center and the Ferry to the island. Cumberland Island National Seashore itself is right off the coast. The ferry leaves St Mary's several times a day for the island. If you do not have your own boat it's the only way to go unless you are a bird or fish. At the island the ferry is greeted by a National Park Ranger who gives a short tour and talk on the highlights of the island's history. After that you can hike, picnic, swim, rent a bike and even camp in a primitive campground amongst the saw palmettos.If you plan to camp bring your own camping gear and food as none is available on the island. If you want to bike or kayak you'll have to rent on the island as the ferry doesn't carry cars, bikes or kayaks. There are restrooms and cold water showers at the campground. We saw several large shower bags sitting in the sun at the beach. The bags are designed to collect heat, one side is black and the other transparent. Several feral horses also inhabit the island along with the rangers, campers and private property owners.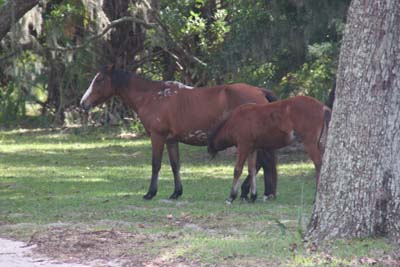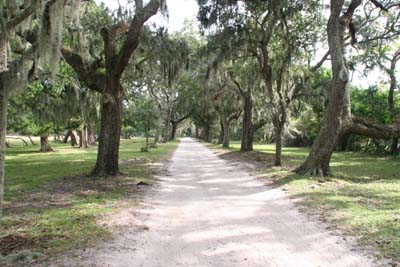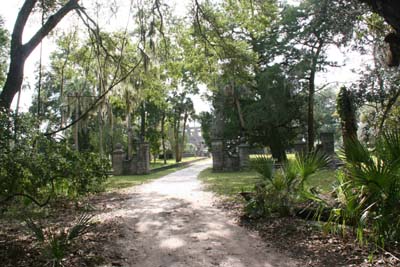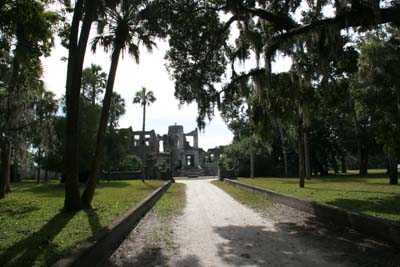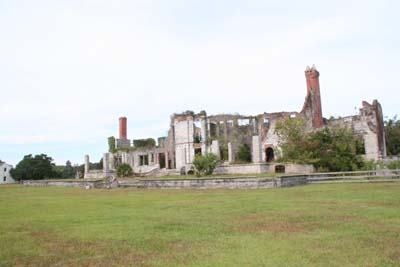 People have lived on the island for hundreds of years. There are shell midins indicating Native Americans inhabited the islands and pot shards from Spanish soldiers. The British built two forts on the island but nothing remains. Revolutionary war hero General Nathaniel Green bought property and his wife built a tabby mansion called Dungeness. Harry "Lighthorse" Lee a revolutionary war hero died and was buried with the Green family until his remains were moved to his family plot and he was reburied next to his son Robert E. Lee. Years latter Thomas Carnegie, Andrew's brother and partner lived there and built cottages for his children who donated the property to the National Park Service. The mansion itself was destroyed in a fire but the ruins remain. In the 1890's an African American settlement was created and the first black Baptist church in America was established in 1893. There is still private property and several areas of the island which are posted are off limits to visitors. As the Ferry returned to St Mary's we had a gorgeous view of the setting sun.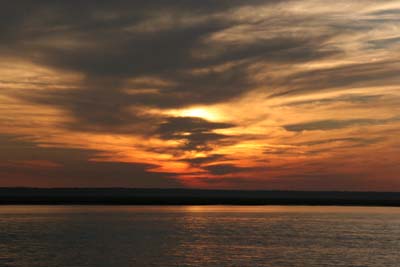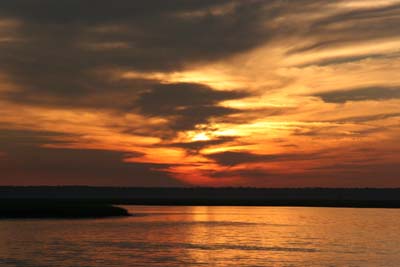 The next morning, after dealing with a slow leak in one of our trailer tires we drove to Florida. First we stopped at the Welcome Center for a little orange and grapefruit juice not to mention a new map and some brochures. After that we drove to the second exit and went to Ferninda Beach's Fort Clinch State Park. When the kids were young we had camped there several times. Debby and I had tried to camp there on our own when we first became empty nestors but it's growing popularity and our lack of reservations intervened. What was worse on that particular occasion was that the transmission on our Ford Taurus gave out and had to be rebuilt. The car was towed to the local Fernindina Beach, Ford dealer while the pop up was towed to a private campground near by. We of course rented a car and enjoyed the rest of our visit. Fort Clinch is another one of those coastal forts built by the US Government in the 19th Century to guard the natural deep water ports. The State Of Florida, Park Service maintains the Fort and the park which has camping, walking and bike trails as well as river and ocean beaches. There are tours and reenactments given by costumed park rangers at the fort. It's a great place to take kids. This time we hiked but didn't visit the fort as we had seen it before and were there to visit a friend who had just moved to the area.
While we were still in Georgia we had been notified that John Prince Park in Lake Worth Florida was not going to open until December 1st due to Hurricane damage from Wilma and wouldn't be able to honor our reservation. We made a quick phone call and were lucky enough to get a two week reservation at Jonathan Dickerson State Park in Jupiter. Jupiter is not far from Debby's cousins in Boynton Beach and West Palm. It's not as close as Lake Worth but a good substitute for the Hurricane ravaged John Prince. Since we still had ten days before the 17th and didn't want to stay in Northern Florida we left Fort Clinch and drove to Melbourne Florida's Wickham Park. A friend from the Fair Lawn bicycle path had told us about it and friends of ours were there for a few days as well. We visited with our friends , walked the paths in the park and even got to the Melbourne beach.
Not far from Melbourne there was a popular state park campground that we had always wanted to visit. We were able to reserve the three days during the week before we were due in Jonathan Dickerson. Once there we learned the reason for its popularity. The campground is on the Sebastian Inlet of the Indian River and a great place for fisherman. While there we walked on a very nice bicycle path on AIA, went to the beach several times, visited the McLarty Treasure Museum and even walked to Pelican Island National Wildlife Refuge.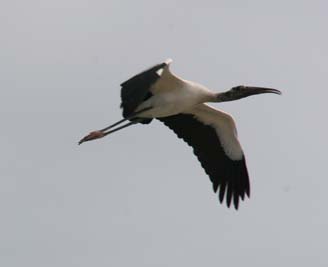 We had the endangered Wood Storks for our neighbors.
In 1903 Teddy Roosevelt established the National Wildlife Refuge System by preserving Pelican Island as the first wildlife refuge ever established in the USA. Today there are over 500 refuges encompassing over 93 million acres managed by the U.S. Fish and Wildlife Service.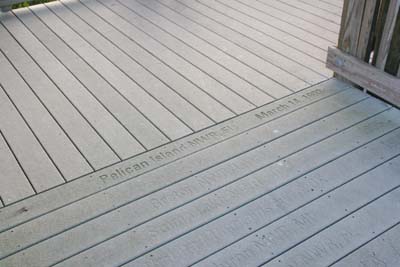 A board walk made of recycled plastic took us to view the island. Etched in the plastic is a list of Refuges and the year of their creation beginning in 2003 going backwards to 1903. Unfortunately the pictures were hard to take and don't convey the scope. You will just have to visit Pelican Island.
In 1715 a storm sank a Spanish fleet laden with gold and silver on the shoals between sebastian Inlet and Fort Pierce. About 1500 survivors made it to shore and camped at the current site of the McLarty Museum until they were rescued. The ships with their precious cargo were strewn across the ocean bottom along what is now called the treasure coast. Over the years several ships and some of the cargo have been found a small sampling is on display at the State run museum.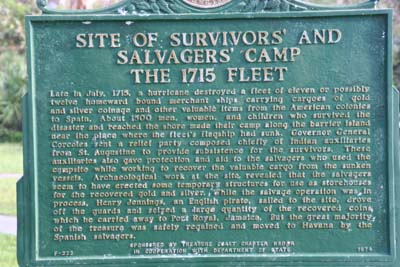 We had camped at Jonathan Dickerson during several of the past winters so we were shocked at the hurricane desolation that we found. When last we camped there campsites were nestled in trees now it was an open field with shrubs and bushes. The hiking trails were still there and we were able to hike the trails even found a new one designed for off road bikes which was quite popular. We avoided it on the weekend. We even walked on the sidewalk that goes from Carlin beach in Jupiter to Juno Beach where we had camped last year at the end of February on our short visit to Florida. We even managed to spend some time on the beach. One evening, we visited some fellow RV 'ers who are members of the Escapee's birds of a feather group that I edit a newsletter for. They spend their winters in a West Palm ownership park.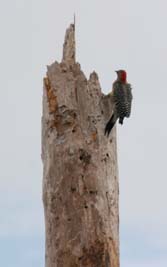 When we climbed the tower at Florida's Hobe Mountain 50 feet above sea level a lighter then air craft pilot and I exchanged picture taking. I hope you can see his camera.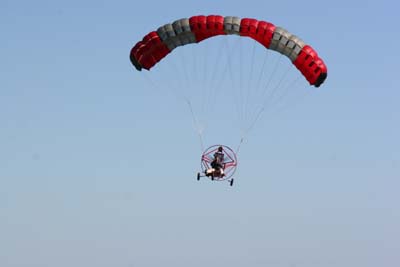 On the Thanksgiving we visited Debby's cousins in West Palm for dinner. On Friday we even went to the movies to see George Clooney's "Good Night and Good Luck" the story of Edward R. Morrow. We were looking forward to several more beach days when Richard called to tell us Caryn had died. We made some calls and booked a Sunday flight to LA. On Saturday morning we drove down to Miami Everglades campground to store our trailer for the trip to LA.
We flew to LA to be with Richard. The first week was brutal while we waited for the coroner to release Caryn's body so that we could honor her and put her remains to rest. The funeral was held on Friday in the Hillside Cemetery. My cousin who used to work there as well as two of my aunts are also buried at Hillside. Some would say it was bershert (ordained by fate) I would rather not have had it happen. Michael, Jennie and the kids as well as Susan and Kyle came to provide support to Richard and were there for the funeral as were many of Caryn's and his friends. Caryn's parents Paul and Myrna, Grandmother Susie, brother Elliot were there along with many other family and friends. After the funeral the Shalita's returned to Tucson for the shiva periods, our other children returned to their respective homes and we remained with Richard for the week. Caryn had a very popular web site about acting and life in general which included holiday ideas, recipes links to shopping and animal rescue. Richard and some of Caryn's friends converted the site into lovely memorial to her. Please visit http://www.caryn.com
We returned to Florida on Sunday, hung around for three days and flew to Aruba for a preplanned trip. I won't call it a vacation because we are always on vacation. While there we walked, sat on the beach, took in the sun and went to great restaurant's. Debby developed hives after a visit to our favorite restaurant necessitating a trip to the hospital emergency room. They gave her a shot, a prescription for antihistamine and a copy of the medical record in Dutch.
We returned from Aruba on Christmas Eve and left the campground the following day for the Keys. Some people have called the Florida Keys America's Caribbean. The Keys are probably the warmest place in the USA to be during the winter. We camped at Long Key State Park at mile post 67 of the overseas highway. While there we sat in the sun and walked the bike path. Someday that path will extend from one end of the Keys to the other but for now only parts are completed. From the town of Lathem to the end of Long Key and along a three mile fishing bridge is one of the finished areas. After the three days we left Long Key and came north to Key Largo's John Pennekamp Coral Reef State Park a few days before the New Year.
On New years eve we went out for dinner and than over to the Florida Bay side to watch the fireworks from the Caribbean Club's beach. They say that the Movie "Key Largo" with Humphry Bogart, Lauren Becall and Edward G Robinson was filmed there. The boat the "African Queen" from another of Bogart's movies is also on Key Largo at the Holiday Inn Marina and can be viewed by tourists.
When our two week stay at Pennekamp was over, State Park stays in Florida cannot exceed 14 days in season, we had planned to go further south on the Keys to Bahia Honda SP. Unfortunately Bahia Honda was also damaged in the hurricane and not scheduled to open until February first well after our reservation. The Florida Park system refunded our money and we managed to get a six day reservation at Collier Seminole SP near Marco Island and a 12 day stay at Florida Keys RV Resort in Key Largo.
The six days at Collier Seminole gave us an opportunity to visit the Everglades National Park at Shark Valley, drive on the scenic Tamiami Trail, visit Cypress Bend State Preserve and Big Cypress National Monument as well as Thousand Island National Wildlife Refuge for a wonderful week of hiking as well as bird and alligators watching. We also found the time to go to Tigertail beach on Marco Island to walk and sunbathe several times.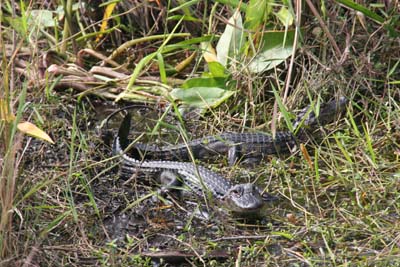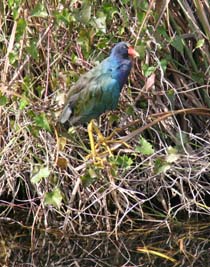 Collier Seminole State Park is home to one of the "Walking Dredges" that made Route 41 the Tamiami Trail through the river of grass known as the everglades. The name of the trail no ancient Native American word stands for Tampa to Miami. Sounds good doesn't it.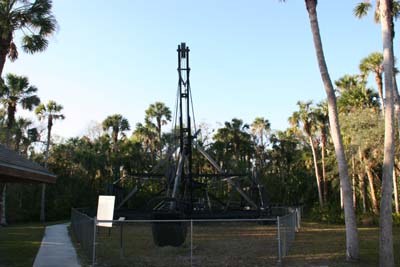 The birds above are Debby's favorite. Flamingos no longer live in the United States but the Roseate Spoonbill is a close second for its pink skin.