Full Timing
Several years ago I heard that there were about a million people who lived full time in their RV's. Some live in an RV, not a mobile home, and remain in one spot, others travel all the time, while still others travel in warmer weather and spend large portions of time in one spot, often the same spot year after year. Amongst the people who stay in one spot for long periods of time are those that own their spot and those that rent their spot. They form communities and make friends just like anyone else. Others who spend large amounts of time in a fixed spot are work campers who serve as hosts or work as employees of campgrounds and tourist attractions. Some RVers even work in traveling circuses and carnivals. Some are paid cash and given a full hook up site mainly in private campgrounds and working for concessionaires in amusement parks as well as State and National Parks. Others are just provided with full hook up sites and work doing various tasks in Public Campgrounds including municipal, State and National Parks, National Forests and areas under the control of the Corp of Engineers. Still other people only lived in their RV during the Winter months returning home when the weather warms up. They flock to Florida, Texas, Arizona, California, Nevada and other States whose winters are warmer or shorter then the average.Of these there are people who also take trips in the warmer months and others whose RV's don't move until winter. Some even leave there RV's in the storage at their winter destination at the campground or at nearby storage facilities.
For the past six years Debby and I have had a variety of experiences. We were snowbirds at first taking larger spring and summer trips as time went by. Our longest excursion was 14 months when we went out West and our shortest was probably a weekend in Atlantic City but we always came back to our house in Fair Lawn, New Jersey. This Spring we put the house on the market and do not have any plans to buy another or settle in one place.
On Monday July 25, we left New Jersey. We did not find a buyer but were on our way. We left New Jersey and spent our first night at the Falling Waters campground in West Virginia. We had camped there before and knew that we could walk on the C&O Canal. Our life style includes a daily walk or hike of at least on hour even on traveling days. The next night we camped at Ft Chiswell another campground that we had been at before. This time we walked on a portion of the New River Trail that we hadn't walked on before. Our next two stops were new campgrounds for us in Tennessee. First the State Park and then the State run RV park on the Natchez Trace.
The area is part of the water and power control system that includes the famous TVA. We had camped in the area once before but at the time we mistakenly set up at the horse campground amongst the manure before we realized there was a nicer park a few miles down the road.
America seems to have forgotten the contribution of the Civilian Conservation Corps but we often come across their projects and memorials.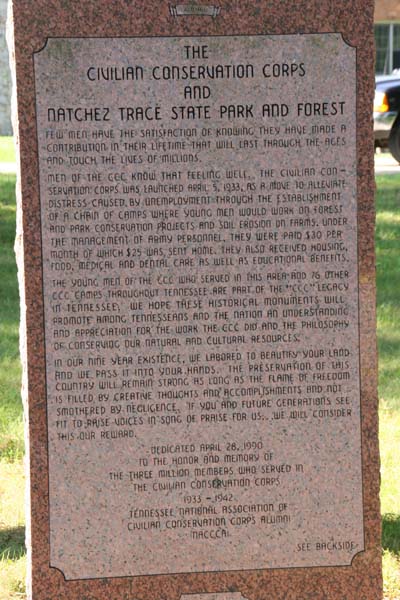 From Tennessee we went into Arkansas and camped again at Burns Park in North Little Rock where we walked along the Arkansas River. The next night was spent at the Wright Patman Lake Recreation Area a Corps of Engineer water control project in Texarcana, TX. From there we drove to the Escapees Headquarters and RV park in Livingston Texas. Livingston is in the Piney woods section of Texas south east of Dallas and north east of Houston and the location of our new domicile and legal address. The next morning, Monday, we went into the mail forwarding office and established our new address. We had left some important papers back in New Jersey so we had to wait for Susan to send them to us in the meantime we went down to Galveston for a week of camping on the Gulf.
Galveston State Park has reservable sites on the beach and non reservable sites on the bay. all the reservable sites were taken for the coming weekend so we elected to camp at the bay for our entire stay rather then at the beach during the week and move on the weekend. The entire country was experiencing record heat and Galveston was no exception, when we weren't on the beach or hiking around the bay we staid in the camper with the air conditioning on. An occasional breeze was somewhat pleasant but in general the heat and humidity was brutal. We walked the trails on the bay early in morning while it was still tolerant. Fortunately the biting bugs weren't really a problem. We encountered herons, egrets and our favorite roseate spoonbills.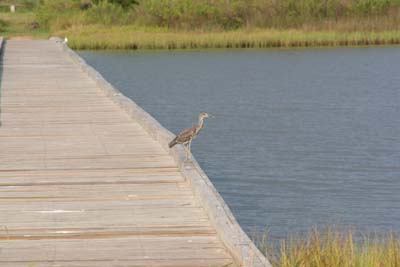 A friend had told us about the Moody Center, a destination resort was worth a visit. We went to Center with it's beach, water park, restaurants, rides, Imax theatre, hotel and discovery pyramids. We only visited two of the pyramids one set up as a rain forest and the other as an aquarium. We would have gone to the four star restaurant but it wasn't open on the day we wanted to eat out so we did our own cooking while in Texas. Actually Moody Center and Galveston is worth a visit is your looking for someplace unique to take kids in the US but I am not sure August is the best month to do it.
From Galveston we returned to Livingston had the truck and trailer inspected and registered in Texas where we also registered to vote. The next day we went to the Office of Public Safety converted our drivers licenses to Texas, receiving a paper temporary license and turning in our Jersey licenses. After that we headed north and spent the first night at a private campground in Arkadelphia, Arkansas just above Hope and east of Hot Springs. The next morning we walked at state Park and Resort fully equipped with hiking trails, campgrounds, lots of water and a golf course. From there we traveled into Missouri and camped behind the flood walls at Azteca Casino on the Mississippi River. The elderly southern, Missouri lady at the campground desk thought I was a foreigner. I had to tell her I was born on an island but grew up on the mainland of the US and that I really was a born citizen. We ate dinner at the casino and it was a real bust. Not the worst meal we ever had but close to it. After dinner we went to the river boat that served as the casino but they wouldn't let us on. Photo ID was necessary and we had surrendered ours in Texas and neither of us wanted to go get our passports which were back in the trailer.
After stopping at Costco and Culvers in St Louis we continued in a pouring rain to Springfield Illinois. The next day again in rain we visited Lincoln's Springfield home and the Illinois State Fair.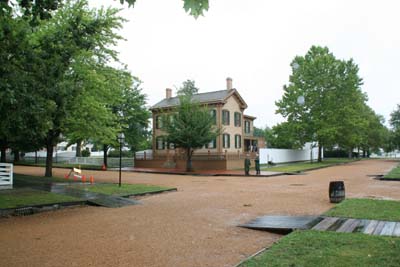 The next morning with the rain past we continued on our way and stopped in La Salle to walk on the I&M Canal. We had walked on the I&M before but usually from the Utica access. Interestingly enough last year on our way to New Mexico we camped at Starved Rock and walked on the I&M Canal where we met a retired teacher who we spent an interesting fifteen minutes talking about education in Illinois and back east. Would you believe that we met the same guy again. It certainly is a small world. From there we continued on our way to Token Creek just outside Madison, WI and spent a few days with Michael, Jennie and the kids.