Cape Town Maui Depot to Stellenbosh 45 km 27 mi. Feb 26,2011
After we ate breakfast at our hotel, the Southern Sun Capetown Water Front we got on the tour bus and drove to the Maui (Campervan rental Co) depot to pick up our campervans. As we were leaving Cape Town in the bus we drove past Table Mountain where the clouds were drifting down from the mountain top making for a great photo opp.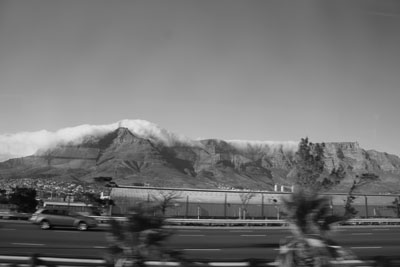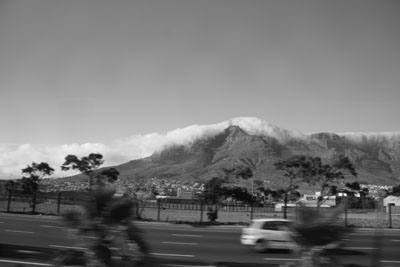 Unfourtunately I was fiddling with my camera and inadvertintly set it for monochrome as a result all my pictures for three days are in monochrome.
At the Maui Depot they fed us again with juice, coffee, muffins and finger sandwiches, gave us a very breif orentation to our new homes and sent us on our way.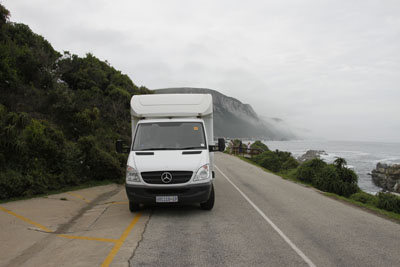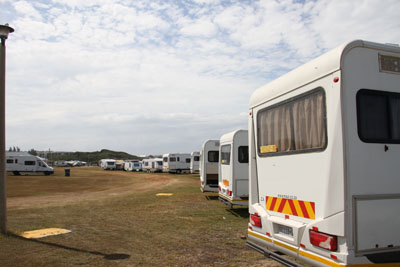 First stop was accross the street to the Super Market which had a reasonable selectiuon. while we got caught with the Saturday shoppers and spent an inordinate ammount of time shopping we did have a great opportunity to talk to several locals who were also waiting on line at the casheirs. Debby and I of course were the last ones of our group to leave the market. The only one of our groups campervans that was still in the parking lot was the mechanic who needed to be last. This was fortunate for us because he took us to a short cut that shaved 11 Killometers from our trip. At the campground we picked a site, left some chairs to mark our occupancy, picked up anotherr couple from our trip who prefered not to drive and went to the Spier Winery where they have a Cheetah Refuge. We toured the refuge and Debby even petted a cheetah. Unfortunately all my pictures were in Monochrome although I got one from a new found freind also on our trip and his are in color.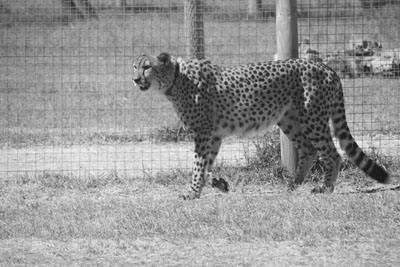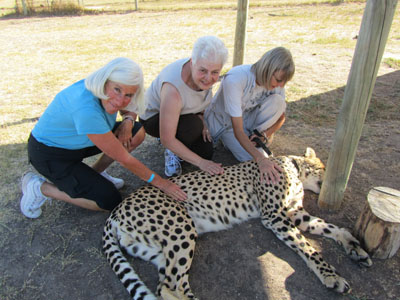 After the Cheetah encounter we returned to the campground from where we went to dinner. Upon our return from dinner we began unpacking our lugggage. This process would be completed the following evening at Cape Aguilas.