After Custer we went to Wyoming and visited Devils Tower National Monument.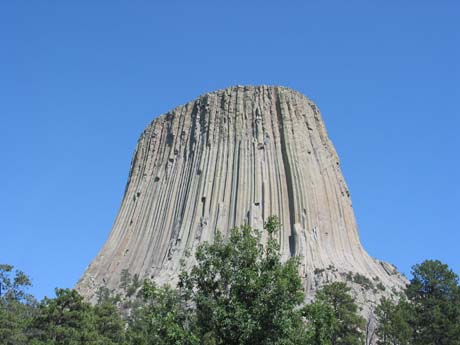 While there we hiked around the base of the Monument

Some people were climbing but it wasn't for us.
The campground we was right outside the Monument grounds and every night they showed "Close Encounters of the Third Kind" a Speilberg film which features the Monument. Debby had never seen it and I enjoyed for the second time. As we were leaving the outdoor showing which was on a large screen monitor we looked up in the moon light and saw the Tower it was quite an impressive sight. I half expected little green men to swoop down and grab me up. From there we went to the Little Bighorn Battlefield National Monument. For those of you who don't know it's where Custer got his ass whooped while trying to get the Indians back on the Reservation. He got himself and most of his command killed while attacking an overwhelming number of Indians including non combatants.
New York Has its cows, Chicago its furniture and Billing's its horses.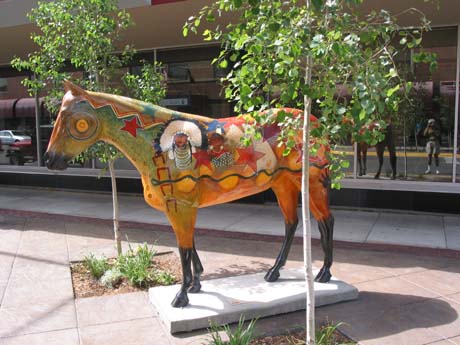 After a brief stop in Billings Montana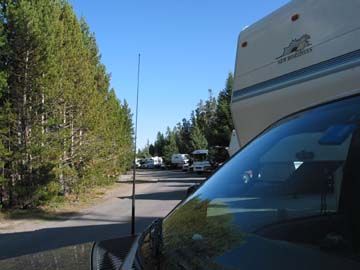 We arrived in Yellowstone National Park. Most campgrounds don't look like this but if you thought the Park'N'Ride was a bummer this wasn't much better.
As Easterners we are used to crowded campgrounds and in popular places we like to make advance reservations. The only place we could do that in Yellowstone was this RV "Parking Lot". We didn't know what to expect and found this. Granted it has full hook ups which include water,electric and sewer but we usually prefer to dry camp (fill our fresh water tanks and use only battery power which is maintained with our generator) rather then "park" in one of these RV Parks. We are in Grizzly country and they don't allow tents or soft sided tent campers in this lot. By the time we checked out the other campgrounds and their availability we decided to stay.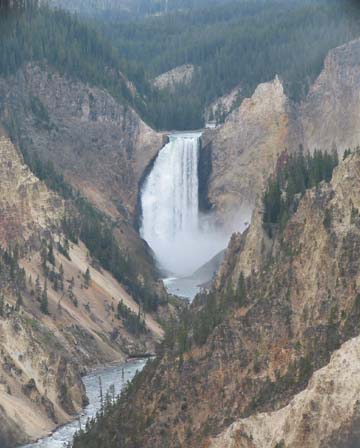 Grand Canyon of Yellowstone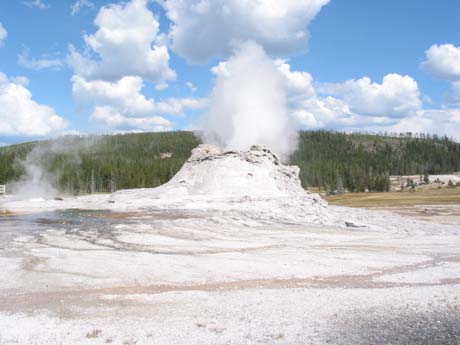 Castle Geyser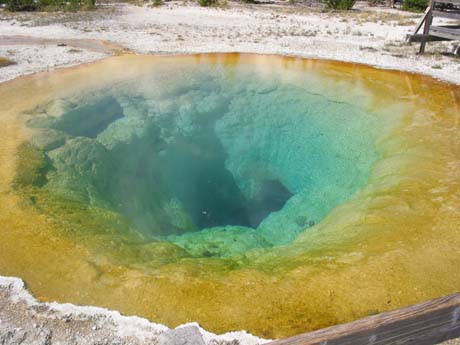 Fading Glory Geyser. Formerly Morning Glory but the name was changed because the Intelligent tourists throw things into the geyser and it's clogging the opening
Rangers have to Vacuum it regularly but the hole is closing anyway.


One of our neighbors.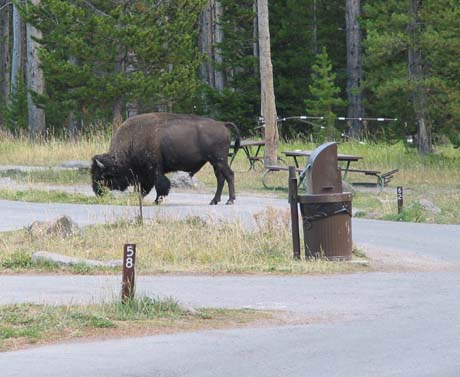 Another neighbor. Actually this isn't our campground but it could have been and still might. You might notice this is a male. What you won't notice is he is alone. The older males leave the herd during rutting season because they can't compete with the younger males for females. They rejoin the heard after rutting season.