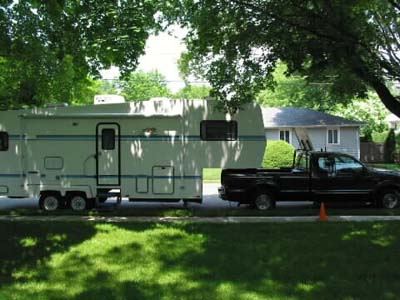 In May 2018 after living on the road for 16 years we bought a Condo in Boynton Beach Florida. Then after a great trip to Newfoundland during that summer we put the truck and trailer in storage and moved into the Condo at the end of December. Many years after that first departure which we called the "Big Trip" we discovered that our friends didn't think we could last and had a pool as to how long it would take us to give it up, obviously nobody guessed we would continue for as long as we did. Our latest trip is linked below but our entire adventure is
here
On Monday April 28,2019 we took the truck and trailer out of storage and moved them to John Prince County Park Campground in Lake Worth, Fl. That night we slept in the condo and the next day we took everything we wanted for our trailer life and moved back into the trailer. On May 1st we went to Payne's Prairie State Park in Micanopy near Gainesville and on May second we left Florida.
We traveled through 27 States before returning to Florida
. We experienced snow in Nebraska and hail stones as big as golf balls as well as snow in Wyoming. It was 104 in Las Vegas where we were only about 150 miles from an earthquake. We traveled to some old places and some places we had never been, we visited more relatives then we ever had in our previous travels. We had a great time and are looking forward to our next trip beginning in May 2020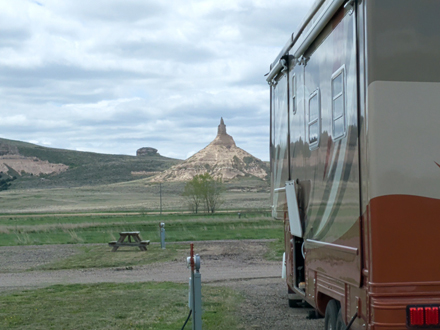 Nebraska's Iconic Chimney Rock and then it snowed

In addition to this web log at this location I have posted additional pictures on a commercial photo site. As is true at this site there is nothing for sale and no advertising. I just ask that you read the disclaimer there first and be aware that both locations are works in progress.
Listed below are links to our latest trip, The Table of Contents for all our trips and the photo gallery
Camping with Debby and Charlie

Debby and Charlie Yaker in front of the home we owned in Fair Lawn, N.J. when this journey began on July 15, 2002
Where we went after July 15, 2002
At the end of November 2005 our daughter-in-law Caryn, Richard's wife died shortly before her 37th year. Fortunately ever since 2002 when we started traveling cross country in our RV two of our three trips out west ended in California and we spent some quality time with Rich and Caryn. Words cannot describe our feelings of loss and sympathy for Richard and Caryn's parents, Myrna and Paul as well as her grandmother and brother. ( Myrna and her mother have since passed on) It's not supposed to happen like that. None the less life goes on and in 2011 after we left California for the East Coast Richard met a lovely young lady, Jennifer Gaynor and they were Married on May 19, 2013.



In Loving Memory of Caryn Amy Shalita Yaker, December 19,1968 - November 26, 2005