We drove from the Grand Canyon to Flagstaff Arizona checked into the local KOA on Monday, October 14th. Flagstaff was conveniently located near several of the places we wanted to visit and a good location to have the truck fixed. Unfortunately, it was both well above sea level and in Northern Arizona so it was a little cool. In the Southwest temperature is all about elevation. Cold in the higher elevations and warm at sea level or below. The next morning we took the truck to Jim Babbitt Ford's Collision Center. They couldn't start for a couple of days so we made an appointment for the following Monday and drove out the few miles to Sunset Crater Volcano and Wupatki National Monuments.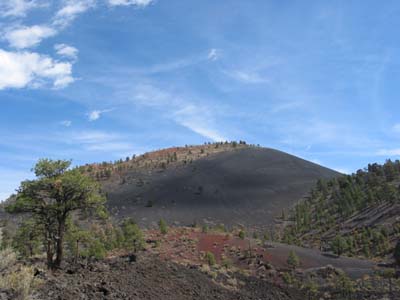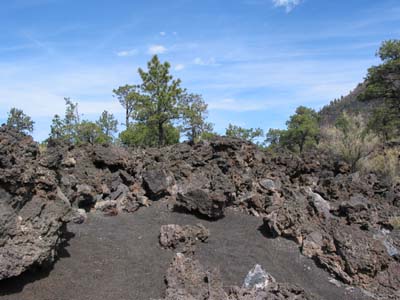 Sunset Crater Volcano erupted in 1064.
Sunset Crater and Wupatki are connected by a 36 mile loop road.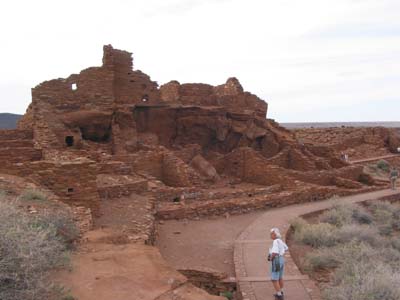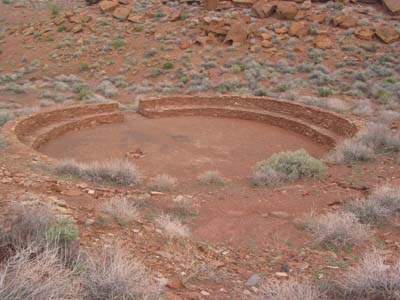 Pueblo housing about 100 people and a ball field.
Wupatki National Monument is a collection of widely dispersed pueblo ruins, which were abandoned several hundred years ago.
After Sunset Crater Volcano erupted the locals left. They returned after several generations but life was never easy in this high desert so they only stayed for about a 100 years. As you can see many ruins are well preserved in the dry desert air.
We drove back to Flagstaff and left for Holbrook, Arizona and the Petrified Forest National Park. While we had seen a petrified forest in Escalante it in no way prepared us for the National Park.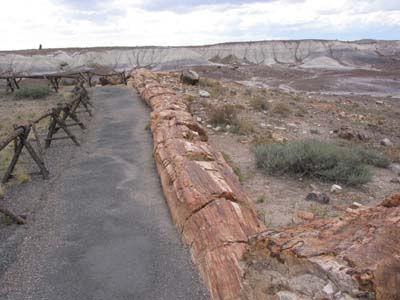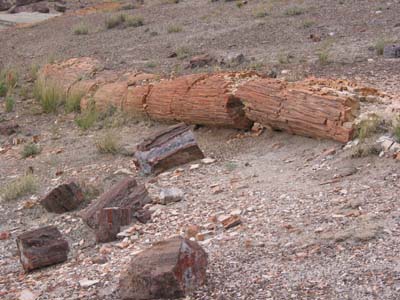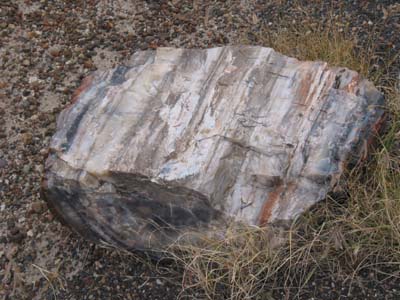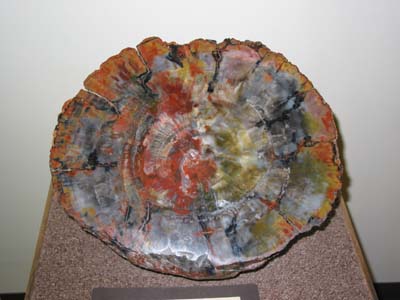 Polished it can be quite beautiful. In fact people have been picking up and or stealing this stuff for years. The park was started to preserve the site for future generations. Some of the wood takers have bad luck that they attribute to their theft so they return the petrified wood with a letter of contrition and apology.
The other end of this park is the Painted Desert National Monument which is very beautiful. The reds come from rust. There is a great deal of iron in the soil.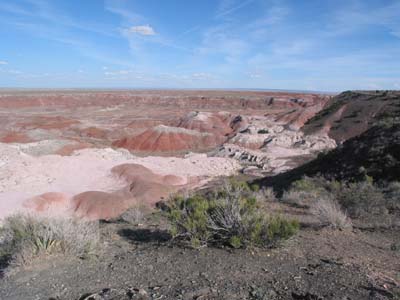 Unfortunately, it wasn't as impressive as it would have been if we hadn't first seen the badlands of South Dakota.
We were planning to go to Canyon De Chelly with the trailer the next day. However, we overheard a Ranger in the Painted Desert Visiting Center that was warning people about car break-ins at the Canyon. We opted for a day trip instead.