Fruita true to its name still has the Mormon farms and orchards, now run by the National Parks. when the fruit is ripe visitors may pick their own. Fruit eaten on the spot is free, while fruit taken for later consumption costs seventy five cents a pound.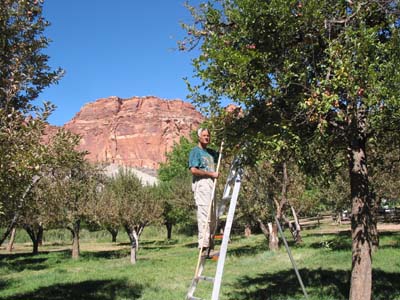 I used to do this at Masker's Orchard near Sterling Forest in New York State but back then it cost $2 a bushel. None the less we picked Apples and Pears and Debby baked them in the microwave powered by our self contained electric generator.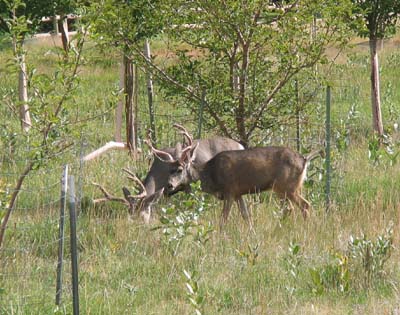 I did have to compete which the neighbors however
Fruita also had some interesting Mormon Cultural History, like the old school.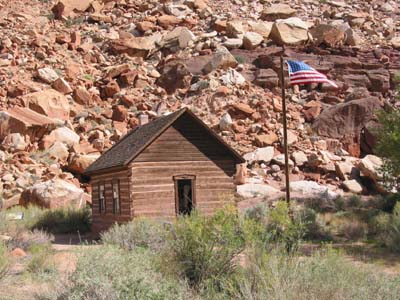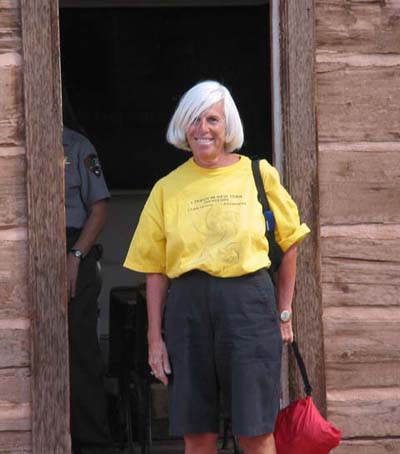 I asked Debby to wear that shirt. Unfortunately you can't read it but it says" I teach mathematics in New York Therefore I can teach anywhere"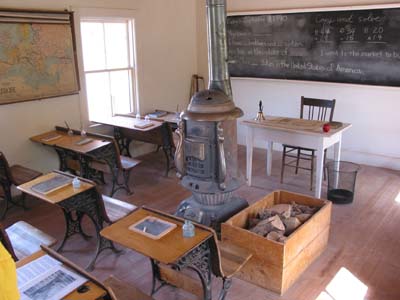 And my pickup truck's older brother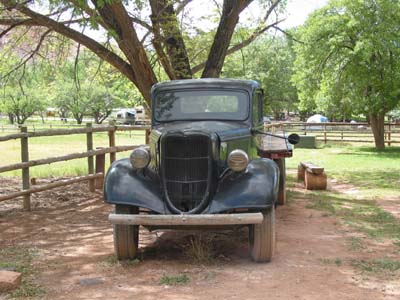 And a Stone Cabin which was home to a rather large Mormon family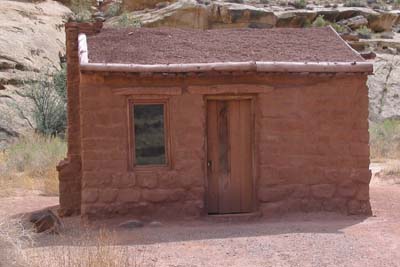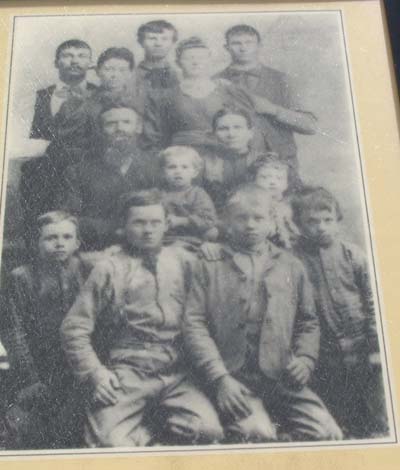 The Behunins
Capitol Reef NP is really far from what we know of as civilization. You might say it's in the middle of nowhere but even nowhere has its surprises.
Some people collect souvenir chotchkas when they take a trip. Some collect artwork from all over the World. Debby and I collect restaurant experiences.
In Torrey, Utah about 3 miles from Fruita was an AAA 3 star restaurant. We couldn't pass up the opportunity so we went for dinner. We weren't disappointed Cafe Diablo should have been rated higher but didn't have table cloths. The Southwestern food was delicious and what a presentation. A lady at a table near ours even took pictures. Debby had Pumpkin Seed Trout, Local Road Creek Trout with Cilantro Lime Sauce, Vegetables & wild Rice Pancake; while I had the Double Cut Rib eye Steak with Sandy ranch baby carrots, potato & horseradish taquitos, red pearl onions & Crimini mushroom broth. We didn't take pictures but Debby went up to the chef and told him that we often dined in New York City and his cooking was as good as we have had anywhere.
We regrettably left Capitol Reef National Park and went to Escalante State Park just outside Grand Staircase Escalante National Monument.