I have added a maps of our Utah itinerary.

You might say that Yellowstone represented an adjustment in our thinking which made us think more like "full timers" and less like "vacationers" and gave us a different perspective on reservations. As Easterners we find that the popular campgrounds and National Parks don't often have vacancies for weekends and reservations are necessary for a choice campsite. Out West this isn't necessarily true, especially just before and after Labor Day. We are still making reservations but give it more thought, as reservations limit our flexibility so sometimes we don't make them. As for the difference in our thinking it relates to choices we are making with relation to our travel plans. For example: while we were in Billings, Debby wanted to stop in Cody, Wyoming for the Rodeo, I thought we should drive through Cody and use the Yellowstone campground as a base to explore the park and return to Cody for the Rodeo. Well the road from Cody turned out to be steep and winding with few guard rails at the roads edge. It took more then an hour to get to the park. When it came to going to Cody for the rodeo at first we were going to go and return in the middle of the night and then leave for the Teton's the next morning but then we realized that it really didn't make sense so we checked out of the campground a day early and went to Cody were we stayed two nights. While driving to Cody our path was crossed by a Grizzly Bear.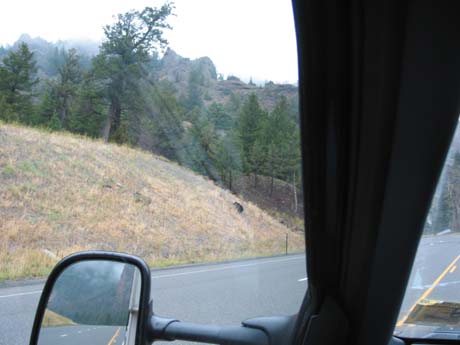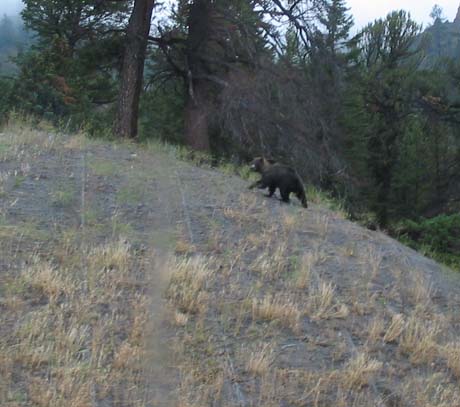 Cody named for and founded by William Cody otherwise known as Buffalo Bill was an interesting place to visit. The rodeo, Debby's first was OK but not as thrilling as the ones I attended at Madison Square Garden as a teenager. In addition to the rodeo we visited the Cody Museum and ate in a Western Saloon. The meal in the Saloon was less then memorable but the museum was fascinating and so was Buffalo Bill. I used to think he was just one of the overblown Western characters and a little bit of a charlatan. Boy, was I wrong. It seems that William Cody was a Medal of Honor winner. One of five civilians who were awarded the medal. It was taken away from him posthumously when it was decided to restrict it to members of the military. The Army eventually decided to restore the Medal to the five civilian recipients. More important then this real hero's status is they way he thought. He believed in equal pay for equal work for woman and he treated Native Americans as equals and gave them the same rights as others when they worked for his shows. He also realized that in his experience the only times the Indians went to war was when promises made to them were broken. He said that in order to keep peace the government shouldn't make promises that didn't intend to keep. He wrote an autobiography which I guess I will read some day. He is a real American Hero and joins my pantheon which includes Harry Truman, JFK and Hyman Rickover.
After leaving Cody we drove back through Yellowstone and went to Grand Tetons National Park.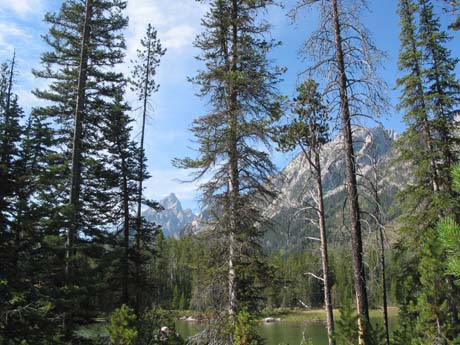 We went without reservations and avoided the Trailer Village. This time we camped in the campground managed by the National Park Service which had no hook ups but was quite pleasant. Interesting enough the Trailer Village in Grand Tetons is not a parking lot and would have been an acceptable choice with full hookups. While in the Tetons we went on several Ranger lead walks and hikes and two boat rides.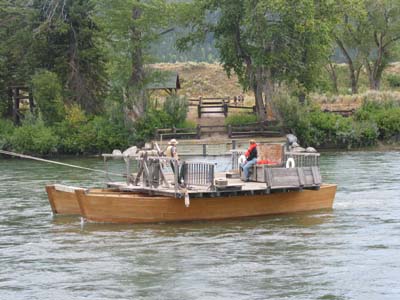 This ferry is a replica of the ferry across the Snake River. That's not us but we rode it also. Guide ropes adjusts the ferry so that the currents do all the work not the seasonal female Ranger who is at the tiller.
We left Grand Teton National Park and drove through Jackson, Wyoming the Jackson which is at the south end of Jackson Hole and which sports such high real estate price. I guess it's the Western version of the Hamptons.
We drove south on 89 and stopped for the day in Montpellier, Idaho. If it sounds familiar it should, Brigham Young named it after the capital of his home State, Vermont. Montpellier was one of the stops on the Oregon Trail. They have a great museum there which was really fascinating. First we saw a video which is composed of stills of one artists pictures of life on the trail. Then we climbed into a model of a wagon which rocks and bumps in place for several minutes, long enough to understand how it feels to ride in a conastoga wagon but short enough to keep our seats from getting sore. When we got out of the wagon we were in a movie set for a wagon train in camp at the end of the day. Two ladies in period costume showed us wagon train at rest and told us stories of life on the trail. The entire experience was pleasant, educational and illuminating.
From there we drove through Cache Canyon and the Cache National Forest through some really great scenery from Idaho into Utah and down into Salt Lake City.
The trip wasn't as uneventful as you'd think because they are repairing the roads in a lot of these canyons and only one lane is open in both directions so there are a lot of stops and delays. The scenery made it preferable to the interstate.
While in Salt Lake City we renewed some prescriptions in the local Walgreens, I had blood test performed at the local Quest laboratory with the results sent to my physician at home, we picked up our mail forwarded by Susan, attended first day Rosh Hashanah Services in the local JCC sponsored by Hillel and even bought three Challah for our own celebration. We went to dinner one night in a nice Zagat rated (28) restaurant called the Shallow Shaft. The restaurant met our expectations but if we had realized it was so high up in the mountains with curvy steep drop offs for the trip home we would have gone to a less highly rated restaurant. It seems that we were in Salt Lake City at the same time as the State Fair, which we attended I wouldn't mention it but they have an Ice Cream Social, all you can eat for $2 a head and you know we enjoyed ourselves.
We also visited the LDS (Church of Jesus Christ Later Day Saints) Genealogy Library. Very interesting but we really didn't spend a long time there. Maybe when I get home I'll do some research in one of their local Libraries. There is one on Kingsbridge Road in the Bronx. Interesting people they didn't even mention religion and didn't try and convert us. We really felt welcome. The only sour note was a picture and Bio of the Current AG. Maybe he is a Mormon but to me he is the greatest threat to individual liberty since Joe McCarthy. Some would say Richard Nixon, I won't argue with them either.
We also visited Antelope Island State Park, another of those premier State Parks listed by National Geographic and walked out into the Great Salt Lake. We were surprised that the lake had tides and almost had our clothes and shoes wash away.
By the way New York has it's "Cows", Atlantic City its statues typical of it's streets (Statue of Boston Tea Party was featured in the "Big Trip" the first installment of our trip) Chicago its "Furniture", Billings it's "Horses" and Utah has its Bison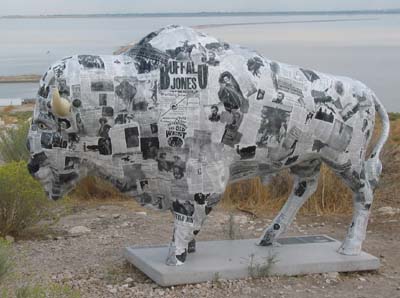 I don't understand how New York got "Cows" maybe "Politicians like Jimmy Walker or Boss Tweed", Gangsters, "Yankee Greats", "Dem Bums" even the "homeless" but "Cows"?

After Salt Lake City we went to Arches National Park