Richard and Caryn left us on Sunday in the rain driving northwest to go north. We left on Monday after the rain driving south to go north. We couldn't climb the steep hill, so we went around to the south which wasn't as steep. We could have gone east which would have taken us five hours out of our way and anyway we had been there done that and hadn't been south. At least that's what we thought. It seems that we had been there before as we passed the San Diego Zoo's Wild Animal park which we had visited in November. We returned to San Clemente State Beach for four days. Unfortunately, this time it was windy and a bit chilly. We did get a few hours of sun on the beach and discovered an interesting place to walk. We left there heading back to Las Vegas and a review of my new blood pressure medication. When doctors change your meds they like to see you in a few weeks.
We stopped for a few nights in Barstow at sort of a ghost town called Calico. I say sort of because not all the buildings were original. Calico had been a thriving mining town with 1,200 people and 22 saloons in the 1880's. There were 500 mines which produced $86 million in silver and $45 million in borax. You didn't think that little black and white can with the red 20 mule team was worth that much did you? If you knew that you never would have washed your hands with it.
We toured the Maggie mine watched a silly little gun fight reenactment and walked through the town.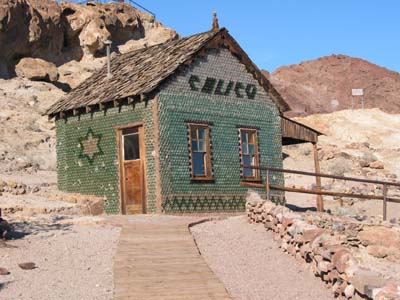 This glass house is made of empty bottles is a replica of a house built in another mining town which was a tourist attraction for years and even appeared in some movie but I don't remember the details and can't check cause I gave Richard the book. The town and attached campground is run by San Bernardino County. It was gift from Walter Knott the founder of Knott's Berry Farm.
Close to Calico is a place where "Early Man" came to make tools and is currently an archeological dig. Louis Leaky had been here soon after the site was discovered and was very impressed with its importance. For those of you who are interested it is pre clovis.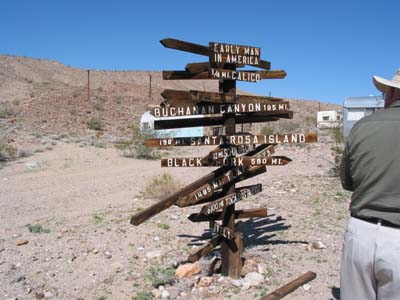 This appears to be a rock used as an anvil but it will have to wait for removal for further testing to confirm that.
While at Calico we drove a short distance to BLM land called Rainbow Canyon for a hike and met someone looking for a phone booth.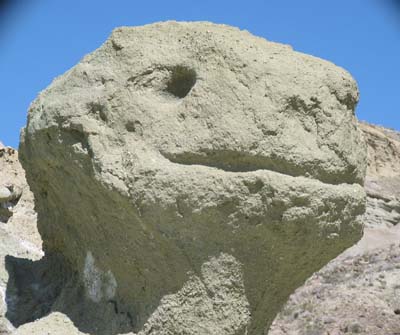 We weren't sure if somebody found an interesting rock and helped it out or whether this occurred naturally but we never did see the phone booth.