We left Malibu Creek after a nasty rain storm and threat of colder weather. We drove down to Dockweiler State Beach,
a Los Angeles County runs rv campground at Playa Del Rey behind and in the flight path of LAX. The planes are noisy but tolerable as are the chemical smells from the refineries and sewage processing plants located there as well.

While at Dockweiler we walked on the bicycle path in Redondo, Huntington Beach, Manhattan Beach, Play Del Rey ,Marina Del Rey, Santa Monica and Malibu. The path covers approximately 20 miles, only we didn't do it from end to end. We walked about 5 miles daily, 2.5 out and 2.5 back and we started from different places each day.

We visited with Richard and Caryn who were only 7 miles away, went to restaurants and malls, walked on the Venice canals and viewed the houses lit for Christmas. We were supposed to return to Salton Sea on Jan 3rd but the weather got warmer so we stayed four more days and enjoyed the beach and Sun.

The literature at the Salton Sea Recreational area promised an average temperature of 70 degrees. Not knowing where else to go we had reserved a site for the month of January. If you want warm weather In Florida you go south usually south of Tampa Bay the further south the warmer it is but in the West it's all about elevation. If you want warm weather you need desert and low elevation like this.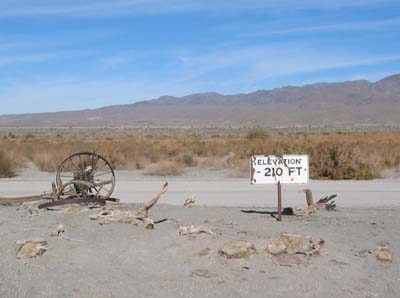 We never went back to the ladders but we did take several hikes besides our daily walks at the campground.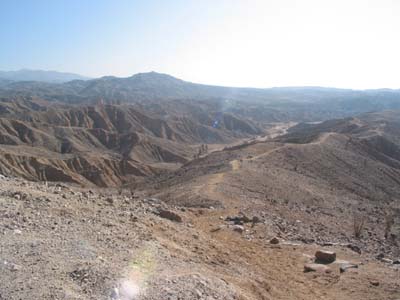 We went for several hikes to Sheep Hole Oasis and Spring Grottos in the same area that contained the ladders. On the first trip into this wilderness we almost got lost but realized that the area didn't look familiar so we looked around and found a post to follow. When going to Spring Grottoes we reached a spot that required climbing over rocks, we stopped and never reached the grottoes. While we were in one of the valleys we saw another group of hikers on top of the hills further back on the trail. We estimated that there were about eleven and they appeared fully clothed. On our return from not reaching the Grottoes we first met five hikers 4 men and a woman who were fully clothed. After sharing some appropriate pleasantries we continued on our way. Shortly after that we came on a group of men and assumed it was the eleven that we had previously seen however Debby didn't look at them and although I said good morning I didn't really look or maintain eye contact. Neither of us counted and we had no idea what to make of the group because they were naked. After we passed them I was tempted to turn around and take a picture to share with you but decided against it.

We also went to the Living Desert in Palm Desert. It is a 1,200 acre zoo and botanical gardens featuring 10 ecosystems with 152 animal species most from the world's deserts. They also had this wild model train display, with large grade model trains. The tracks covered an area about 50 square feet and had model buildings for the entire Coachella Valley which includes Palm Springs They have train stations, date farms, and roads with old cars from the nineteen twenties. What was strange to me was they also had models representing areas other then the California desert including the Grand Canyon, Mesa Verde, the Hopi Indian Reservation and the Swiss Alps. I think somebody's ego and imagination got away from them.

The most important part of this living desert as far as we were concerned was the 5 mile hiking trail.


At the beginning of the trail they had a call box. After which we traversed a 2205 foot boulder field in a dry wash. It wasn't climbing, more like walking from rock to rock. Then we hiked up several switch backs and a thousand feet of elevation in 4000 feet of distance to a picnic ramada. I was pleasantly surprised as I expected a telephone but there wasn't any. Palm Desert is a rather affluent community, so when I saw the phone at the start of the trail I thought that the facility was over protective of its visitors.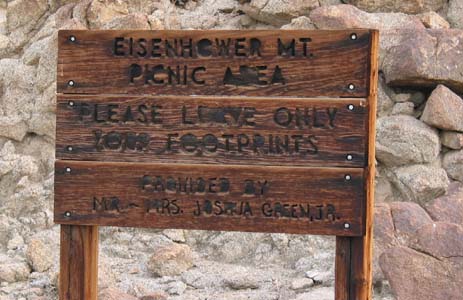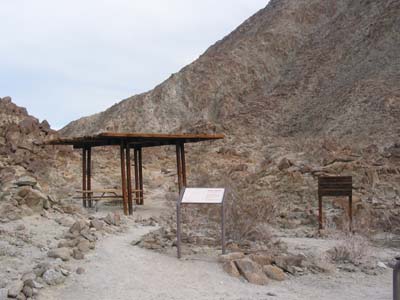 They like to name things and streets after Golf People and movie stars. Frank Sinatra Drive, Bob Hope Drive, Dinah Shore Drive, Fred Waring Drive, Gerald Ford Drive and as you can see, Eisenhower Mountain.

After stopping for pictures at the ramada we began our descent to valley below.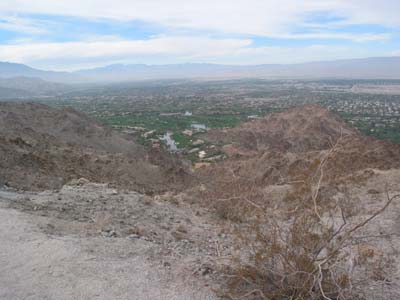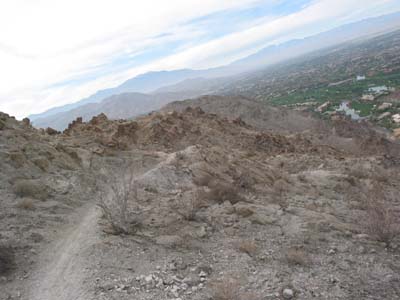 At this point we had an excellent view of the Coachella Valley floor and Palm Springs. It's amazing what a little water can do for a desert.

Anza Borrego State Park is another one of the 200 State Parks selected by National Geographic as the best State Parks in America. It is only sixty miles from the Salton Sea so we drove over for a day trip. On the way we passed some "snowbirds" squatting on BLM land and might even try it ourselves in March. We stopped at the visitors center, viewed a slide show which showed the park in all four seasons and took a popular hike.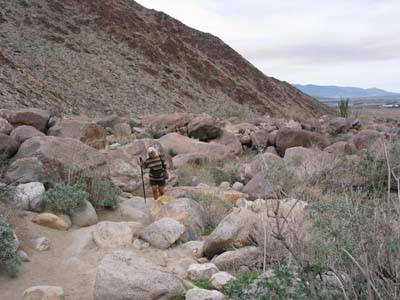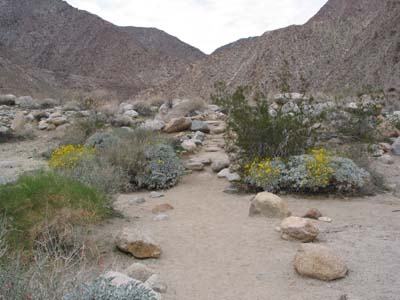 On the hike we saw mountain sheep and hummingbirds and it was our first visit to a real oasis with lots of native date palms and running water. The native date palm produces very small fruit about the size of a blueberry, Native Americans ate them and birds, small mammal and possibly some people still do. The fruit that we eat is from trees imported from Turkey and Iran early in the last century.

The flowers in Anza Borrego bloom in late March, early April and reputedly cover the desert in a myriad of color. It is such a popular attraction that there is a telephone hot line that you can call to find the status or you can give them a post card which they will return to you when the flowers bloom. You can see the yellow above, we also saw some reds but neither were very prolific. Unfortunately, our schedule doesn't allow us to pick and choose our return date so we will return at the end of March and hope that the desert is blooming.