We left the Salton Sea Sunday morning and drove to Joshua Tree National Park in a rather heavy 30 mile an hour wind. It is close by, only about an hour drive. We found a spot in the relatively empty Cottonwoods campground. After setting up the trailer we fought the wind which was still with us and walked down to the visitors center. From the visitors center we walked over to the Cottonwood Springs hiking area and hiked to the ruins of the Morton Gold Mill and past it to the road before returning to our campsite.


In all we walked about five miles. We returned to the trailer and spent the rest of the afternoon relaxing. The next morning we walked the four miles to The Lost Palms.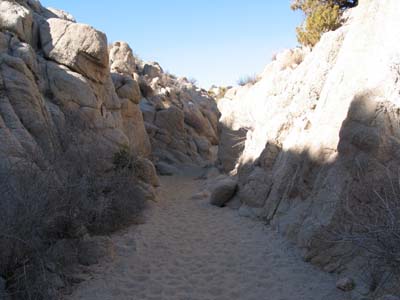 The trail was rather pleasant and relatively easy until we got to the canyon with the palms and then it got treacherous. The swithbacks were steep and rocky and we knew that we would have to climb back up so after starting down into the canyon we quickly decided to enjoy the view from above and return to the campground. We returned by way of the Mastodon Peak and hiked past the Mastodon Gold mine and mill having walked a total of about 9 miles.