There are no camping facilities at Manzanar National Historic Site and as of yet no National Park Rangers are there to assist visitors. We camped in a nice campground 12 miles south in Lone Pine California. I suspect that most of you have never been to Lone Pine, but might be familiar with the area surrounding the town. If you watched; Hopalong Cassidy, Roy Rogers, Gene Autry, or the Lone Ranger on your new black and white TV's in the late 40's and 50's then you have been to Lone Pine.


View of Mount Whitney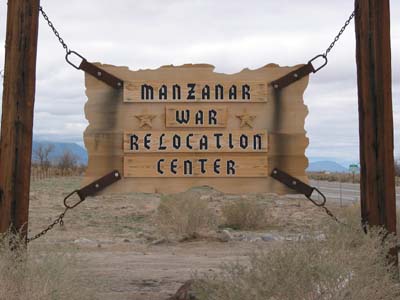 Those of you who think that the Constitution of the United States and Bill of Rights will protect you from illegal incarceration might want to reconsider your beliefs. You might even want to buy a gun and join the NRA if you're not already a member.



"In February 1942, President Roosevelt"

The liberal's hero

"signed Executive Order 9066, empowering the Secretary of War to relocate 120,000 Japanese Americans from their west coast homes to one of ten War Relocation Centers. With only the possessions that would fit into two suitcases, 11,061 men, women, and children (approximately two-thirds of whom where U.S. citizens) where relocated to Manzanar War Relocation Center between 1942 and 1945. A barbed wire fence enclosed the 500-acre living area, which consisted of 36 blocks of wooden barracks. Outlying areas were used for agriculture, a hog farm, a reservoir and a sewage treatment plant."

Granted there were no ovens as in Germany, none the less German and Italian Americans did not receive the same treatment and it was wrong. It took over forty years to acknowledge this injustice. Manzanar was selected as the best of the ten to tell the story and was designated a National Historic Site in 1992. The interpretive center grand opening is scheduled for November 7 and 8, 2003. The mess hall has just been returned to the site and the auditorium is being rebuilt,


the front gate guard house and internal police station have been restored, everything else except for the cemetery and several stone foundations is represented by wooden signs along a 4 mile internal "Auto Tour".


We walked the 4 square mile 500- acre area.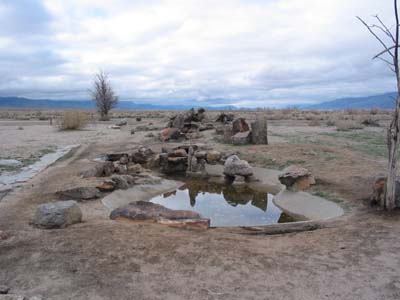 The remnants of their gardens can still be seen as can the Monument at the Cemetery. Most of the remains of those interred have been removed by family members and have been reburied in their pre war community cemeteries.