After a few days we left the SKP park in Coarsegold and drove several hours to Rio Vista, CA. There wasn't anything at Rio Vista but a small county campground but it was strategically situated. From there we could go North or further West to the coast just above San Francisco. Since we hadn't decided where we were going Rio Vista suited us fine. We stayed for three nights as there was a rain storm coming in from the Pacific Ocean. Rio Vista was as good as any place else. While there we drove over to Fairfield and visited the Jelly Belly Factory, A Budweiser Beer plant, a chocolate outlet and an olive oil outlet. For those of you who don't know Jelly Belly is the jelly bean company made famous by Ronald Regan. I was surprised, they were a rather old and large company that used to have factories throughout the country including New Jersey.
After three days the rain stopped and we decided to skip the coast and go to the Napa Valley. Why, I'm not quite sure because neither of us drink wine.We drove through the Valley to Calistoga, CA and camped at the Napa County Fair Grounds. Many fairgrounds operate campgrounds when fairs are not in progress which is most of the year. We found some nice places to hike and we visited a private redwood petrified forest.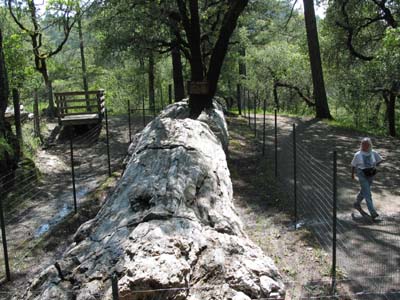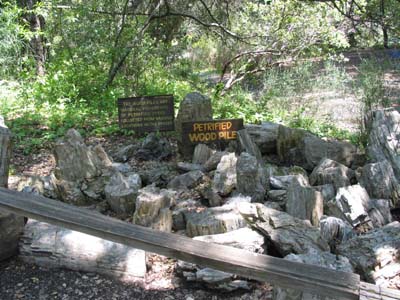 The highlight of our visit to the Napa Valley was the Napa Valley CIA branch. We live about three hours from Hyde Park in New York State. For years we talked of going to one of the student run restaurants of the Culinary Institute of America. Somehow we never managed to make the trip but now we had another opportunity. The Napa Valley branch is a school of continuing education and the restaurant is run by a professional staff. We just couldn't pass it up.
We started our dinner with "Traditional Chef Selected Appetizers for 2 which included: mushroom leek soup in a small ceramic cup about the size of a shot glass, fried wantons with sesame seeds and sesame seed sauce (Debby ate them both since I'm allergic to sesame), shrimp, salt cod croquettes,beet and goat cheese salad,
On the table was a selection of olives and walnut wheat bread
Debby had a wild greens salad and I cheese ravioli in mint sauce

We both had grilled Mahi Mahi over asparagus with greens
and shared a side of sauteed spinach with sliced garlic

The restaurant was set up with different stations so that all the food was prepared in the restaurant rather then in a kitchen behind closed doors. Debby and I sat in front of the pastry chef and watched him prepare the desserts to order as we ate our meal. It was really entertaining and made the choice of a "Study in Chocolate for Two" an easy choice. We had small bite size chocolate ice cream sandwiches, hot chocolate with small marshmallows in a small ceramic cup about the size of a shot glass, white chocolate mousse filled chocolate candies and chocolate mousse sponge cake.
When we get back to New Jersey we plan to visit one or all of the CIA's five student restaurant's at Hyde Park.
The next day we left Napa and drove up I5 to Redding, CA. I5 is supposed to be a boring road but after several months in the desert we found it's farms and green fields quite pleasant. After Redding we drove past Mount Shasta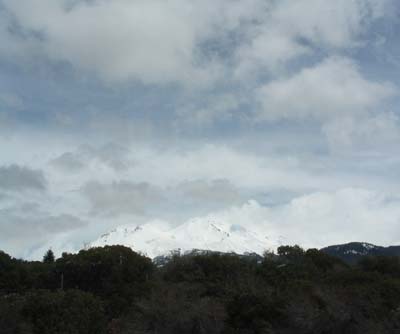 To Ashland, OR. Several people had told us about this quaint little college town of about 16,000. It has several three diamond restaurants, a Jewish Center, a havura as well as a Shakespeare theatre and a great home made ice cream parlor. I even saw one of those street newspaper boxes that had The New York Times. We camped at Emigrant Park a county campground just outside the town.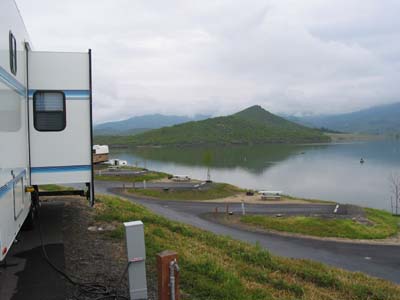 But we hiked in this pretty little pocket park which extended for miles into the mountains.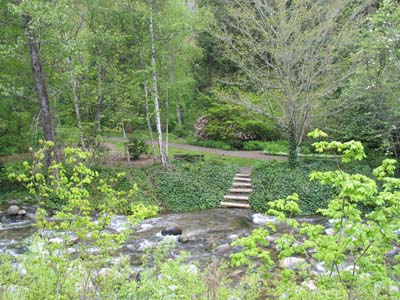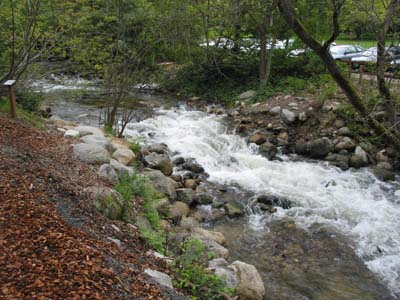 While there we ate in one of the three diamond restaurants and had a very pleasant meal and saw Romeo and Juliet at the theatre. When Debby bought the tickets and asked not to be put on a mailing list, she was told that several of their members were from New Jersey. As if to say that traveling through was no excuse for not being on their mailing list. Romeo and Juliet was well acted pleasant evening entertainment. The words and accents were Shakespearian but the costumes were modern.
The next morning we drove back down to the coast of California and the Redwood Forest. The same Redwood Forest that Woodie Guthrie sang about. "This land is your land, this land is my land, from the Redwood Forests to the Gulf stream waters, this land was made for you and me"
That is before the court appointed President began giving it away to all his campaign contributors.