We left the desert and the Salton Sea and headed west to San Clemente. and our meeting with the Pacific Ocean.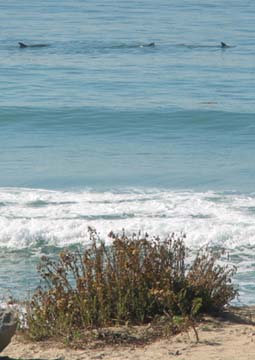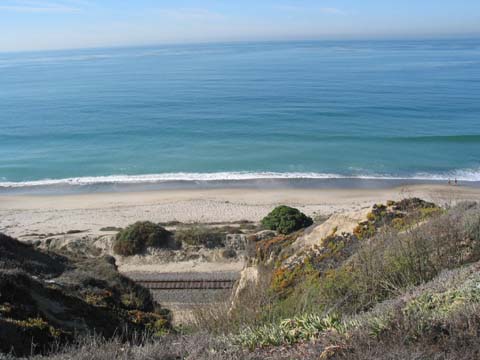 Those are dolphins not sharks.

We spent five glorious days here, walking on the beach and working on our tans. We could only stay five days because campsites go online seven months in advance and weekends get grabbed up quickly. The only sites left for later reservations are Sunday through Friday. We also visited Richard and Caryn in Venice one night. After the five days we south to the Santee a suburb of San Diego and camped at the Padre Dam Water Authority Seven Lakes Campground.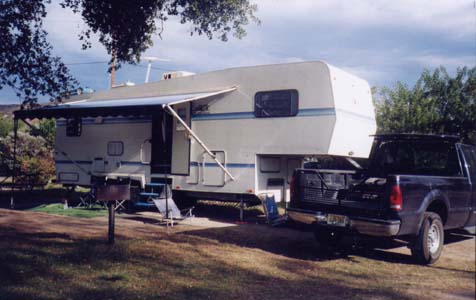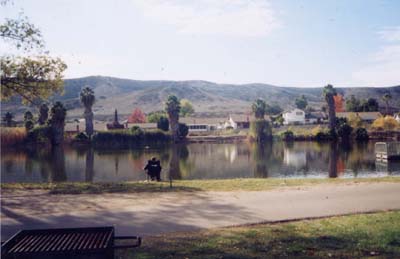 This campground is run by a public agency and has no park models but there was an interesting twist. Campers can stay for 6 months and many people actually live here in their trailers, motor homes and fifth wheels. After six months they have to leave for two weeks but can make reservations
for their next 6 month stay. Electricity is metered and these long term campers (residents) pay for their usage.

Susan came to visit for the Thanksgiving weekend and we made dinner in the trailer. Unfortunately, the weather got colder but it was a pleasant visit.

We couldn't come to San Diego and miss the San Diego Zoo but weren't as impressed as we had hoped to be.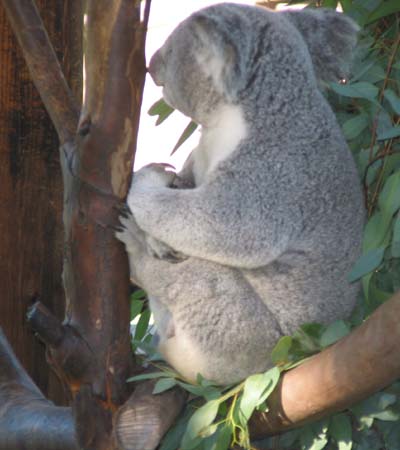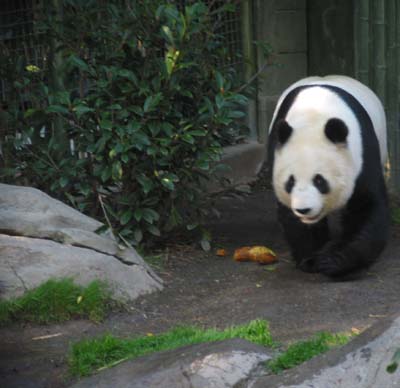 They had some interesting animals in nice habitats but they also had some in old fashioned cages. However; the San Diego Zoo has another location called the San Diego Wild Animal Park, it's in Escondido, in the mountains beyond town and this was impressive.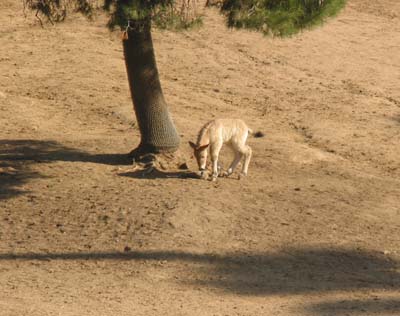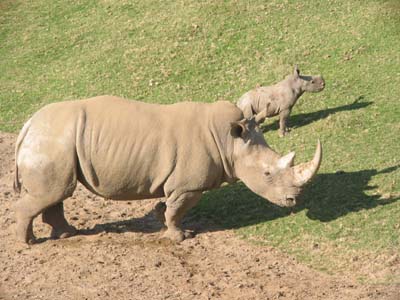 There are no fences separating the animals, except the predators and visitors can take a photo safari and ride through the exhibit on the back of a truck.

We visited Balboa Park, an in town park similar but different then Central Park. All the cultural sites like museums and the zoo are all located in the park. We walked in Mission Trails Regional Park a really spectacular, hiking, biking park with many trails a primitive campground, a nature center and a National Historic Landmark. Unfortunately when we went hiking I made the mistake of leaving my camera behind.


The highlight of our visit besides for seeing Susan was our trip to Cabrillo National Monument.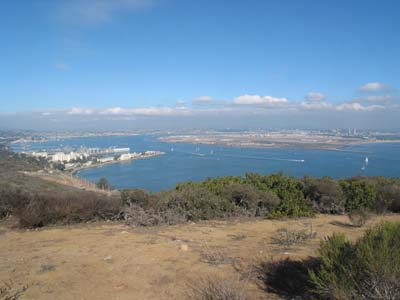 Juan Rodriguez Cabrillo was the first European to set foot on the west coast of the United States. The military history and beautiful scenery had nothing to do with making this the highlight of my trip. Cabrillo is a National Park Fee area so an entrance fee is required. When I retired and we started camping more, we purchased the annual National Park pass which provides free entry to all the National Parks. At Cabrillo I was glad to pay even though I didn't have too. I had just turned 62 and I bought my Golden Age Passport which cost $10, it doesn't have to be renewed annually and it also entitles me to a 50% discount in National Park campgrounds. Hey, some times you get value in return for your tax dollars.