When we arrived at Richard's in April I had made a reservation for the Wawona Campground in Yosemite National Park. Most of the campgrounds in the park were already booked but it was the first weekend that Wawona was available for reservations, not to mention that Wawona was in the park but not in the Yosemite Valley. This was great if you wanted to play golf but not the kind of place we wanted to get trapped in a snow storm. Wawona itself was at four thousand feet and the odds of getting snow weren't great. Unfortunately, you had to climb to five thousand and/or six thousand feet to get in or out depending on whether you went towards the Yosemite Valley or away from it. On Sunday the weather report called for snow above five thousand feet and rain below. California requires chains on snow covered roads, in fact they require that you carry chains if you are driving on a road that have the potential for snow. Needless to say we didn't have chains. Had we been in the Yosemite Valley we would have stayed for our remaining two days as the shuttle would run , we could hike and see the sites and even visit the lodges but at Wawona there was less to do and see. We decided we didn't want to get trapped at Wawona so with two days remaining on our reservation we left for Coarsegold a small town with a SKP park a short distance from Yosemite. SKP stands for the Escapee RV club of which we are members. Some members have joined together, bought property and built co-op campgrounds in various parts of the country. When a camp site owner is not in residence these sites are available to SKP members otherwise most places have some unused areas were SPS's can dry camp (no hook up's).
When we arrived at Wawona we were assigned a very nice campsite overlooking a large stream.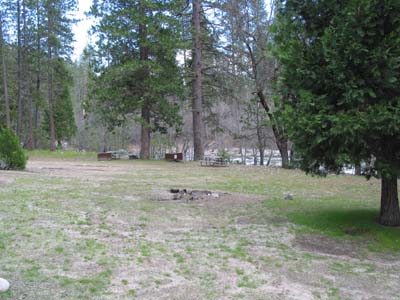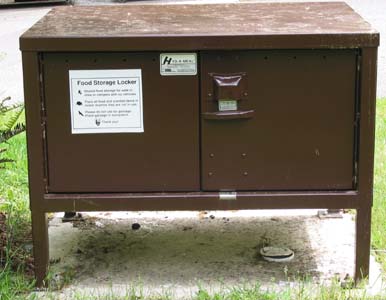 Notice the bear box. It's for food and anything that smells like food. We had one of those in Sequoia NP as well but we didn't see any bears.
We hiked up to the Wawona Hotel and lodge and explored a pioneer village with historic buildings before returning to our campsite and dinner.The next day we took the hours drive to Yosemite Valley.
Yosemite Valley is very picturesque.
From Bridalvail Falls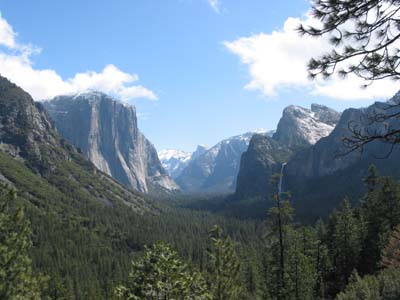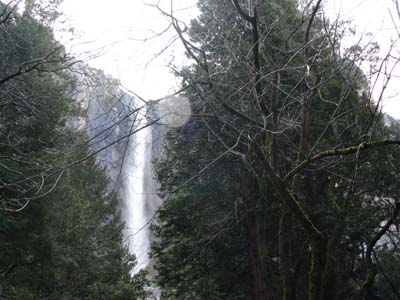 to Yosemite Falls.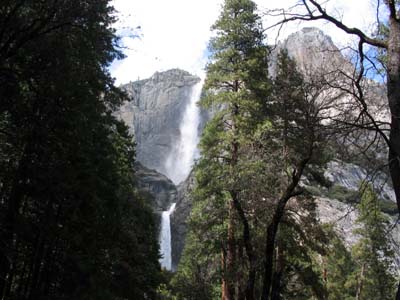 both upper and lower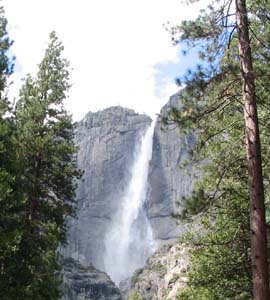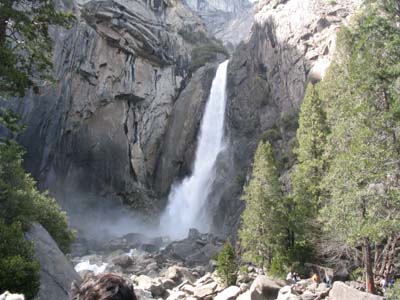 Mirror Lake which is supposed to be spectacular was kind of disappointing with low water and no reflections.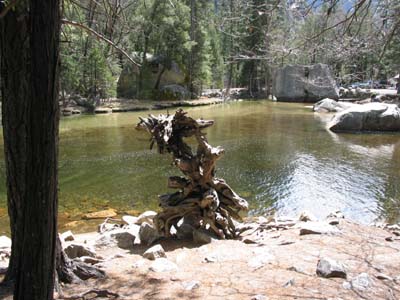 The park was crowded with visitors in cars and visitors in tour buses. We could see why they needed shuttle buses to control the congestion.
The next day on Sunday we hiked in Wawona and drove up to see the "Giant Grizzly Tree" an old Sequoia that is popular with Tourists.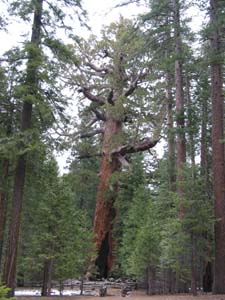 The grove that the tree is in was above five thousand feet. while we were there it started to snow. This was earlier then we had expected so we headed back to the trailer, hooked up and headed out.
I would like to return to see Yosemite again but I want to camp in the Yosemite Valley in season so when I ask for ice cream at the snack bar I am not told to wait three weeks. I think I might also like to stay at the lodge in late winter when the falls are frozen in the morning but thaw as the day progresses.