The RV Lifestyle
"The Big Trip": entries 1-20 | entries 21-48 | entries 49-60
The RV Lifestyle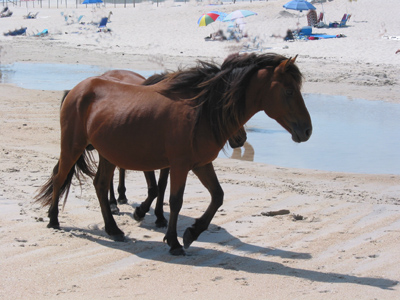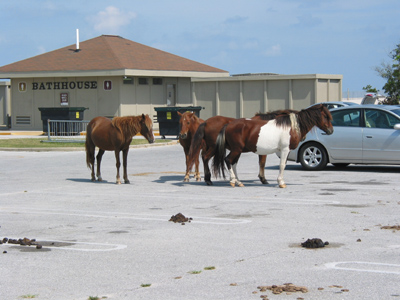 The Famous Assateague Ponies
In past postings "The Big Trip" become "The RV Lifestyle" and I posted several pages on two different sites.
RV Lifestyle Part 1 Which documented our 2004 Winter trip to Florida, Alabama and Mississippi.
and
RV Lifestyle Part 2 Which describes a Spring- Summer trip to Colorado and New Mexico. The last two parts of that which included our trip through Texas, Oklahoma, Missouri, Illinois into Wisconsin where we visited Michael, Jennie and the kids was just posted on September 12, 2004. If you haven't seen it you might want to check it out.
When we returned home I visited my doctors and had some tests which seemed to say that the stone in my right Kidney was now in my left kidney and was too small to deal with. Since I am not in pain and symptom free we decided to take a short trip to the Eastern Shore also known as the Delmarva Peninsula. We visited the barrier island's of Chincoteague and Assateague in Virginia and Assateague in Maryland. While in Maryland we also drove over to Ocean City for dinner and a walk on the boardwalk.
All previous posts are still available but this is my last site so when it is full I will have to replace some of the older pages with new ones.
"The Big Trip": entries 1-20 | entries 21-48 | entries 49-60
The RV Lifestyle
Links to other Yaker Family sites:
Michael's Woodjoiner Site Michael's Professional Carpenter's Site
Caryn (Rich's wife's acting site)
A Couple of Artists Rich and Caryn's photography site