After arrival at Headwaters Campground at Flagg Ranch which is concessionaire run just outside the park proper almost in Yellowstone. Both Parks are actually adjacent to each other we spent some time talking to our neighbors who were from Georgia headed to Yellowstone, Glacier, Banff, Jasper and Alaska . then we walked out on the Polecat Trail a two and a half mile loop shared by hikers and horses. There were no horses when we walked. After our walk we spent some time in the lodge trying to get on the internet. I emailed Susan with the fact that we had no phone and no internet and Debby sent an email to friends volunteering in the park too arraign a meet up.


The next day we went down to the Coulter Bay Visitors center after which we walked over to the cafe for free internet to check our massages. Then we walked on the Jackson Lake Trail. As I said there was no phone service but Debby got two calls.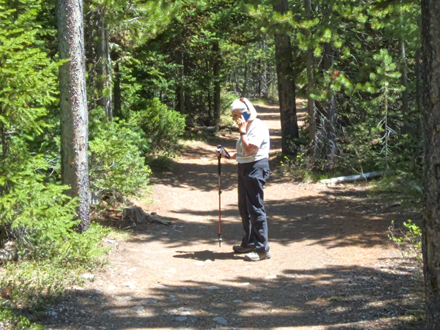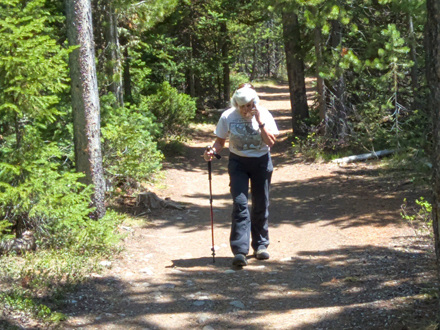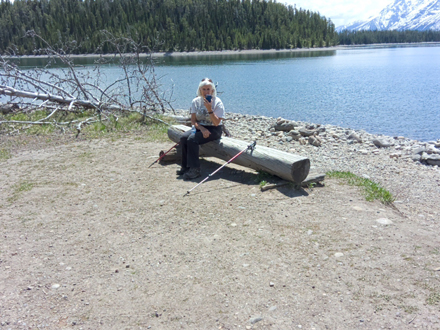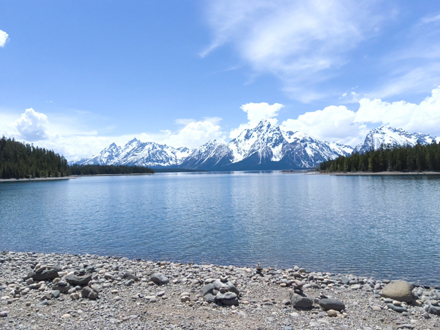 We returned to the trailer, showered and changed and went back down to the Jackson Lake Lodge to the Mural room for dinner. Shortly before we got there Debby got another call from our friend and neighbor Rena and I got an email from her cousin who we were planning to visit in Berkeley. The Mural Room has a great view of a meadow where elk, moose and an occasional bear can be seen.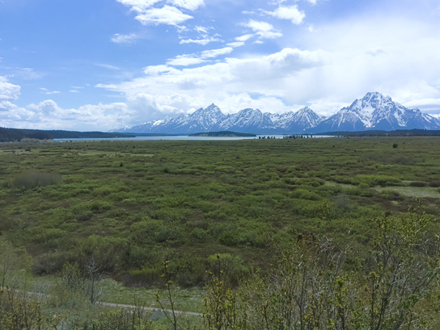 Unfortunately the dinner was disappointing and expensive. We had been there four years previously on June 2 so the expense didn't surprise us but the disappointing meal did. Phone service at the lodge is better and Debby got another call. On our return to the trailer we saw a herd of elk in a clear field and stopped to look.

Monday June, 3 after getting a late start on purpose we went down to Coulter Bay and walked on the Heron Pond and Swan Lake path. We had walked here the last time we were in the Tetons and again saw no Herons or Swans. Lots of Canada Geese, Ducks people and horses but it but it was a relatively warm pleasant day.




After that we went down to the Jackson Lodge in the hope of seeing animals. We saw about a dozen Elk at a distance and we walked up to the Lunch Tree a half mile round trip. It's called the Lunch Tree because John D Rockefeller had lunch there with the Superintendent of Yellowstone and they planned getting the Teton Range included in the National Park system The view from that spot is spectacular unfortunately not photogenic without a super wide angle lens. The tree at the top of Lunch tree Hill is not easy to photograph either. I guess if you had a drone which is illegal in the park you might get a usable picture.

The park is essentially Without phone service although several venues had the web for email, None the less we managed to connect up and meet with some friends who are volunteering in the park. They are helping to keep the park safe for wildlife and visitors and were able to take us to view two young grizzlies whose mother had thrown them out to make it on their own.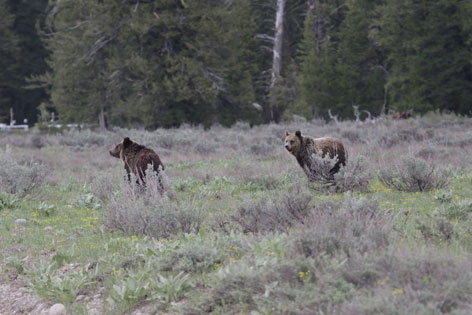 From there the four of us went for dinner at the Jackson Lake Lodge for a good meal with great company.