Debby and Charlie Our Adventure

this page is definitely a work in progress it's long and cumbersome. Some links may be broken and others lead to more links but it is essentially a complete record of our trips. At least the parts I recorded here and not on Facebook. I seems that I recorded or shared trips on facebook and never wrote them here. I am no longer on facebook and those files are not on line. I have copies and may in the fullness of time recreate those trips here. I will also try and make this page more manageable&nbsp and user friendly;
Debby and Charlie Yaker in front of the home we owned in Fair Lawn, N.J. when this journey began on July 15, 2002

Camping With Debby and Charlie

Listed below are the entries of our web journal.

1. The Big Trip The beginning of our trip July 15,2002.

2. Visiting the kids We break down in Hackettstown NJ July 15,2002 - July 18,2002 and then visit with Michael, Jennie and our Grand kids Jesse and Leah as well as Michael's Home July 20, 2002 - August 3, 2002. Included in this page is a map of our planned trip West

3. Badlands We visit Badlands National Park In South Dakota 8/6/02,after Blue Mounds State Park and Pipestone National Monument in Minnesota 8/5/02.

4. Mount Rushmore We camp at Custer State Park in South Dakota 8/7/02 - 8/18/02 from where we visit Wind Cave National Park, Mount Rushmore and the Crazy Horse Monument.

5. Devils Tower and Yellowstone We go to Devils Tower National Monument 8/19/02 and after a stop at the Little Bighorn Battlefield and Billings Montana 8/22/02 we go on to Yellowstone National Park8/23/02 .

6. Grand Tetons National Park 8/30/02, We visit Grand Tetons NP, Montpellier Idaho and Salt Lake City Utah. I included a map of our stay in Utah.

7. Arches National Park 9/11/02

8. Canyonlands National Park 9/13/02

9. Capitol Reef National Park and Fruita 9/17/02

10. Grand Staircase Escalante National Monument 9/18/02

11. Bryce Canyon National Park 9/23/02

12. Cedar City, Cedar Breaks National Monument and Snow Canyon 9/27/02

13. Zion National Park 9/29/02

14. Grand Canyon National Park, North Rim 10/6/02

15. Grand Canyon National Park, South Rim 10/8/02

16. Geology of the Grand Canyon

17. Mary Colter, a famous woman architect

18. Flagstaff, Arizona 10/14/02

19. Canyon De Chelly 10/16/02


20. Return to Flagstaff 10/20/02

21. Mesa, Arizona 10/25/02

22. Tucson, Arizona 11/1/02

23. Biosphere 2

24. Tombstone, Arizona 11/6/02

25. Boot Hill, Jewish Memorial

26. California and the Salton Sea 11/10/02

27. San Diego 11/18/02 - 11/22/02

28. Malibu Creek 12/9/02 12/17/02

29. We Return to the Desert 12/17/02 - 1/7/03

30. Slab City

31. Joshua Tree National Park 2/2/03

32. San Francisco 2/6/03

33. Pinnacles National Monument 2/11/03

35. Manzanar National Historic Site 2/13/03

36. Death Valley National Park 2/14/03

37. Las Vegas 2/19/03

38.Cattail Cove and the London Bridge 3/10/03

39.Anza Borrego State Park,CA 3/11/03

40.Calico Ghost Town 3/21/03

41.Mojave National Monument 3/27/03

42.Red Rock Canyon, CA 3/31/03

43. Sequoia National Park 4/23/03

44. Yosemite National Park 4/28/03

45. Rio Vista CA, Ashland OR. and the CA Redwood Forests 5/6/03

46. A Bench in the woods dedicated to Holocaust Victims

48. Washington 6/1/03

51. Columbia Ice Fields, Canada

52. Jasper National Park, Canada

53. Banff National Park, Canada

54. Kootenay National Park, Canada

55. Glacier National Park, USA - Waterton National Park, CD, and the International Peace Park

57. Fort Union Trading Post and Theodore Roosevelt National Park

58. The Cross Ranch and Ft Abraham Lincoln

59. Family Visit

60. Oklahoma City and Arkansas

62. New Orleans

63. Going South

64. Florida Keys

65. Everglades National Park and The West Coast of Florida

66. Bermuda

67.Going Home

72. Albuquerque, Heritage Ranch and the Guadeloupe County Hospital

73. Amarillo, Tulsa, and Grant's Farm

74. Wisconsin for a Family visit

75. Assateague and the Delmarva Peninsula

76. Harpers Ferry

77. The Grand Ole Opry in Nashville and the National Civil Rights Museam in Memphis

78. Little Rock

79. Oklahoma City Zoo and Horizon Factory in Junction City (actually Ft. Riley)

83. Judge Roy Bean

At the end of April 2005 we put our "stick house" in Fair Lawn, N.J. on the market and began to plan for the life of full time RV'ers. On July 20, 2005 we left Fair Lawn and headed for Texas and our new domocile.

87. Going to Texas

88. Visiting Colonial Macilimackinac and The Grand Hotel

89. Sleeping Bear Dunes National Lakefront

90. Back to Fair Lawn, Chocolate Town, some fantastic State Parks in Southern Illinois and the Eastern Shore of Va in the fall of 2005

91. We continue down the coast through North Carolina, South Carolina and Gorgia

92 We winter in Florida for the Winter of 2005-2006

93 Alaska

95 Summer 2007

95a Adirondacks

96 Australia and New Zealand September 2008


In the Winter of 2009 we hung around the West Coast

Hanging around the West Coast


97 California and Arizona deserts as well as our trip north through Oregon and Washington


In the Spring of 2009 we went from The West Coast back to the Canadian Rockies


98 Canadian Rockies and our Second Trip to Banff and Jasper


100 Drumhellor


And then in 2011 we went to South Africa with that same tour company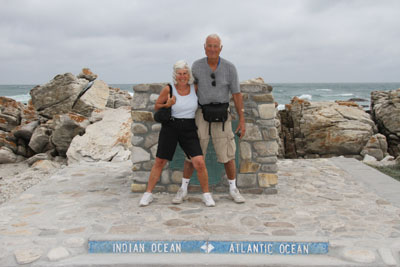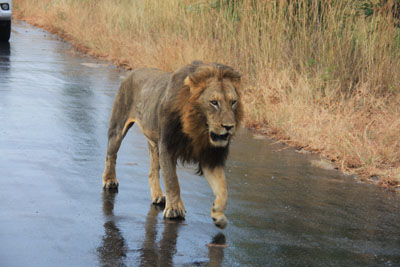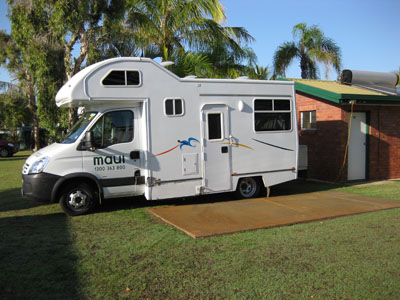 After that it took me awhile to finish writing and posting the trip and I never did finish writing the Trip East in 2011.
In the Fall of 2012 we went With Fantasy RV on a trip into Canada to see the Polar bears before they disappear and continued out west upon or return.

103 Churchill, in Manitoba Canada to see the Polar Bears in 2012


We along with several friends stopped at a campground in Grand Forks,ND for the night. There were about four couples and we were joined by two others, (veterans) that had stopped at the local Air Force base, for dinner at Olive Garden. The next day we headed south while our friends went back to Devil's Lake to pick up stuff they had left in storage. We continued on to Concordia, Missouri for some trailer repairs before continuing to Arizona and California. While in the Spring of 2013 we went to the Canadian Rockies after wintering on the West Coast. Interestingly enough I have what is obviously a false memory of writing the trip beginning on our return from Winnipeg including our trip back to Canada but can only assume I posted on facebook instead because the pages just can not be found.

In the Fall of 2013 we went to Albuquerque with that same tour company for the Balloon Festival although we had a great time but I never did post that trip.

In October 2014 Debby and I were planning a trip To the Galapagos and Machu Pichu. Unfortunately I developed pneumonia and spent 3 days in the hospital instead. When my doctor felt I was fully recuperated around November 7th we headed south down the DELMARVA Peninsula, went to a nice county park in Newport News, VA and then to the Bnai Mitsvote of Debby's grand niece and nephew in Reston, VA. From there we scooted south to John Prince Park to celebrate Thanksgiving with Debby's cousin after which we put the trailer in storage and went to Aruba for 10 days where we were joined by my brother.

We had spent the 2014 winter in Florida therefore following our usual travel patterns we would have gone out west at the end of 2014. It has been said the RV'ers plans are made in Jello and change often. Our aborted planned trip to the Galapagos and Machu Pichu began as a planned Cruise out of Fort Lauderdale at the end of January. When that was the plan we made arraignments to go to Aruba for the 10 days and spend another 12 days in the Florida Keys. After everything was said and done we still had those reservations in place after which we gradually headed West for a very enjoyable Winter.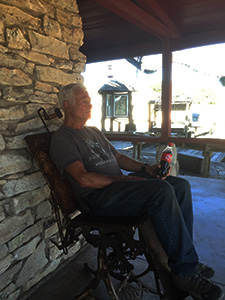 The Gulf Islands National Seashore and
At the Caverns of Sonoma our tour guide believed I looked like the man who had developed this venue and he asked for my picture with a bottle of coke. Who am I to refuse such a request?

In the winter of 2015 after Southern California we went to Yellostone,the Grand Tetons the great Sand Dunes NP , Wisconsin the Jersey Shore and Croton Point Park.

We spent the fall of 2015 and Winter Spring of 2016 in Florida revisiting our favorite parks
Then after spending the Summer of 2016 in the Eastern Canada provinces of Ontario and Quebec and the State of Vermont we realized we needed a new truck as we were breaking down almost every other week. It was either buy a new truck or leave the road. Since we weren't ready to leave the road as we had booked an RV trip to the Rose Bowl Parade and the only way that was going to happen was if we bought a new truck.

So we bought a 2016 Dodge Ram 5500 from Classy Chassis in Valparaiso Indiana where we had bought our 2008 Ford and visited our grandchildren before going out West

That's the new truck a Dodge Ram 5500 that we bought in the fall of 2016 before continuing to Valley of Fire in Nevada and our winter out West which included The 2017 Rose Bowl Parade.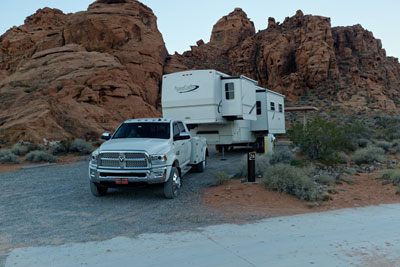 After the Rose Bowl we spent the winter out West returning to the Space Craft factory to refurbish and paint the trailer we had bought in 2008 which replaced the New Horizon we started with in 2002.

In 2017 we began the year out West returning to the Space Craft factory to refurbish and paint the 2008 trailer to better match the truck

In May of 2018 we purchased a condominium in Boynton Beach Florida. We closed on that purchase while we were on the road in Madison, Wisconsin. We had decided it was time for a home base. Besides for getting up in years which hasn't seemed to slow us down we really needed an exit plan. One other very important reason was that it's getting crowded in the camping world and becoming harder to find campsites. Especially in warm climates during the winter and most places during the summer. When we started in 2002 we just went, now we have to plan ahead and make reservation. Obviously it isn't the same thing.

After spending the Winter of 2018 in Florida visiting some of our favorite State and County parks, not to mention looking for and buying the Condo, we went to Newfoundland, CA in July.



Codroy RV was our first stop after getting off the ferry in Port Au Basque. On our return from Newfoundland we spent several days on Cape Breton before returning to the States and spending 3 days in Bar Harbor and Acadia National Park.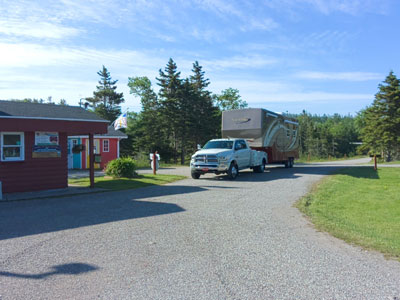 In November 2018 we came down to Florida after a very active summer which included the trip to Newfoundland and Cape Breton and camped in John Prince Park Campground while we looked for and bought furniture for our condo. In December we went on a short trip to the West Coast of Florida for a Sholom Roamers RV Rally. Yes there really are Jewish RV'ers besides us. Upon our return we put the truck and trailer in storage near our condo and moved in.

We will continue to travel roughly 6 months of the year between May and November and live in the condo from November to May.

It was an interesting transition, we made a number of new friends and were almost as active as we had been on the road without the constant moving.

On April 29, 2019 we took the trailer out of storage and moved it to John Prince Park Campground. We started moving stuff back into the trailer but slept in the condo. The next day we finished moving stuff and left the condo sleeping in the trailer for the first time in four months. On May first we left John Prince Park and headed North West. Five Days later we were in Concordia Missouri at the Space Craft factory. for a new refrigerator, air conditioner and water pump.


On Monday April 28,2019 we took the truck and trailer out of storage and moved them to John Prince County Park Campground in Lake Worth, Fl. That night we slept in the condo and the next day we took everything we wanted for our trailer life and moved back into the trailer. On May 1st we went to Payne's Prairie State Park in Micanopy near Gainesville and on May second we left Florida. We traveled through 27 States before returning to Florida. We experienced snow in Nebraska and hail stones as big as golf balls as well as snow in Wyoming. It was 104 in Las Vegas where we were only about 150 miles from an earthquake. We traveled to some old places and some places we had never been, we visited more relatives then we ever had in our previous travels. We had a great time and are looking forward to our next trip beginning in May 2020


>


A summary of our expenses for the first six months of the "Big Trip" can be found here





In Loving Memory of Caryn Amy Shalita Yaker, December 19,1968 - November 26, 2005

At the end of November 2005 our daughter-in-law Caryn, Richard's wife died shortly before her 37th year. Fortunately ever since 2002 when we started traveling cross country in our RV two of our three trips out west ended in California and we spent some quality time with Rich and Caryn. Words cannot describe our feelings of loss and sympathy for Richard and Caryn's parents, Myrna and Paul as well as her grandmother and brother. It's not supposed to happen like this. None the less life goes on and in 2011 after we left California for the East Coast Richard met a lovely young lady, Jennifer Gaynor and they were Married on May 19, 2013.