We drove the 329 mile Northern portion of the Klondike Loop, Yukon 2 in two days stopping in Carmacks along the way. Carmacks is the only crossing of the Yukon River between Dawson City and Whitehorse. There is one Motel with a small campground behind it with a gas station a small restaurants and not much else. The views of the Yukon were spectacular as we walked along the bank and I did have WIFI there.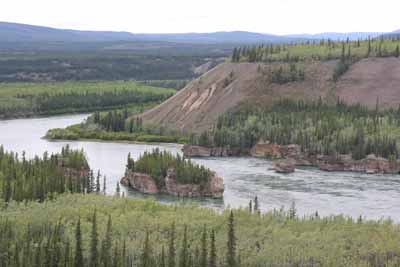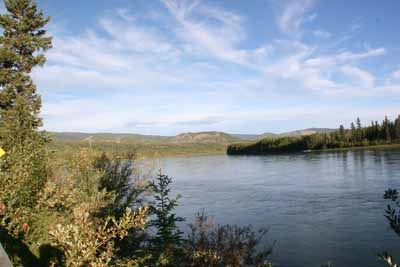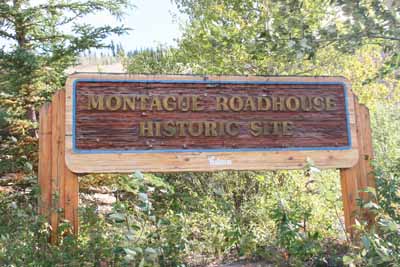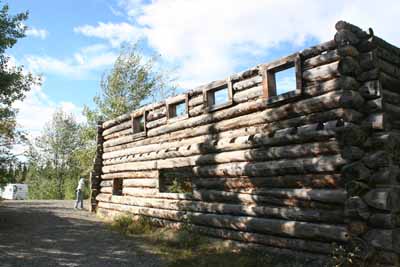 We also stopped on the way between Dawson City and Whitehorse at the Montague Roadhouse as well as a place that sold the biggest cinnamon buns you have ever seen. We had seen samples in the Whitehorse Visitors Center on our trip up and were sort of looking forward to them but unfortunately the buns were disappointing.
While waiting for my truck to be serviced at Whitehorse Ford we visited the local fish ladder and took the tour of the riverboat Klondike. The Yukon river which is frozen most of the year is shallower then most rivers with riverboat traffic. As a result ships like the Klondike and Keno were built with flat bottoms and shallow draft. The riverboats which were built for freight and
occasionally took passengers no longer operate on the river.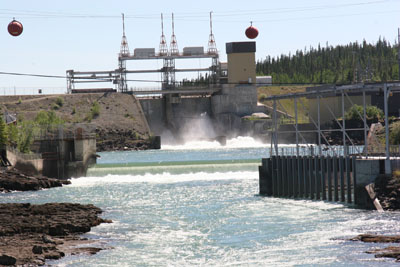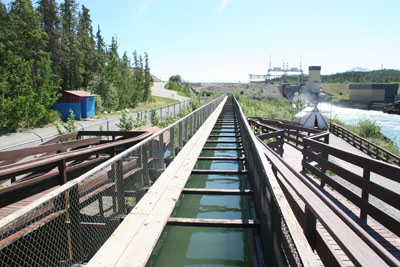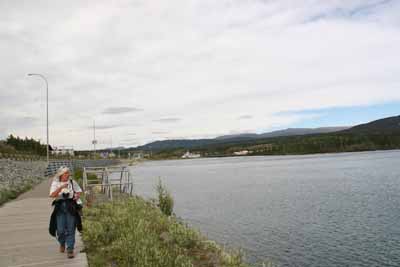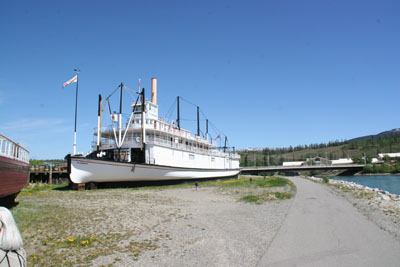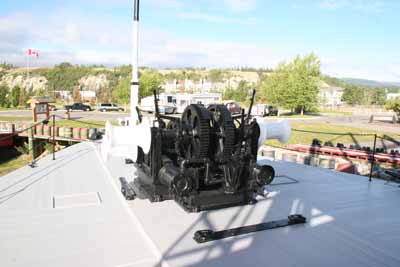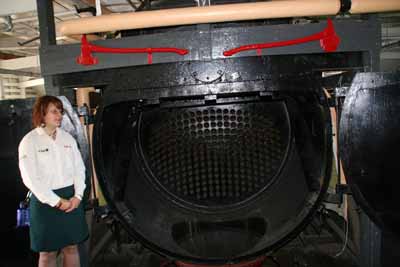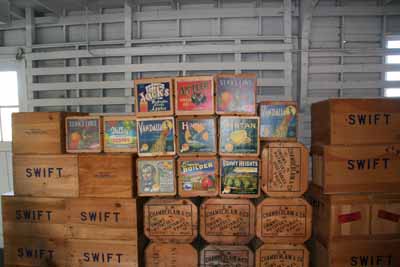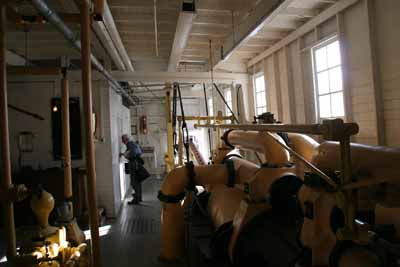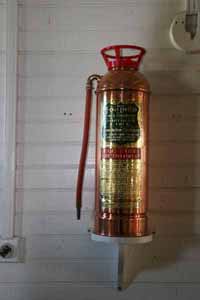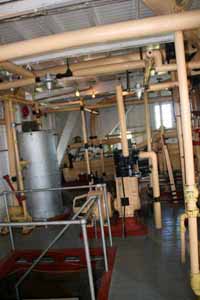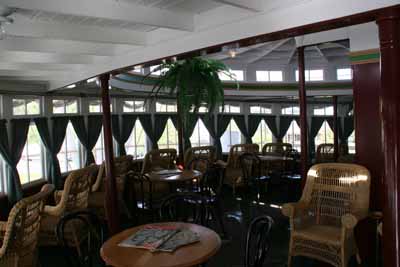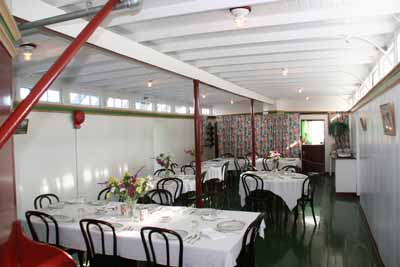 The day after the truck was serviced we headed South and drove to Watson Lake home of the famous Signpost Forest. We pulled into the Downtown R.V. Park and were immediately greeted by our friends Marci and Steve. We were going to go for our daily 5 mile walk/hike in a park across from the campground but they had closed the park do to bear sightings. So we walked in town and went over to the Signpost Forrest . a collection of hundreds of signposts and license plates pointing to all parts of the world. The forest was started by Carl Lindley a U. S. Army soldier working on the Alcan Highway in 1942. Lindley posted a sign pointing towards his home town of Danville, IL and people have been posting signs ever since. At the time of our trip there were in excess of 50,000 signs. We didn't post any but our friends Marci and Steve did.
The next morning we left Watson Lake and drove down to Liard River Hot Springs. On the way down I had my first and only flat tire of the trip. It had nothing to do with the roads and was due to my own carelessness. While in Danali National Park I made a left turn and hit my left front trailer tire on a traffic island. evidently I had done more damage then I realized although it lasted over a month and several hundred miles before the tire separated. We have a Pressure Pro tire monitoring system so we knew immediately that we had a flat. We pulled over although there wasn't a lot of room on the shoulder. Our friends not realizing we were in trouble continued to Laird where we met them several hours later. Luckily a passing motorist, a Yukon resident heading in the opposite direction stopped. With his help I was able to change the tire and put air into the spare with my on board generator and we continued on our way. At Liard Debby , Marci and Steve took in the hot springs while I remained at the trailer reading as my blood pressure was running a little high.
We followed Marci and Steve from Liard hot springs down to Fort Nelson. On the way we stopped to walk/hike in a wash at Munchin Lake and passed an old prospector's cabin.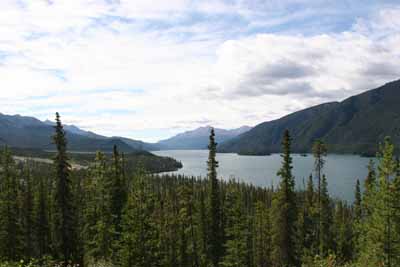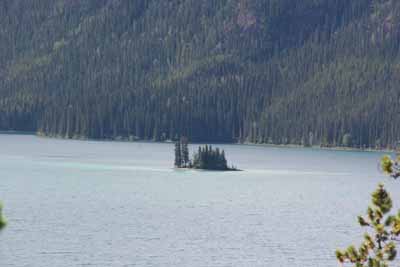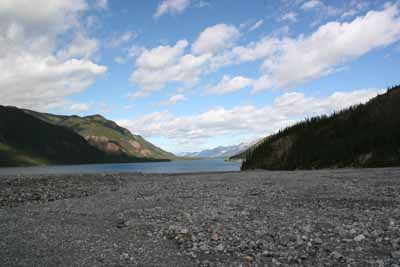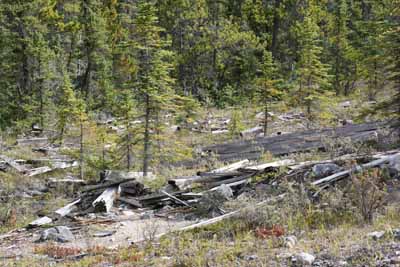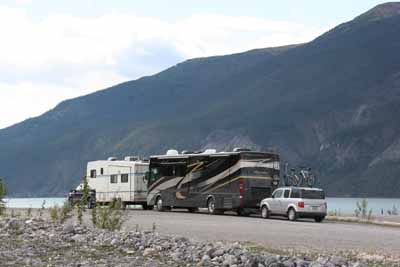 While trying to continue trip we were interrupted and slowed by Bison walking in the road. We also saw several caribou, sheep, a deer a road runner and possibly some mountain sheep along the roadside.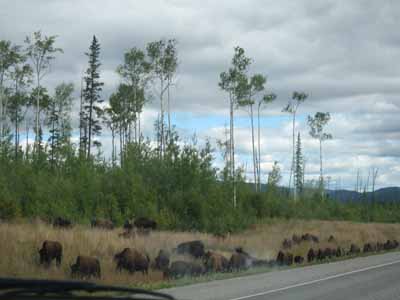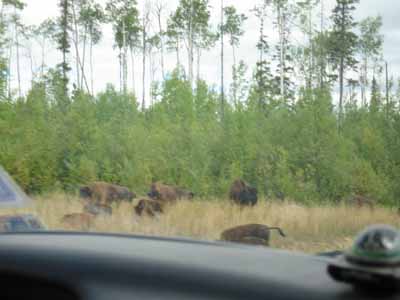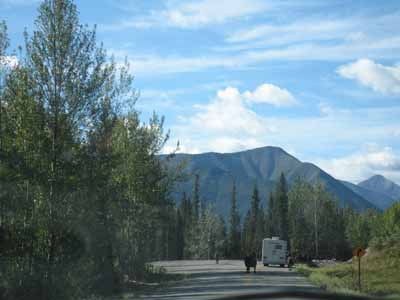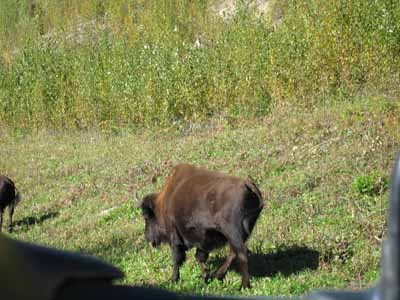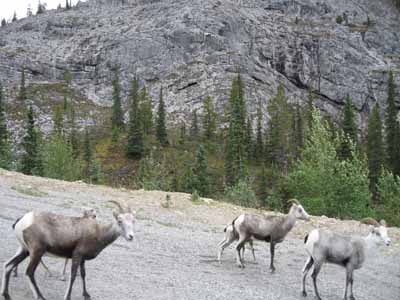 In Fort Nelson I was able to purchase a spare tire to replace the damaged tire.
We camped at Fort Nelson for one night and then went to Fort St John where we also camped for one night. That evening Debby, Marci and I went for a walk on a nature trail behind the local college. During our walk when it was getting dark and I didn't have my camera we crossed paths with a large Bull Moose that didn't hang around to chat. The next morning we drove the 47 miles down to Dawson Creek the end or beginning of the Alcan highway. At that point we parted company with our friends who were heading on the East Access Route down towards for Jasper and Banff. We walked in town and then headed south on the West Access Route.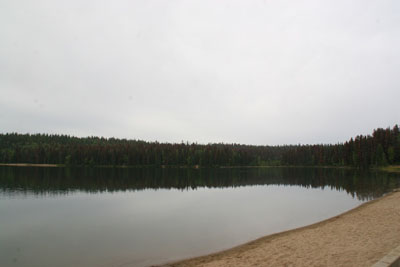 We stopped for the night at Crooked River Provincial Park. According to the Milepost and British Columbia's Parks the feature attraction is Bear Lake whose sandy beaches seen below are amongst the best in the region. Despite our reputation as beach people we did not go swimming or hang out at the beach. The next morning we got up walked our usual hour or so around the lake and headed south stopping in Prince George to by our groceries at Costco. We then continued on to Quesnel, BC and the Fraser Bridge Inn.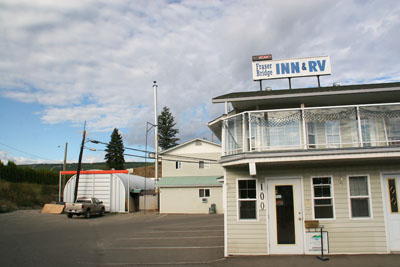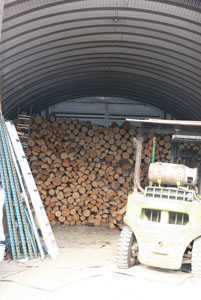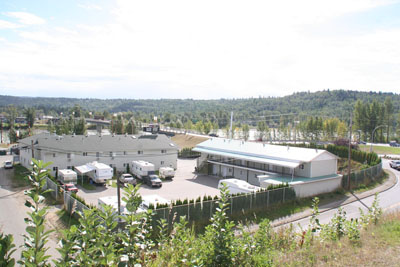 The Inn has 10 RV sites with full hookups and 25 Family Suites,Queen Size Beds with Separate Bedroom.Air Conditioned, Kitchen With Full Size Fridge,Stove & Microwave,Coffee Maker. As you can see Quesnel is lumber country and the Inn heats all its rooms and hot water with wood collected in nearby forests. You can see the stack and stove between the wood hut and building. The town has a very pretty river walk which we took advantage of.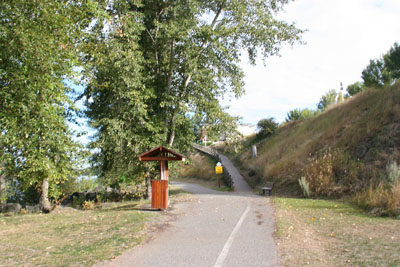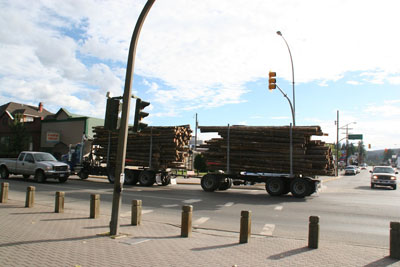 After our walk we continued on to 100 Mile House and camped in the Municipal Campground which was in a pretty park which we walked in the following morning.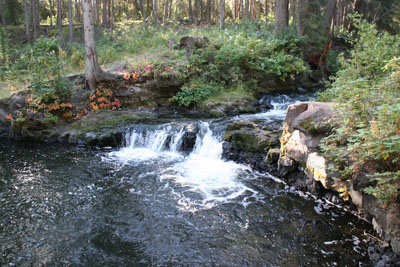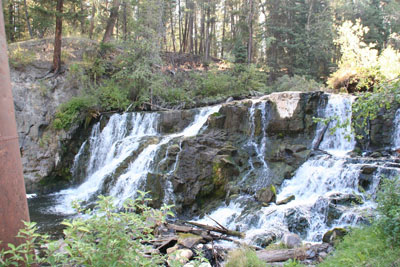 We then drove down through parts of the Canadian Rockies to Hope, BC, were the original Rambo was filmed. The view from our campground was unbelievable and there was a really neat Rails to Trails hiking path through the Coquihalla Canyon walls which we were able to walk on and through.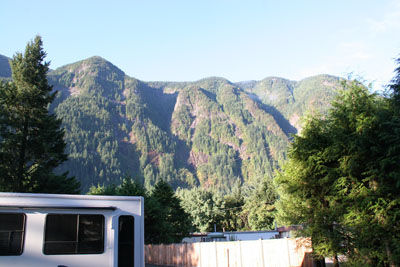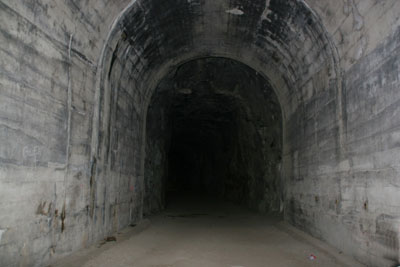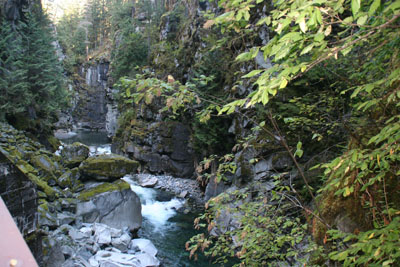 After walking on the rail trail that morning of August 31, 2006 we drove down about 50 miles to the United States at the Sumas Washington boarder. After clearing customs we drove to the Flying J Travel Plaza and spent the night just outside Tacoma, WA. The next morning we drove through Washington into Oregon and went to the Escapee Co-op Park in Sutherlin, OR. We camped there for 3 nights before proceeding to the National Park Campground at Crater Lakes.