From the Finger Lakes we went to the Adirondacks and camped first at Little Sand Point on Lake Piseco and then Eagle Point at Schroon Lake.
At Little Sand Point we climbed some very rugged steep mountains with great views from the top. At Eagle Point we visited with friends with a home on Schroon Lake and hiked in a new State Park built on the resort where several films were made including Marjorie Morningstar.
From Schroon Lake we went to visit some RV friends camping near Bennington, VT and joined them at a free concert in North Adams, MA. Moving right along we left Vermont for a short trip to LEE, MA and a weekend with what used to be our young adult group from Co-op City.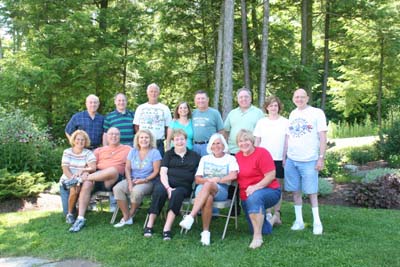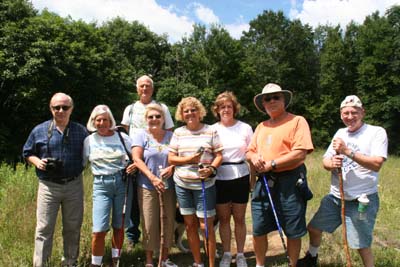 Although we have not been out of touch with this group and see them often we all had a wonderful time which included a Sunday afternoon concert at Tanglewood and a hike in the mountains.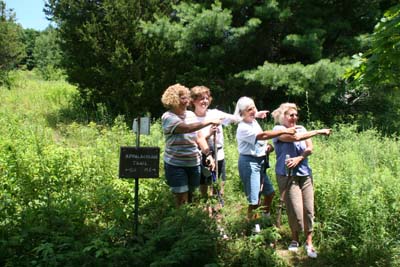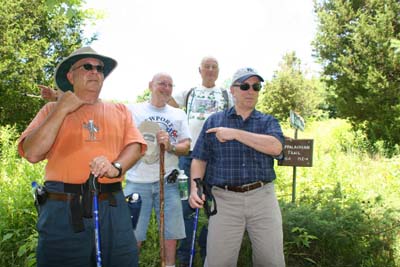 We left Lee and headed west on I90 towards Madison, WI to pick up our grandson Jesse who was going to join us for a few days camping. We stopped for a night in Canandaigua New York where we did some banking and walking on the Eire Canal towpath. the Eire is still a working canal.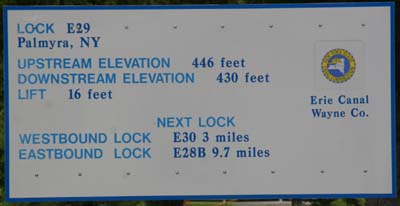 Do you remember the song about Sal.
Low Bridge, Everybody Down
(Written by: Thomas Allen in 1905)
I've got a mule, and her name is Sal,
Fif-teen miles on the Er-ie canal,
She's a good ol' worker and a good ol' pal,
Fifteen miles on the Er-ie can-al,
We've hauled some barges in our day,
Filled with lum-ber coal and hay,
And ev'ry inch of the way we know
From Al-ba-ny to Buff-a-lo OH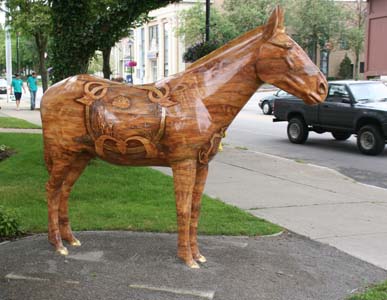 The Erie Canal was kind of exciting for an old De Witt Clinton graduate.
We camped for the night at an Ohio.reststop which has electric and water hook ups for RV's and then at the Indiana Dunes National Lakefront. We walked on the Calumet trail for a short while but it was flooded so we walked down to the shore of lake Michigan. The highlight of our visit was seeing the old houses first displayed at the 1934 Chicago World's Fair known as "A Century of Progress". The historic houses which are part of the Park are being restored by private individuals who will be allowed to live rent free in them. Unfortrunately I didn't have my camera when we walked by the houses but if your interested you can see a few of them at http://members.virtualtourist.com/m/tt/8a7cf/#TL or you can visit the National Park Service Indiana Dunes National Lakeshre site http://www.nps.gov/indu/
In Madison we went to our favorite farmers market around the State Capital visited with Mike and Jennie, Leah being in sleep away camp, picked up Jesse and headed for Michigan's Upper Peninsula. The first night we camped in a rustic but scenic with hook ups county park right on the lake.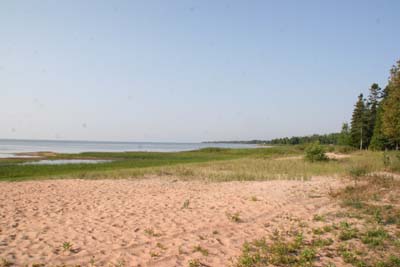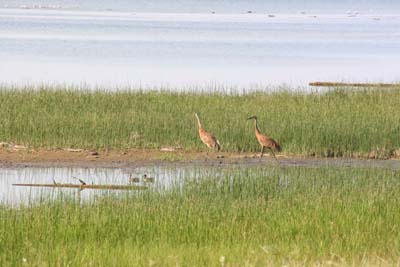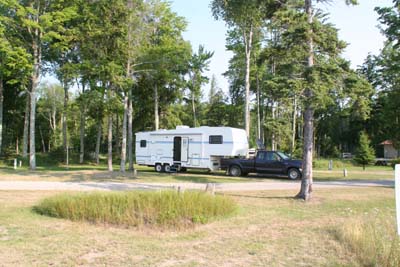 The next night we were off the UP and in Mackinaw City. which Debby and I had previously visited. We during our three day visit we had plenty of Mackinaw Island fudge and Ice cream. We also took Jesse to the restored fort that is an archeological dig, the restored saw mill and to Mackinaw Island for a visit to the old fort and a horse drawn wagon tour of the island.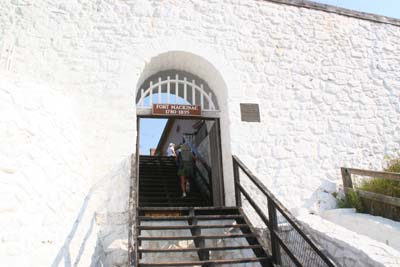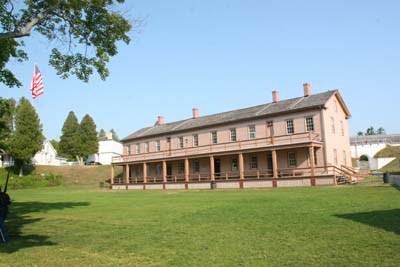 Notice the Sysco truck being offloaded on the dock. No motorized vehicles are allowed on the island.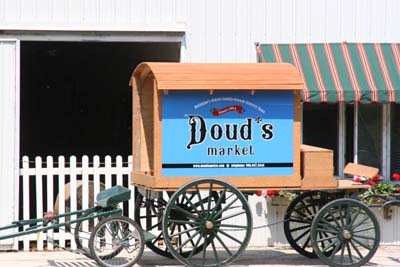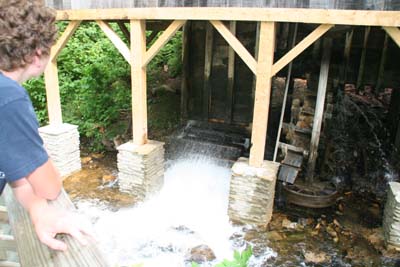 From the shores of Lake Huron (Mackinaw City is on the straights of Mackinaw and therefore on both Lake Michigan and Lake Huron while the campground we stayed at is on Lake Huron. we went to Lake Superior. We camped in Munising which is near Pictured Rocks National Park. We visited the park, took a hike and took a glass bottom boat to see some of the wrecks at the bottom of Lake Superior. The wood in these centuries old wrecks are oak preserved by the cold lake waters and worth hundreds of thousand dollars. The area however is a historical preserve so any attempt to salvage the wood would result in a stiff prison sentence.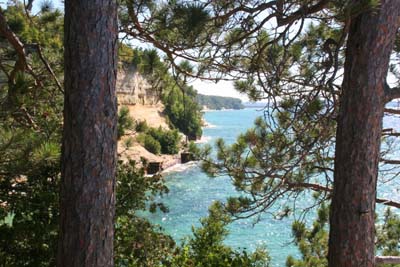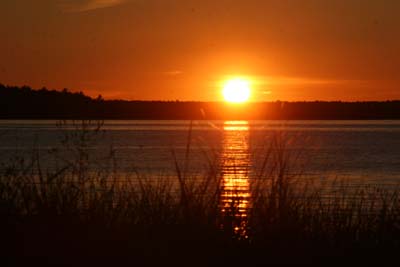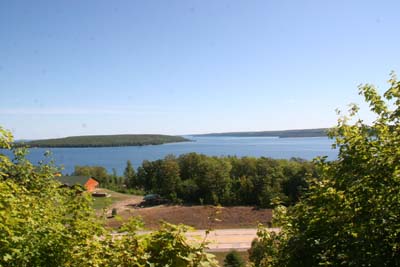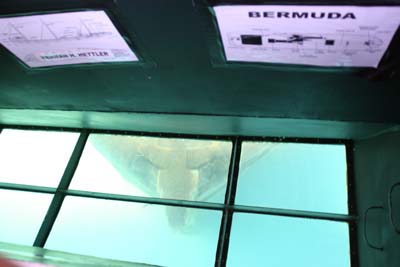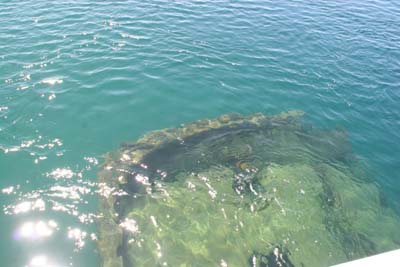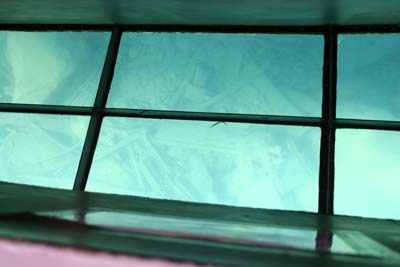 We sampled the goods at the local Dairy Queen and Muldoon's Pasties which are reported to be the best on the UP of Michigan.Wikopedia has a definition of a pasty but be careful because it is also a small circle that covers part of a women's anatomy. http://en.wikipedia.org/wiki/Cornish_pasty the pasty,( incorrectly written as pastie) is a type of pie, originally from Cornwall, United Kingdom. It is a baked savoury pastry case traditionally filled with diced meat, sliced potato and onion. The ingredients are uncooked before being placed in the unbaked pastry case.[1] Pasties with traditional ingredients are specifically named Cornish pasties. Traditionally, pasties have a semicircular shape, achieved by folding a circular pastry sheet over the filling. One edge is crimped to form a seal.
The vowel 'a' in pasty is 'pure' (IPA /?pæsti/, /?p??sti/). Thus, "pasty" does not sound anything like "paste." The exact pronunciation varies among dialects.
One of the days we were in Munising the truck wouldn't start so we hung around the campground. Two weeks later while in Northfield, N. J. we had the same problem and this time had to have it towed to the local Ford dealer for repair. We left the Munising Tourist Park campground and headed west to Porcupine Mountain State Park to rejoin Jesse's family. Jennie had made a campground reservation for a site on Lake Superior with room for both our trailer and their tent for two nights.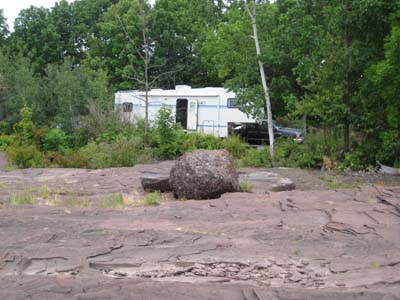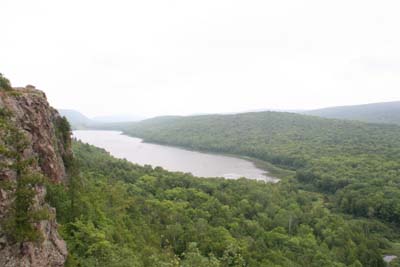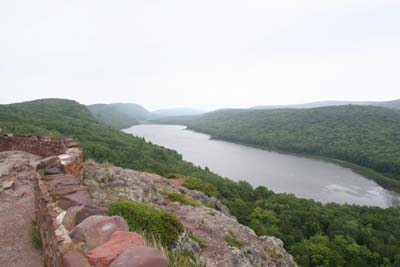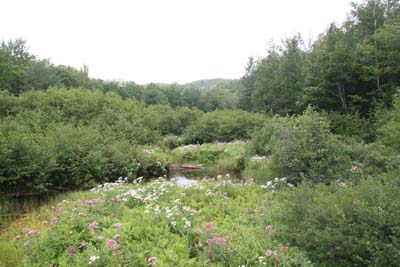 We went on several interesting hikes while there and then left Michael, Jennie and the kids and headed south. We stopped in Madison for dinner at Applebees and dessert at Culvers before driving through Chicago to Elkhart, IN for a total of 525 miles. We slept the night in a Flying J gas station south of Chicago going through late at night and avoiding the heavy traffic.
We staid in Elkhart for several nights and had some repairs done to the trailer before stopping for several nights in Streetsboro Ohio for a visit to Rv friends and Cuyahoga Valley National Park.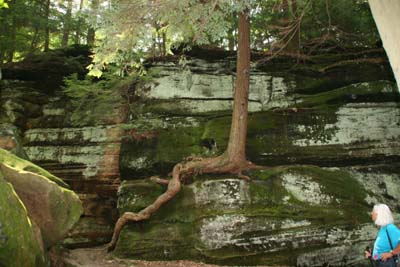 Tribute to the CCC
From there we continued to Norhtfield NJ and a dismal week of rain. We did however go out to dinner with an old friend, searched for geocaches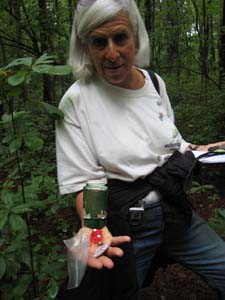 and did some shopping at the Atlantic City outlets.Since AC had been home to the Miss America Pageant for many years the sidewalks in front of the outlets had plaques honoring the respective winners. Since Debby and I grew up in the same neighborhood as the 1945 winner we went looking for her plaque. Bess Myerson was the first Jewish and first college graduate to win the contest. Her plaque repeated a quote that was printed in the Newark Star Ledger in 1987, which we found to be an interesting reminder of the climate in America at the time."During the 1945 Miss America Pageant, we contestants listened to endless tales of former winners, and were involved with sponsors who discussed glamorous plans for the new Miss America …. But when I, a brassy New York Jewish girl won, I was never invited there, or to the country clubs that were to have held receptions for me. The clubs were restricted --- no Jews…So when officers of the Jewish Anti-Defamation League suggested that, instead of riding at the head of parades, I make personal appearances speaking out against bigotry and prejudice, I accepted" Sunday Star Ledger, Parade magazine, 2/1/1987

We left Atlantic City for Stratford Ct to baby sit when Susan returned to work. After the week we needed to get away from our baby-sitting job and the driveway for the Labor Day weekend. We were going to go to my brother's in the Bronx as he was away in Vermont. Instead I found a State Park with one site still open near my daughters. Needless to say I booked it. On our way we saw signs for a Jewish Festival in Litchfield, CT for Sunday and Monday. When we got to Lake Waramaug SP in New Preston, CT we found our phones and internet card didn't't work and a gorgeous lake with a very pretty State Park but the only hiking was on the road or up a mountain. Luckily Debby found a private Wildlife Refuge in Litchfield with hiking so we thought on Sunday we could go to the festival and hike at the Refuge. Turned out that the festival was held on the refuge grounds. We had a nice 5-mile hike in the woods through several different habitats. We didn't't see any wildlife but did warn some geocatchers to beware of Muggles. After a pleasant talk with them we went to the festival.

Although not advertised as such the local Chabad sponsored it. They had a stage with entertainment several tables with books, records, games, Judaic gifts and artwork, craft tables for the kids. festival shirts and food. Debby and I had a knish, wasn't't bad but not like the old ladies including Debby's grandmother used to make in our youth. The craft tables included Shabbat candle holders for the girls to paint, plastic Jewish stars to fill with colored sand, dough for making challah and with a small pizza oven and rams horns for the making of Shofars. On our way back to the car we met some Jews and played a few rounds of Jewish geography before returning to the campground.
On Monday we climbed a rather rugged mountain trail to see some exquisite views of Lake Waramaug before returning to Susan's Driveway and our baby sitting chores.