Canyon De Chelly is in the Navaho Reservation and only has an unattended no fee campground along with several lodges and motels but we don't stay in lodges or motels. We occasionally did when we still had the pop-up but haven't considered it since getting the fifth wheel. If we did, we would have to do something with the trailer. The problem with a no fee campground in an area known for car break-ins is that the outside storage doors on the trailer are not very secure. I jokingly claim that you can open them with a piece of cardboard. Furthermore, when someone warns you to lock your valuables out of sight, you put them in the trunk but pickup trucks don't have trunks.

In the final analysis, after visiting, I think the Ranger was either exaggerating or repeating a dead issue. None the less we took all our visible possessions out of the truck, left the trailer in the Holbrook KOA (Kampground of America - a relatively high priced but consistent product chain) and drove the 120 miles to Canyon De Chelly. Obviously we had to get up early in order to catch the 9 AM half day Canyon tour. The timing was even more complicated by the fact that Arizona doesn't do Daylight Savings Time and is on Mountain Time; while, the reservation is on Daylight Savings Mountain Time an hour earlier.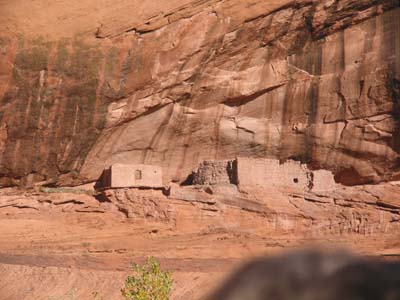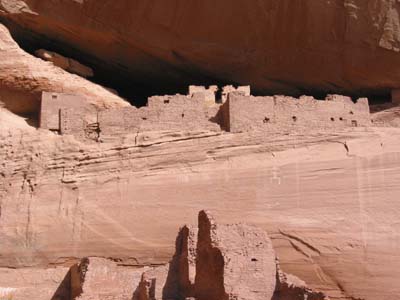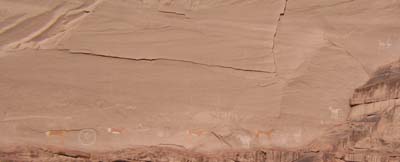 Navaho's still live and farm or ranch in the Canyon, mostly in the summer when it's warm. In the winter they move back to the surrounding towns. The Canyon looks like a large river bottom and/or dry wash and probably has some flooding in the Spring. There are no roads so horseback and off road vehicles are required. the Canyon has been occupied by Native Americans for many years predating the current Navaho occupation. The crumbling pueblos built into the canyon walls and the petroglyphs, which I hope are visible in the lower left, are the canyons main attraction and the reason for its National Park designation.
On the trip back to Holbrook we stopped at the Hubbel Trading Post National Historic Site, which is still a functioning trading post as well as a National Historic Site. At one time John Lorenzo Hubbell and his sons had 30 trading posts located in Arizona and New Mexico along with farms, ranches, freight lines and warehouses. Hubbel was well respected and a friend to the Navahos. Hubbel believed that if he prospered so would his Navajo neighbors. He learned their language and treated them with respect.
From Holbrook we went to Homol'ovi Ruins State Park just outside Winslow, Arizona.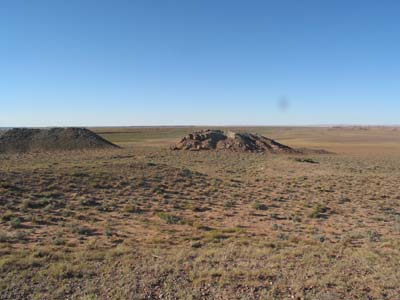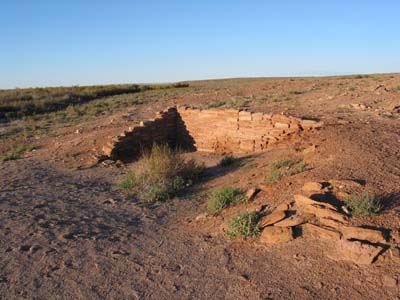 While this looks like desert and is, it is also Little Colorado River flood plain and has been hospitable to man for thousands of years. There are seven locations were ancient puebloans related to today's Hopi's built and abandoned large communities, some with over 200 rooms. Four of these Homol'ovi I-IV are in various stages of excavation.
Homol'ovi is close to Winslow, Arizona which some have called Homol'ovi V. In addition to Native Americans, Mormons built and abandoned a fort between 1876 and 1880 on what is now the Homol'ovi Ruins State Park . They left behind a small cemetery which is protected within the Park.
Winslow itself was once a thriving railroad community which went into decline with the decline of the railroad and the rise of Route 66. Route 66 known as the "Mother Road" went from Chicago to California and thrived before the Interstates were built. Some of you "Liberals" and historians might remember a favorite son, Richard Kleindeinst a former Attorney General who resigned rather then fire the special prosecutor who ended Richard Nixon's Presidency. Now, it is known for some lines in an Eagle's song "Standing on the corner in Winslow, Arizona". Don't ask me! but some Winsloans have dedicated a corner and put a statue there in the hope of increasing tourism.

Actually it's not so far fetched as Winslow is still centrally located for visiting Petrified Forest National Park, Moon Crater and the Hopi Mesa as well as the Homol'ovi Ruins. A group of entrepreneurs have even renovated the La Posada Hotel in the hope of attracting tourists.
The hotel was designed by Mary Coltor and run by the Fred Harvey Company for the Santa Fe Railroad.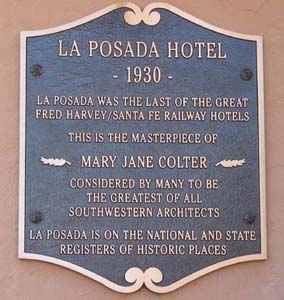 It seems that the new owners attracted a West Coast chef of repute so we couldn't resist and went for breakfast, my favorite meal. We were not disappointed. The gourmet breakfast was one of the best we have had. The chef recreated several popular dishes from the Fred Harvey days. "A deep dish with two eggs covered with ingredients and baked in the oven. These dishes were popular in the east during the early part of the 20th century and spread to the west through railroad stops."
I had the Boilerman-two eggs, breakfast sausage, onions,red and green peppers, potatoes and Jalapeno jack and cheddar cheeses. and Debby had the Santa Fee - two eggs, black beans, corn, peppers,squash, tomatoes,Jalapeno jack cheese and roasted corn salsa. And then we shared a Walnut Cranberry French Toast - three thick slices of orange, cranberry walnut bread topped with warm compote of fresh peaches and nectarines, topped with whipped cream. At first the chef had difficulty obtaining fresh ingredients in Winslow but he overcame the problem with overnight shipments and now has fresh ingredients like any big city. The Turquoise Room, as it's called after the private dining car on the 1936 Super Chief that ran between Los Angeles and Chicago in 39 hours, is offering special meals for the holidays. A buffet for Thanksgiving, a candle light dinner for Christmas Eve, a Dickens English Christmas Buffet Dinner for Christmas Day and a New Years Eve Dinner Dance.
We would come back because the price is right and the food probably superb but Winslow is in Northern Arizona and high desert. It's cold with a chance of snow. Maybe you can tell, I have become snow averse not to mention that Winslow is a long drive from were we will be in Southern California by the holidays (or are as I write this).
After breakfast we went back to the campground, hooked up the trailer and drove back to Flagstaff. We passed Moon Crater but it looked like rain so we passed it by for a return on a later and rainier day.