On June 8, 2009 we hooked up and continued about 90 miles east to Dinosaur Provincial Park. Upon arrival we walked the introductory trail, and looked into the badlands (click the picture for a
large image and click to return)
drove down into the "ditch" got a spot in a fantastically scenic campground and later walked the loop road.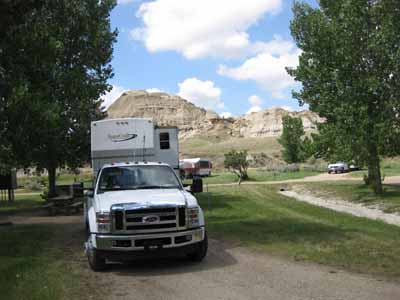 As you can see by the clouds we didn't have the best weather, this unfortunately affected the tours into restricted areas of the park that were reserved for legitimate researchers and our walks in the unrestricted areas. We did get to see both the terrain and several dinosaur exhibits. In several areas dinosaur bones were not entirely removed and are displayed in situ (as found) with structures to protect them from the elements.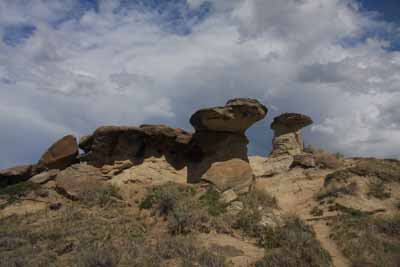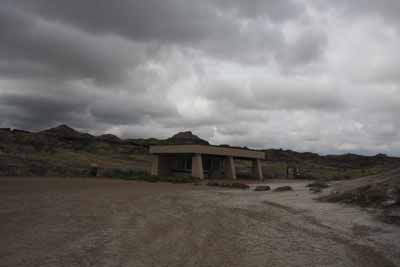 Many of you who like us grew up visiting the Museum Of Natural History on 79th Street in New York have seen dinosaur bones or replicas from this park before, as most if not all, including I believe, the big T- Rex, came from here.
click the picture to see a bigger image that you can read
*Note the Provincial government had moved a Expatriate American's cabin to the park from elsewhere in the Province. John Ware was a successful respected rancher and a former slave from South Carolina who came to Canada on a horse drive several years after the Civil War. We toured his cabin, read about him and his family and I thought I had taken pictures but can't find them. I am hoping I have them at my daughters and will update this post when I return to visit her. http://en.wikipedia.org/wiki/John_Ware
We left the park on July 10th heading East and stopped for the night in Swift Current, Saskatchewan a nice little town with a pleasant walking path.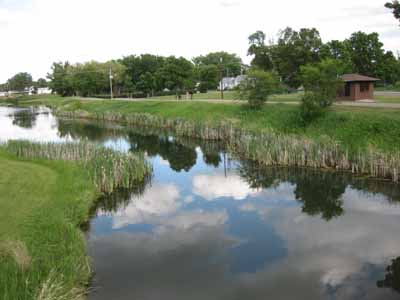 The next day we drove to Estavan also in Saskatchewan and camped in the Woodlawn Regional Park a nice family park not far from the U.S. Border in North Dakota. We walked, went for Dairy Queen and were going to go to a play in a theatre in the park but a heavy rain storm changed our plans. In the morning we drove the short distance to the border at North Portal and Portal, had our trailer and passports inspected, were scanned by some large contraption and continued on our way to Abraham Lincoln State Park just outside Bismarck, ND
Table of Contents (our entire web journal)