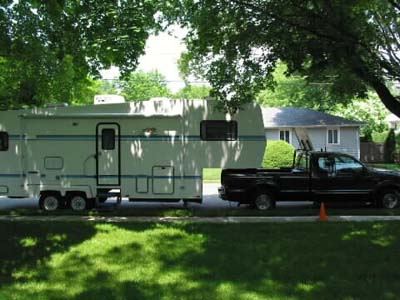 Debby and Charlie Yaker in front of the home we owned in Fair Lawn, N.J. when this journey began on July 15, 2002
Listed below are links to our latest trip, The Table of Contents for all our trips and the photo gallery
During our travels I took many pictures some which help tell the story are on the following pages other additional photos are at

Neither site has advertising or anything for sale.

Where we went after July 15, 2002 by year
On April 18, 2021 while still in our Boynton Beach Condo we had an
Encounter on the M Canal
In Chronological Order.
At the end of November 2005 our daughter-in-law Caryn, Richard's wife died shortly before her 37th year. Fortunately ever since 2002 when we started traveling cross country in our RV two of our three trips out west ended in California and we spent some quality time with Rich and Caryn. Words cannot describe our feelings of loss and sympathy for Richard and Caryn's parents, Myrna and Paul as well as her grandmother and brother. ( Myrna and her mother have since passed on) It's not supposed to happen like that. None the less life goes on and in 2011 after we left California for the East Coast, Richard met a lovely young lady, Jennifer Gaynor and they were Married on May 19, 2013.



In Loving Memory of Caryn Amy Shalita Yaker, December 19,1968 - November 26, 2005