On Tuesday we left California and went to Las Vegas and 110 degree temperature. Why I don't really know. On Thursday July 3 and our 56th wedding anniversary we visited Debby's cousin and her husband to meet for the first time and talk genealogy. This cousin is the daughter of the cousin we visited in Thousand Oaks earlier in our trip. Then we went to dinner at what has become one of our favorite restaurants Lotus Siam. The have moved to a new nicer location but have the same great food. Upon moving Yelp started their reviews from scratch but they are back up to 4 1/2 with 1100 reviews. They take some reservations and then walk ins and there is usually a line up at the door,. We called to late for a reservation but went early so we had no wait. By the time we left the entrance was already crowded and the line was building.

On the Fourth of July we just hung around as we did on the 5th. Hanging around in Las Vegas when the temperature outside is 110 degrees means sitting indoors with air conditioning and in the pool. We still try and get our four mile walk in daily so early in the morning we drive over to the Clark County Wetlands and Preserve. Notice the contrast but it is an enjoyable walk and occasionally we have seen wildlife.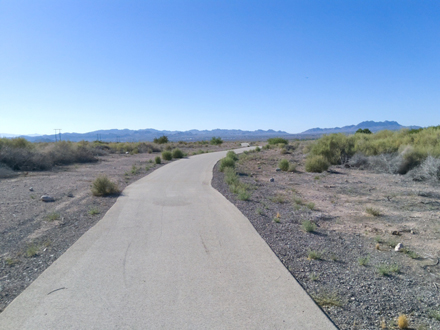 On the evening of the 5th we drove to Menchie's for frozen yogurt. While there Richard called and asked if we had felt the earthquake from the same spot in California as on the fourth. On the fourth while sitting in the trailer it began to shake. I thought it was wind but upon going out side it was hot, windless and muggy. Shortly thereafter Richard called form Topanga and asked if we had felt the earthquake from Ridgecrest. We responded in the affirmative and I realized maybe thtat's why we had come to Vegas and 110 degrees. Before deciding on Vegas I considered Calico. a ghost town campground in Barstow which is awful close to Ridgecrest. We felt the first on the fourth but must have been driving this time and didn't feel a thing unless we did but couldn't distinguish it from the normal bouncing of the truck.

On Saturday night the 6th we went to Casa Di Amore a local Italian Restaurant that I think the ticket writer at the car dealership had told me about the last time we were in Vegas. Nice but noisy atmosphere with pictures of Vegas's early days hotels, billboards and some stars. Two bands of two people each playing one at the outside bar and the other in the restaurant. Nice meal with stuffed with cheese garlic bread. I would have order a second but Debby didn't want it and I didn't want to have it alone.

On Sunday we packed up and drove to the Escapee Co-op in Congress, AZ. It was hot but not as hot as Las Vegas. Congress is actually high desert not that it maters when the sun is beating down. We went for gas and got a real low price in a new station trying to establish itself and then we walked in the park. The next morning we drove the car over to the weighing team followed by the a return in a few minutes with the truck and trailer.We then returned to our spot to eat breakfast before driving on. Our weight was down considerably since last time as expected because of our change of status (full to part time) but our height according to them was 13'9" an increase of 3". This concerned us and I believed it was related to the new air conditioner. When we got to Spacecraft in Missouri we had it measured again . I don't understand the discrepancy but I'll trust the people at Spacecraft. That is until I take the air conditioner off in a 13' 6" tunnel. After breakfast we drove to Tucson actually Oro Vally and Catalina to visit our late daughter in laws father. We had a wonderful visit with him as well as her aunt and uncle. Her mother had passed away since our last visit in 2016 followed by her mother who was 104 at the time. It was hotter in Tucson then Las Vegas but we were able to walk in the morning.

We left the Wishing Well RV Park on and drove to Deming, New Mexico stopping for the night in Dream Catcher RV Park an Escappee park. It was too hot to walk so we went for gas and grocery shopping. Even though we have a functioning Refrigerator we shop often for produce.
The next morning we drove to Alamogordo, NM stopping at the White Sands Nationals Monument to check it out. From there we went to the KOA in Alamogordo set up ate an early dinner and returned to the Monument to watch the introductory movie and go on the guided evening walk. When the walk ended we spent some time talking to other people and never finished the 8 mile drive until the next day.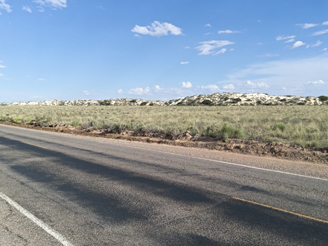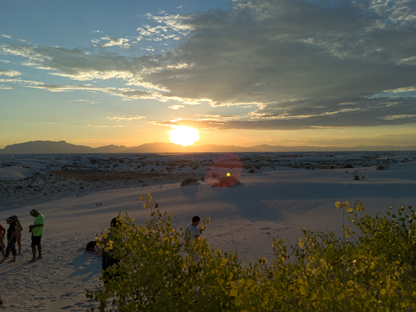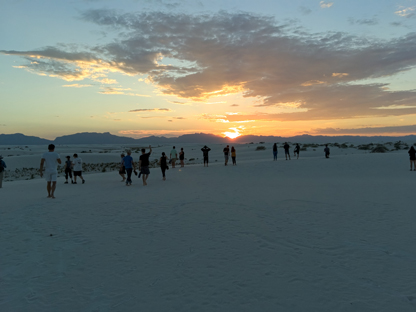 The next day we got up and walked to the small Alamogordo Zoo upon our return we drove to the Space Museum and then back to the Monument to finish the 8 mile drive.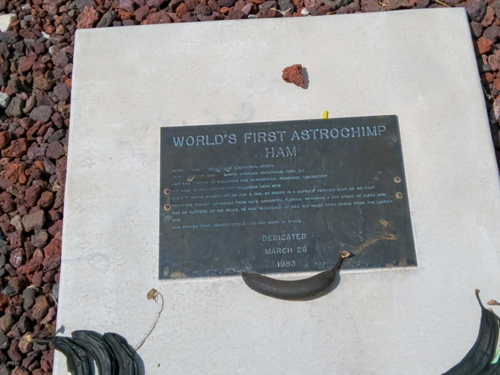 Ham the first Chimp to go up in the American Space program is buried here. One person left a rock while others leave bananas.


The next morning we hooked up and continued our trip east. We were planning to stop in Tucomcarrie, NM on old RT66 but while driving I saw an add or sign for Logan, NM's Ute Lake State Park. I had had a vague idea it wasn't to much further and turned out to be 25 miles past Tucomecarrie so we called ahead to check on spot availability. There was one so we went. It was a really nice park with lake access. That evening when it cooled a little we went for a walk and saw a deer.