We came up from Florida and went to Atlantic City for the Memorial Day 07 weekend. While in AC we went to several of our favorite Restaurants Doc's Oyster House which has been in AC since 1897 and Chef Vola a BYOB cash only Italian in basement of the owner's house not far from the Tropicana. The food in both restaurants is excellent and both have a 26 Zagates rating for food. The desserts at Chef Vola are home made and the highlight of the meal .One of our favorites restaurants was closed and another we like called Tomatoes in Margate was booked for the whole time we were there so we checked Zagats and found Lo Bianco in Margate it was also a keeper. We don't gamble but we do hang out at the beach and visit the great restaurants on the Jersey Shore. Some people collect antiques we collect restaurant experiences.
From AC we went to Mahlon Dickerson Recreation area in Morris County NJ about an hour from where we used to live in Fair Lawn. We met the neighbors,
visited with friends went to some more of our favorite restaurants, Park and Orchard in East Rutherford with friends and Hunan Cottage in Fairfield by ourselves.We also went HOME to the Amalgamated Houses for the final annual stickball game to see old friends. My brother was inducted to the Stickball Hall of Fame for his efforts to promote the game.Most importantly we had several annual doctors appointments and then we went to Susan's in Connecticut. We got there just in time to join Kyle and Susan in a false alarm run to the hospital. Ariel Barbara waited three more days and greeted us on Wednesday June 13,2007.
We hung out at Susan's for about two weeks and then went to Hammonasset Beach State Park about 50 miles north of Susan. When the kids were young we used to camp further up the Connecticut coast at Rocky Neck. For the life of me I cannot remember why we never came to Hammonasset before as it is closer to Co-op City then Rocky Neck and is a lovely park great for kids and adults as well.
After a few days at Hammonaset we went back to New Jersey and Turkey Swamp Park near Manalapan. Some friends had left Fair Lawn for a 55+ community in Manalapan and were having a house warming. From there we returned to Susan for a night or two to pick up some mail and then we headed west.
We first stopped in Hyde Park so that we could spend our Anniversary at the Culinary Institute of America (CIA).The student's run the restaurants. There are four restaurants, two American, one Italian and one French as well as a café.With this visit we have been to all but the French restaurant.The cooking areas are open and viewable, the students talk readily about the school, their education and future aspirations. It is' really great theatre as well as a nice night out. Students cook, wait tables and serve as maitre d's but not bartenders. In the kitchen they are supervised by a chef professor and by another professor or instructor in the dining room. The food is very good and prices are competitive if you are into wine I understand they also have an excellent selection.
For years while we lived in Fair Lawn we talked about going to the student run restaurants at the Culinary Institute of America (CIA) for one reason or another we never seemed to make that trip. Then in 2003 while traveling out west we went to their Napa Valley restaurant which unlike the restaurants in Hyde Park is professionally run . None the less it rekindled our interest so in December of 2003 when we were back in Fair Lawn we went to the Italian restaurant Catherine De Medici for my birthday.
RISTORANTE CATERINA DE' MEDICI
ITALY'S AUTHENTIC FLAVORS IN A MAGNIFICENT TUSCAN VILLA SETTING
A 2004 recipient of the prestigious Ivy Award, Ristorante Caterina de' Medici is located in the beautiful Colavita Center for Italian Food and Wine. Its á la carte menu features seasonal ingredients and authentic flavor combinations of this much-beloved cuisine, as well as a diverse selection of Italian wines, beers, and aperitifs. The restaurant has five distinct dining areas, from the Joseph P. DeAlessandro main dining room with its Venetian chandeliers and brass sculptures, to the casual Al Forno Dining Room with its antipasto bar, wood-fired oven, and views of the kitchen.
When we arrived we saw that the kitchen was open and the student's cooking activities could be watched. We immediately asked to be seated where we could watch, although the area was used for walkins and we had reservations they accommodated us. Why people with reservations wouldn't prefer to see what was going on is beyond me. For us at least half of the enjoyment at a CIA restaurant comes from watching and talking to students.The food was excellent, we had an interesting conversation with our waiter and thoroughly enjoyed watching the student cooks prepare our meal and everyone else's as well. As a result we came back in June for Debby's birthday and went to St Andrews Cafe.
ST. ANDREW'S CAFÉ
FLAVORFUL FARE IN A FAMILY-FRIENDLY SETTING
The award-winning St. Andrew's Café offers bold and flavorful contemporary fare in a casual, family-friendly setting. The a la carte menu of salads, sandwiches, wood-fired pizzas, and main entrées emphasizes fresh, seasonal ingredients. Light sparkling beverages and ciders are a refreshing complement to the innovative cuisine prepared and served by CIA students. Outdoor dining is available in season.
In June we came earlier then we had for the first visit and went to FDR's'library, home and grave site as well as Eleanor's house across the street. These are also in Hyde Park and are operated and preserved as part of the National Park Service. Yes they had separate homes while he was still alive and after his death Eleanor made Val-Kill her home.
Val-Kill is the 180-acre retreat approximately two miles east of Springwood, the Roosevelt family home in Hyde Park, that ER loved dearly. Two buildings sit adjacent to Fallkill Creek. Stone Cottage, the original cottage and home to Marion Dickerman and Nancy Cook,(friends of ER) and a large two-story stuccoed building that housed Val-Kill Industries and which would become ER's home after FDR's death. In 1977, after a prolonged community campaign, President Jimmy Carter signed a proclamation making it the Eleanor Roosevelt National Historic Site, the only historic site dedicated to a first lady. In 1984 the Eleanor Roosevelt Center at Val-Kill negotiated an agreement with the National Park Service and made Stone Cottage its home.

This time for our anniversary we went to American Bounty
AMERICAN BOUNTY RESTAURANT
HUDSON VALLEY REGIONAL CUISINE
The wealth and diversity of America's cultural heritage is brought to life by the imaginative cuisine of this student-staffed restaurant located in the CIA's main grand building, Roth Hall. A recipient of the prestigious Ivy Award, the Bounty features regional specialties prepared with ingredients harvested from the riches of the Hudson River Valley.
and watched the deserts being made while we enjoyed our Roasted Wild Striped Bass 26. Scallop Ceviche, Light Tomato Sauce, Greens. While watching the desserts being prepared Debby noticed that one of the cookies on the Flourless Chocolate Cake and Rich Mousse, Almond Crisp, Chocolate Rum Sorbet was made with a sesame seed cookie. She spoke to the maitre d, a student and he kindly discussed the situation with the pastry chef another student and they made a separate dessert for me without sesame. The dessert included the flourless chocolate cake, rich mousse , chocolate rum sorbet and a sliced strawberry. It was delicious.
On the July 5th we came for breakfast at the Apple Pie Bakery Cafe
APPLE PIE BAKERY CAFÉ
SUMPTUOUS BAKED GOODS AND CAFÉ CUISINE
Located just inside the main entrance of Roth Hall, the Apple Pie Bakery Café showcases the talents of the CIA's baking and pastry arts students and faculty, and features sumptuous baked goods and café cuisine. The full menu is available for takeout or to enjoy in our relaxed, reservation-free dining area.
We both had french toast, coffee and shared a big chocolate cookie. All the bread and pastries served at the restaurants and cafe are made by the bread and pastry school students. Although these classes are at the school they are not observable or if they are we don't know anything about it. I guess we could investigate next time we are there. As a bread baker I might enjoy that experience.
When FDR was planning to donate his home to the National Park Service he also convinced a Vanderbilt niece who couldn't sell her uncle's mansion to donate it as well. She did and took the tax deduction which was greater then she was asking for the property. On this trip we visited the Vanderbilt Mansion National Historic Site, in terms of architecture, interiors, mechanical systems, road systems and landscape, is a remarkably complete example of a gilded-age country place, illustrating the political, economic, social, cultural, and demographic changes that occurred as America industrialized in the years after the Civil War.

There is another mansion in the area which was owned by the Mills Norrie family.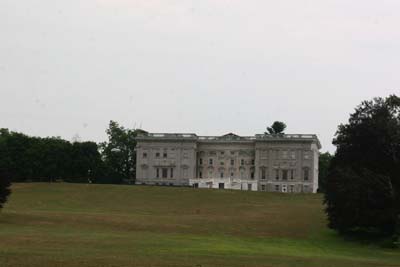 This is operated by the State of New York as part of the State Park which includes a marina and the campground we stayed at. They also have cabins at the park (there may be electric in the cabins but no facilities) for people who prefer cabins to motels or want a more rustic experience when they visit the area although not all campers and cabin dwellers visit the area attractions.
There are some other abandoned buildings at the park such as stables, the neighbors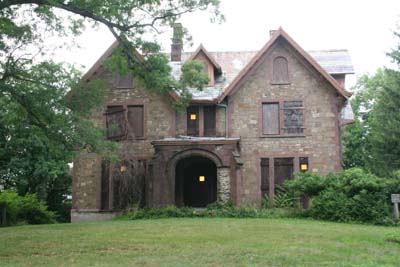 water pumping buildings and old stone fences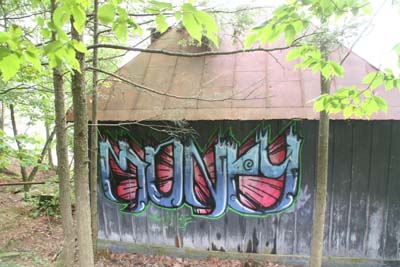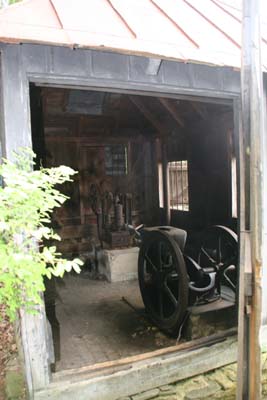 We continued west into the Catskill Mountains where we camped for a few days at Mongaup Pond a state park we had wanted to try during our tenting days but never did.(sorry about that kids it was a really nice place)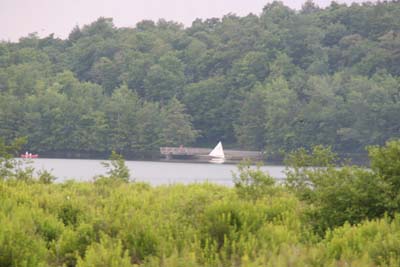 I Googled the Catskills in the hope of finding someplace Jewish to visit or write about as I am the editor of a Jewish interest newsletter for an RV'ers organization we belong to but but came up empty. The Catskills of my youth are gone although over 200,000 Orthodox Jews go there every summer. One hospital recently began special training for its staff so that they could accommodate their patients special needs. While I did not find any place to visit. There is a web site that may interest some you. A group of scholars have created a Catskill Mountains Institute to study the over 100 years of Jewish culture in the Catskills and its impact. Check it out some time it has plenty of information. . THE CATSKILLS INSTITUTE An Organization to Promote Research and Education on the Significance of the Catskill Mountains for American Jewish Life http://catskills.brown.edu/
Remember those menus and meals and that was lunch.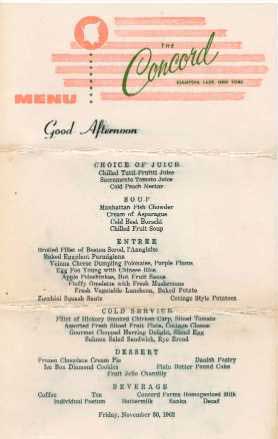 From the Catskills we went to the Finger Lakes
After leaving the Catskills Debby and I continued heading North to Lake Cayuga in the Finger Lakes. Our first stop was TAUGHANNOCK FALLS STATE PARK just out side Ithaca, N. Y. The falls, which drop 215 feet, are quite photogenic and provide a moderate to strenuous climb to the upper viewing location. During our tenting days we camped there with the kids
During our previous visit we took some videos. In one, Michael was dancing on stone tables constructed by the CCC. This last partial table is all that's left of the many tables they had built, although several walls, overlooks and buildings remain.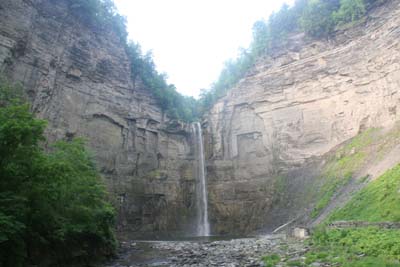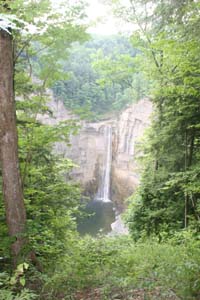 After hiking up to the falls and going on a Ranger talk-walk (we were her only attendees)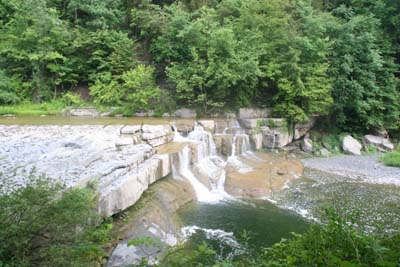 and lying on the beach for a day or so we continued North along the western shore of Lake Cayuga and camped at Cayuga Lake State Park right outside Seneca Falls, NY. You may remember Seneca Falls from your history or civics classes as the location where the Woman's Suffrage movement began. The falls are gone they were eliminated by the building of the Erie Canal but there are other things to see and do. The Finger Lakes are known for their grapes, just appoint a designated driver before you sample when you visit the wineries. The Montezuma Wildlife Refuge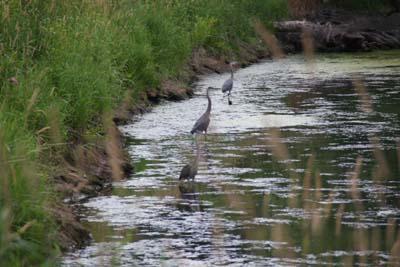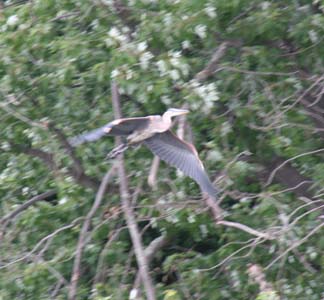 is also there and presents a pleasant opportunity to walk and hopefully observe wildlife.We also went to Krebs a legendary restaurant that serves family style meals. It wasn't as good as we remembered and any way we don't eat that many courses of prime rib, fried chicken and Lobster Newburg any more.
The men and women of Seneca Falls created the National Women's Hall of Fame in 1969. A visit will give you the opportunity to remember the inductees who became famous in our lifetimes and learn about some who preceded us.It's great for those with girl children and grandchildren to expose them to all of those great female roll models. There there are great women from all religions, races and every walk of life. Some you will be familiar with and others may surprise and educate you about history. Inductees from Bella Abzug to Lucille Ball,Pearl S. Buck ,Rachel Carson. Eleanor Rosalynn Carter, Hillary Clinton and most importantly Eleanor Roosevelt,Shirley Chisholm, Anne Oakly and Georgia O'keefe as well as Sandra Day O'Conner, Muriel Siebert, Beverly Sills,Bessie Smith,Margret Sanger and of course Elizabeth Cady Stanton,Rosa Parks,Harriet Tubman, Rosalyn Yalow and Mildred "Babe" Didrikson Zaharias just to name a few of the 217 Inductees with 11 more to be inducted this year. You may even have a name you would like to but into nomination. For those of you who prefer visiting on the web the hall even has a web site. http://www.greatwomen.org/.
From the Finger Lakes we went to the Adirondacks.