Day 3 drive to Dauphin, MB and Day 4 drive to The Pas,MB------Day 5 drive to Thompson, MB, ----- Day 7 - 10 Churchill, MB and the Polar Bears ----- Day 12 drive to Grand Rapids, MB ----Day 13 -15 drive to and visit Winnipeg
Start of Trip to Churchill, Manitoba, Canada to see the Polar Bears, September 30,2012
While our formal trip with Fantasy RV began at the end of September our trip or pretrip if you will began earlier in the month when we picked up our grandson Jesse at the Westchester County Airport. Jesse had flown in to see us and his Aunt Sue before going into the Army. We picked Jesse up at the airport on September 12th . Westchester County is a small airport and not very friendly to a large truck like ours. On Thursday 9/13 we left Croton Point park and drove to Susan's in Connecticut. On Friday Debby, I and Jesse got on a MetroNorth train and went to Manhattan, We walked in Central Park, went to the Museum of Natural History, World Trade Center Memorial and had dinner in China town before returning to Susan's. On Saturday Debby, I, Jesse, Susan and the kids went Apple picking to a small pick your own apple farm in Fairfield County, CT. On Sunday we all went to Debby's brother Gabe for Rosh Hashana where we saw her brother, sister-in-law niece, nephew, their spouses and children. On Monday we had Roch Hashana dinner at Susan's and my brother Ed joined us. Tuesday Debby, Jesse and I went on the road to bring Jesse back to Wisconsin and us to Dunseith, North Dakota for our trip.
We stopped the first night in Pennsylvania and the second in Ohio near Cuyahoga Valley National Park After setting up the trailer we went to the Park and walked along the tow pathl showing Jesse some of what is left of the locks along Ohio's defunct Eirie Canal . From there we went out to dinner in a rather pleasant restaurant that Debby and I had eaten in before. The next day we were planning to stop at the Indian Dunes National Lakefront but we got near there early in the afternoon and I convinced everyone we should continue on through Chicago to Madison. Big mistake. It took us two hours to go ten miles. We arrived at Token Creek, our campground in the dark. By the time we set up it was 9 PM. Jesse's mother and sister came to pick him up. Debby and I had salad for dinner and crashed. On Saturday morning we met Jesse and his girl friend at the Madison Farmers Market where we consumed our favorite hot pepper bread and cream cheese chocolate muffins. We usually buy produce but since we would be going into Canada in a few days we skipped the produce.
That night we met Jesse, his girl friend and our granddaughter Leah for dinner at a TexMex restaurant and the next morning we had breakfast with them again this time joined by our son Michael at the truck stop. The breakfast there is pretty good. The next day Debby and I went to Costco and Trader Joe's shopping and then met Jesse and Leah at the Blue Plate Diner for dinner one of our favorites in Madison.
The next day Tuesday Debby and I hitched up the trailer and headed North West. We were planning to stop in the Twin Cities of St. Paul - Minneapolis but decided to travel further so that we could meet our friends at Devil's Llake in North Dakota. They were staying there for a few days prior to going to Dunseith for the trip. On Wednesday we drove to Devil's Lake to the campground that they were staying at 4 miles in on a very dusty road to the lake which since August 1992 has risen 29 feet. People have lost homes which couldn't be moved and there is a lot of construction as they raise the road beds to accommodate the rising lake.
The next day we and our friends went site seeing. We visited Fort Totten, no not the Fort Totten in Whitestone that used to be a Nike Missile base and where I served my last years in the Army Reserve. This Fort Totten is one of the oldest Army bases in America, although no longer active. First it was used to control Native Americans then it was used as a school to teach and acculturate them. Today it is a North Dakota Museum with a B&B on the property.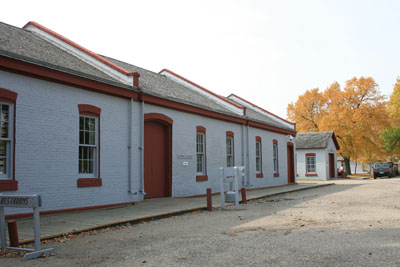 Photo By Steven Krauss
From there we went to the Scully Wildlife Refuge where we saw Elk and Bison followed by a nice hike in the refuge before we returned to the campground.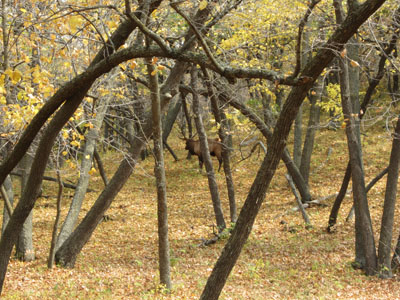 On Friday we all got ready to finish our journey to the International Peace Gardens in Dunseith,ND. At that time I noticed that the front tires on the trailer were wearing unevenly on the inner surface. Not comfortable with heading into Canada on those tires I told our friends to continue without us and I located a Goodyear tire dealer in the town of Devils Lake. Several Hours later with two new Goodyear tires on our trailer we followed them to Dunseith arriving before them as they stopped for lunch and we don't do lunch. We drove past The US Border station and into the park or garden, if you prefer, without entering Canada as the Garden entrance is on the 48th Parallel between the two countries.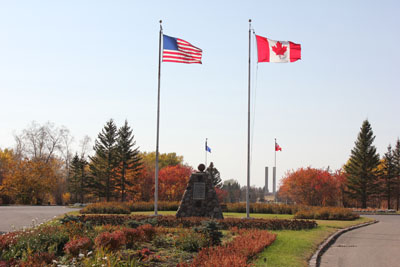 Photo By Steven Krauss
The campground; however is clearly on the US side of the border. We made sure our telephone carriers AT&T and Verizon Wireless were aware of this as we had no desire to be charged because a Canadian tower relayed our signals. We stopped at the office and paid the fee for two days camping. Campgrounds during the trip were covered with our trip payment but since we had arrived ahead of schedule we had to pay for those days on our own. Sites in this park are non reservable ,on a first come first served basis. when we arrived there was another Fantasy Polar Bear Tour in the park which cut down our site choices. None the less we found an excellent site and immediately unhooked the trailer and went exploring. We saw parts of the park near the campground and found this old CCC oven hidden in the woods.
The next day we and our friends went to Lake Metigoshe State Park for a hike where we saw several beaver dams and one beaver.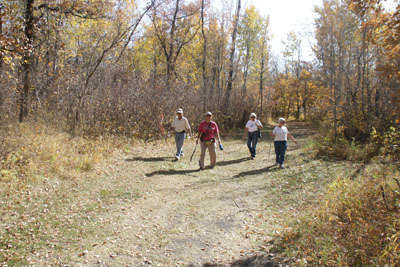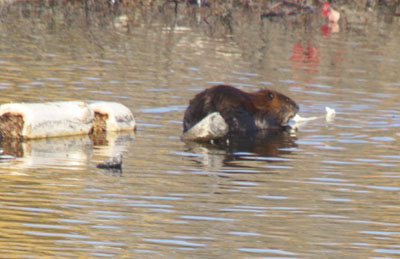 On the way back from the park we went to a creamery for ice cream. While we were disapointed as the creamery was closed on the weekend we did get to see the Dunseith Turtle. Since this area on both sides of the boarder is known as the Turtle Mountains both countrys are proud of their turtles.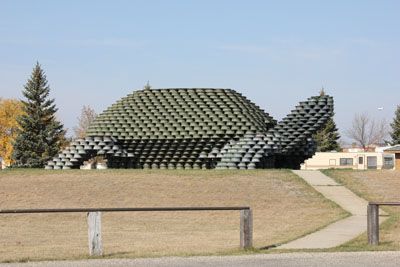 Photo on left by Steven Krauss
We then proceeded to visit Mystical Horizans a modern day stone henge type outdoor display.
The next day Sunday was the official arrival day with a brief gathering scheduled for 4 o'clock. We took advantage of this to ride into Canada to visit Boissevain the nearest Canadian town. We went through customs,showed our passports told the officers where we were going and drove several miles to the town of Boisevain. Upon arriving we were surprised as nobody had told us everything in town was closed on Sunday, actually it looked like a ghost town. So after driving around looking at murals on the sides of buildings we drove back towards the border stopping to walk in Turtle Mountain Provincial park before returning to the Peace Garden for our four o'clock introductory meeting.
By the time we got back mostly everybody had arrived and settled in. We met in a lodge adjoining the campground. After the Wagon Master and Tail Gunner introduced themselves all the participants did the same. The trip guide was given out and the Wagon Master reviewed the highlights of what we could expect.. Refreshments; wine, beer, coffee, tea, and nosh were all available. We were all seated at six person tables and each group of six spent the time getting to know each other.
The next Day Monday, October 1st Debby, I and our friends Marci, Steve, Walter and Sylvia went on a hike into the woods surrounding the park. We had met Marci and Steve some years ago and traveled with them on several occasions including the trips to Australia _ New Zealand and South Africa. We met Walter and Sylvia on the South African trip.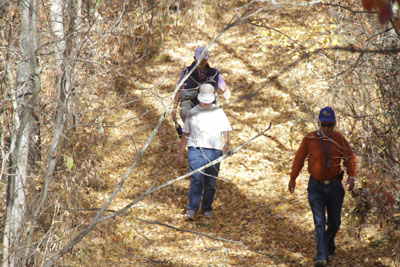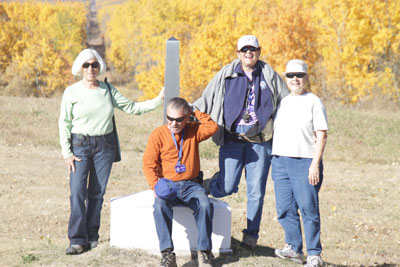 Steven Krauss
When we got back to the campground we carpooled to the formal part of the Garden where we met one of the park officials who took us on a tour of the park. Unfortunately we arrived at the gardens after a frost so the flowers and flower arraignments were not in bloom. In fact most had died none the less she explained the history of the garden and took us to several areas including the central fountain. towers, chapel and World Trade Center Memorial.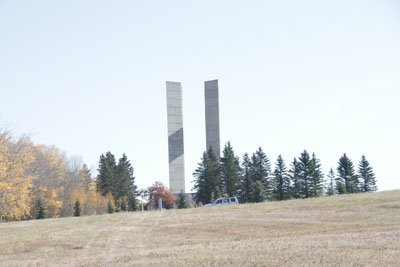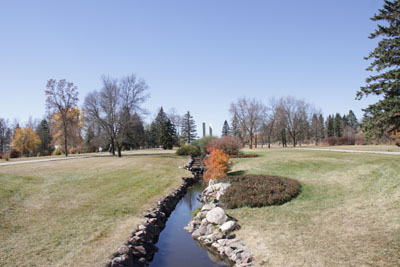 The towers you see in the pictures are not the World Trade Center Memorial which consists of several steel beams from the original buildings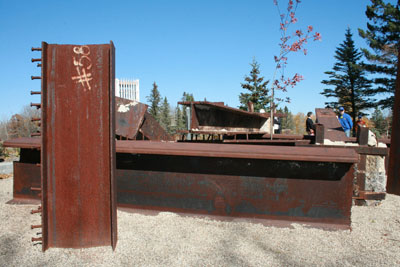 Photo by Steven Krauss
She then passed us off to another staff member who took us to the North American Game Warden Memorial Museum. This museum is dedicated to Game Wardens who were killed in the line of duty. Each State and Province has a plaque memorializing those wardens whose lives were lost.
Debby and I stradling the Border between the US and Canada
After the tour we had a few hours in between and then we met for a home made Lasagne dinner in the lodge where we further got to know each other and reviewed our travel plans for the next day including start time and departure procedures.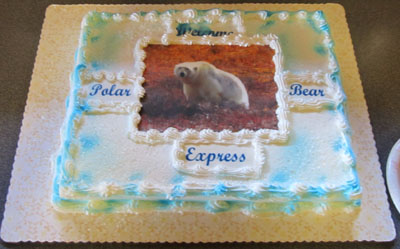 Top of page----- Day 3 drive to Dauphin, MB and Day 4 drive to The Pas,MB----- Day 5 drive to Thompson, MB, ----- Day 7 - 10 Churchill, MB and the Polar Bears ----- Day 12 drive to Grand Rapids, MB -----Day 13 -15 drive to and visit Winnipeg