Start of Trip and International Peace Gardens ----- Day 3 drive to Dauphin, MB and Day 4 drive to The Pas, MB ----- Day 5 drive to Thompson, MB, ----- Day 7 - 10 Churchill, MB and the Polar Bears ----- Day 12 drive to Grand Rapids, MB
Grand Rapids, MB to Winnipeg, MB 242 miles
We left Grand Rapids early the next morning without even sampling the Tim Horton Donuts and drove to Winnipeg. We drove through several towns and began to realize that buildings and services were increasing. At mile 232 we entered Winnipeg's suburbs where populations and traffic increased markedly. We headed for the Red River Exposition a combined fairground and race track. After filling with water with the wagon masters hose at the bathhouse we were guided into our back to back spot in a large parking area with 30 amp electric hook ups. Debby and I drove to the corner where there was a Tim Horton hoping to get on the internet. After a donut and cup of coffee it became apparent that Tim Horton's Internet was unfriendly to Macs. The last time I had been on the internet I had learned that there was an Apple Store in Winnipeg so we headed out to find the Mall, Apple Store and the internet. For those of you on PC's Apple stores don't descriminate and if you need a place for free internet give Apple a try even after hours. We both collected our e-mail and then checked out some local restaurants. when asked, a couple of Apple reps gave us the heads up on a great Thai Restauran called Sukhothai. That night two trucks with four people each set out to find this restaurant. Big mistake it was in a downtown location that was more conducive to cars. We lost the other truck in one of our turns, stopped two blocks too soon by a misreading of the GPS, parked in a crowded Safeway that probably would have had my truck towed had I stayed too long. After walking the two blocks and finding the restaurant I thought better of leaving my truck in the Safeway lot so I walked back, drove to the restaurant and fortunately found a closer spot as someone pulled out. As usual we had a great meal. It seems that each Thai restaurant we go to has distinct choices featuring different flavors. You would think Thailand was as big as China with as many regions. None the less we have always enjoyed these meals.
The next day a bus with a tour guide picked us up at the Exposition for a tour of Winnipeg. First stop The Leo Mol Sculpture Garden features the work of internationally recognized artist Leo Mol, born in Ukraine in 1915. Mr. Mol moved to Winnipeg in 1949. He donated this collection of sculptures, paintings, drawings and ceramics to the City of Winnipeg. The Garden was officially opened in Assiniboine Park on June 18, 1992 in the presence of Mr. and Mrs. Mol. This was a lovely park and impressive body of work. this was followed by a bus tour of the city's neighborhood which included a stop at the St. Boniface church in the French section. Next on the itinerary was a stop at the Manitoba Legislative building which was not in session and an introduction to The Fossil Hunt. the Legislature's interior walls are comprised of Tyndall Limestone which contains fossils from Manitoba's ancient seas. The hunt consists of a search for 17 fossils that are spread throughout the interior of the building. We didn't have enough time to see more than a few of fossils but it was cute and interesting none the less.
Next we were dropped off at The Marketplace for lunch on our own. (although because of the problems with the meal in the Shell station our Wagon Master prevailed on Fantasy's Manager to give each couple $20 Canadian for lunch) Yup you guessed it. Winnipeg's tourist trap. When the bus let us off at the Market Place, Debby and I walked up the hill about fifty yards to the Oodena Celebration Circle http://en.wikipedia.org/wiki/The_Forks,_Winnipeg#Oodena_Celebration_Circle We don't eat lunch and we had been in Winnipeg on our way to Alaska in 2005 so we knew what to expect. None the less it was still an interesting site we wanted to revisit. We walked around the Circle read some of the things carved in the walls, took a few pictures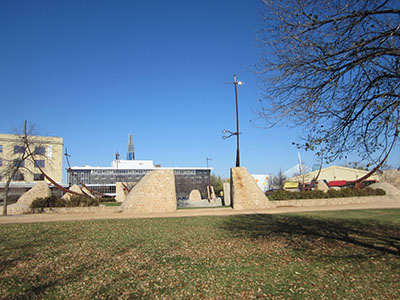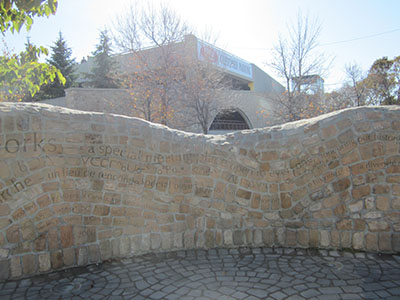 and then walked to and over an old railroad bridge which is now part of the path in the park. From the center of the bridge I also took pictures of the confluence of the Red and Assiniboine Rivers which can be seen from that location. We walked to the end of the short bridge turned around and came back where I took pictures of the "Spirit Within" a 10,000 lb. granite rock with a sculpted face which looks like a bison.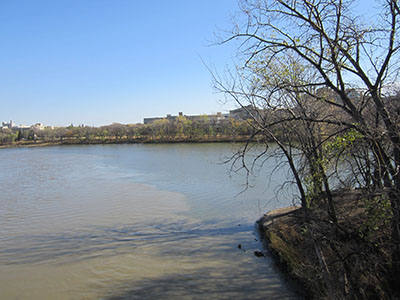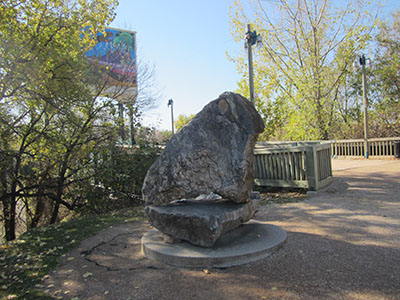 We then went for a short walk around the park past a kids playground and the stage where a multi costumed group were preparing for a charity walk ( it was a Canadian version of our Make a Wish Foundation so we gave them $10 of our $20) and proceeded around back to the Market Place. In the Market Place we had time to walk around look at the wares have some coffee and cake and still meet the bus for a short very short ride to the Museam of Natural History. In the Museam we were treated to a guided tour of that portion of the museum dedicated to Manitoba , history, geology, anthropology fauna and flora. Of course we bought some gifts for the Grandchildren in the gift store, probably made in China.
We will have to put a visit to Winnipeg on our To Do List. from the Marketplace one can see an awesome building going up.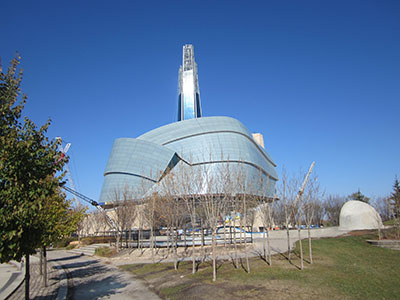 The Canadian Museaum of Humasn Rights.
http://humanrightsmuseum.ca/about-museum/mandate-and-values
(For those of you who have read Asimov's Foundation Trilogy this may be a Harry Seldon repository to house the history of man's strugle for freedom and human rights that will be here when the dark period ends)
The bus returned us to the Exhibition Center for a brief rest before taking us to a local German Restaurant for a Buffet final dinner. The next morning we had coffee and donuts at the Wagon Masters Rig, said our good-bys and headed for the border.
We along with several friends stopped at a campground in Grand Forks,ND for the night. There were about four couples and we were joined by two others, (veterans) that had stopped at the local Air Force base, for dinner at Olive Garden. The next day we headed south while our friends went back to Devil's Lake to pick up stuff they had left in storage. We continued on to Concordia, Missouri for some trailer repairs before continuing to Arizona and California.
Start of Trip and International Peace Gardens ----- Day 3 drive to Dauphin, MB and Day 4 drive to The Pas, MB ----- Day 5 drive to Thompson, MB, ----- Day 7 - 10 Churchill, MB and the Polar Bears ----- Day 12 drive to Grand Rapids, MB ----- Top of page Day 13 -15