Miliwane Wildlife Sanctuary, Swaziland to Kruger National Park,South Africa, Berg-en-Dal Caravan Park185 KM 115 Miles March 18, 2011
We left Millwane Wildlife Sanctuary in Swaziland following the Wagon Master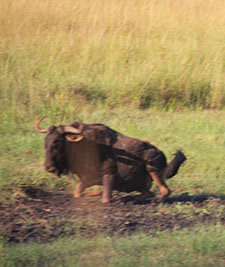 first to the Ngwena Glass Factory and then the boarder with South Africa. The glass factory collects recycled glass, melts it down and then, using glass blowing techniques, produces a variety of products for the home and tourist trade. While interesting in general there was nothing that appealed to us as we certainly weren't going to buy and take glass back with us. The drive this day was similar to the drive on the preceding day. Swaziland is a somewhat pretty country, this days driving brought us to it's highest point, Piggs Peak with it's own Casino Hotel, tourist crafts center, quaint shops and and restaurant none of which did we stop at but continued to the border. After completing the departure procedures in Swaziland. We went back into South Africa at a different location then which we had entered. Swaziland is completely contained within South Africa like an island. Our Passports duly stamped and we drove approximately 40 Kilometers to Kruger National Park.
Kruger National Park is larger then the Nation of Holland but more importantly for us it is malaria country. Luckily we had been taking our medications for several days. I don't believe it was mosquito season. This didn't mean we couldn't get bitten but the odds were reduced and to my knowledge neither Debby nor I was bitten and if we were the mosquito didn't leave a very itchy calling card. We drove into the park through the Malelane Gate and continued to the Berg-en-dal camping area. We grabbed a campsite,
put out our chairs to mark our presence and went out into the park on a self drive. We saw giraffes, 2 rhinos several impalas an elephants and several birds including a Toucan.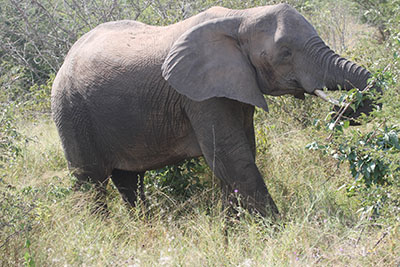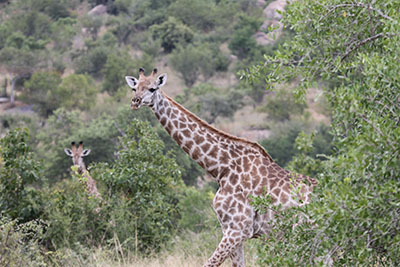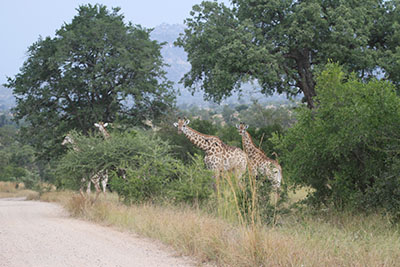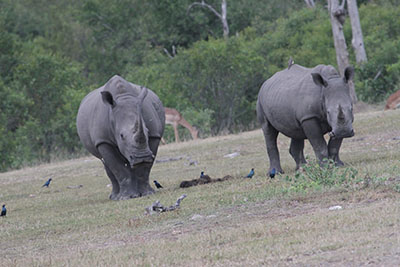 The guide book suggested that leopards hung out at a particular location so we drove over. While looking for leopards, a park ranger showed us a male lion on his smart phone and indicated that it was just up the road. So we slowly drove up the road and got some fantastic photos of a male lion up close and personal.
At that point we called it a day and returned to the campground. That night we went out to dinner in the park restaurant, service was slow but dinner was OK.
The next morning we got up early, went to the reception center and went out on one of the parks jeeps with a tour guide while it was still dark. Just out the gate several of us saw a stalking leopard for a brief instant in the glare of hand held spot lights we had been given for the ride. Unfortunately by the time the driver stopped and backed up the leopard was gone. The lion we had seen the previous night was still stalking the road. Once daylight broke we saw antelope, elephants a giraffe and a rhino before going back to camp.