The next day after briefing we drove to the Pinnacles and saw a magnificent canyon and a small water fall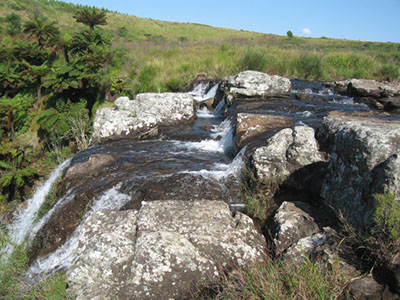 from there we proceeded to God's Window parking lot. After a short hike up through a rain forest we were able to stand at the edge of the canyon and look at a panoramic view of the Lowveld about 900 meters (984 yards 10 football fields) below us.
Continuing on our journey for views of the Lowveld we went to the Three Roundavels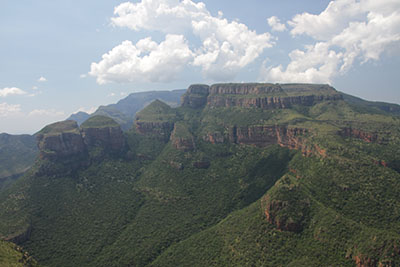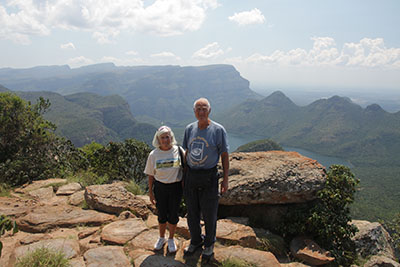 From there we went to Bourkes Luck Potholes.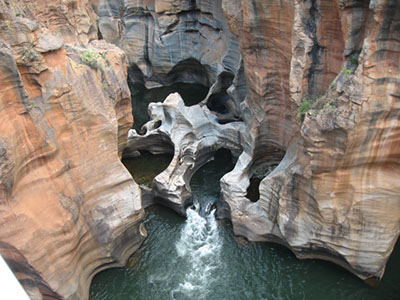 We saw some beautiful scenery, lots of pretty rock formations and lots of water flowing in interesting ways. before returning to Graskop.
We also took a lot of pictures of the Pinnacles, God's Window, The Three Roundevals and Bourkes Luck and Potholes too many to display here but the link in the above picture will take you to our linked Lowveld Album. There is a link in the album description that will bring you back to this page or you can stay at the gallery and see all or some of our other albums or just exit.
After parking the rig in the Holiday Park we walked into town where I was able to get on the INTERNET and check my mail. We also visited the silk shop where they showed Debby the silkworms spinning silk We went to Harry's Pankake House, I had a chocolate mousse pankake and Debby a spinach feda cheese pankake along with our food we had a very nice conversation with some of the South Africans in the restaurant. We returned to the campground for happy hour although we don't drink we did sit and talk with our trip-mates. That evening we went to a nice Pub for dinner and since the town felt safe we walked back to the campground in the dark with only some street lights lighting our way.