Addo National Park to Mountain Zebra National Park 222Km 138Mi
When we got up the next morning in Addo we went to the Watering Hole, where we had seen a family of elephants the evening before but there was no activity. After the daily tour briefing we left on the drive to Mountain Zebra National Park. As we exited the Addo NP we saw a whole herd of Elephant to our left. While driving we stopped at a small roadside farm selling refreshments and preserves. I learned that we were entering the Karoo, at the time I had no idea what that meant other then it is the largest undeveloped part of Africa. I have since looked it up on Wikipedia http://en.wikipedia.org/wiki/Karoo
"KarooThe Karoo (a Khoisan word of uncertain etymology [1]) is a semi-desert region of South Africa. It has two main sub-regions - the Great Karoo in the north and the Little Karoo in the south. We were in the Little KarooAs the name implies, the Little Karoo is the smaller (and more southerly) of the two Karoo sub-regions. Locally it is usually called the Klein Karoo, which is Afrikaans for Little Karoo. Geographically it is a fertile valley (bounded on the north by the Swartberg, and on the south by the Langeberg and Outeniqua mountains). Although the boundaries of the region are not strictly defined, most people consider the western limit of the Little Karoo to be in the region of Barrydale and the eastern extremity around Uniondale.The main town of the region is Oudtshoorn. Other towns/settlements in the region include Ladismith, Calitzdorp, De Rust,and well-known mission stations such as Zoar, Amalienstein, Barrydale and Dysselsdorp.This area was first explored by European settlers in the late 17th century, who encountered only Khoisan people living in this rather dry area. Modern farming methods have brought productivity and wealth to this district."
I think the wealth the entry refers to seemed restricted to South Africans of Europeans extraction which suggests a European Southg African wrote the Wikipedia entry.
The country is a rocky mountainous region the contours and terrain remined me of Arizona. Unlike Southern Arizona which is a desert the Karoo is semi arid and quite green. During this days drive we drove through a rather depressed obviously poor city stopping for our friends to shop in the town grocery store which had rather limited selection befor finishing our trip to the park. Upon arrival we drove passed several Vert Monkeys before checking in. After finding a spot in the campground we went on a self drive up onto a plateau. On the the drive we saw several Hartebeest, Spring Bok, Duiker Deer, Water Buffalo many Zebra and even a troop of baboons.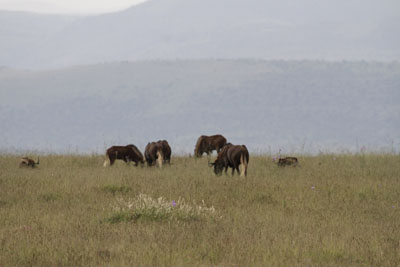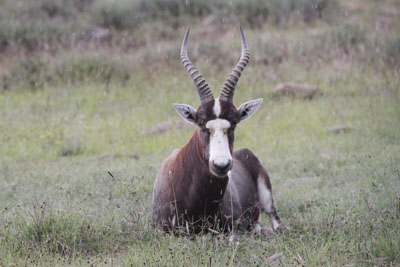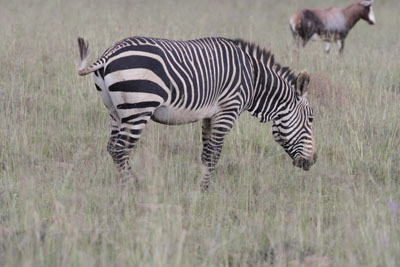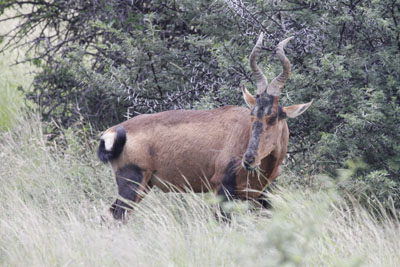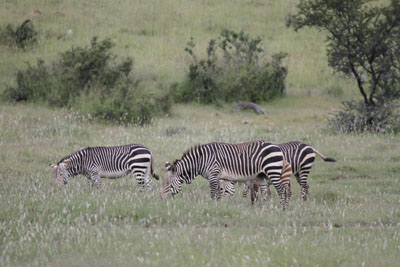 Unfortunately the Baboons were in rather high grass so we only saw their heads. Again just before the campground we passed through a troop of Monkeys. After relaxing for a short time, we wanted to hike but all the trails were closed. About an hour later we went up to the Joint Restaurant, Reception area, and were visited by a group of teenage dancers from the depressed town we had driven through and they performed several traditional Zulu dances for us. When the dancers were finished with a very good performance we went into the restaurant for a nice buffet dinner.