Our 2011 Trip East
We returned from our South African trip on April 1st just in time for Passover. We wanted to goto the beach for a few days after our return but the weather didn't cooperate so we hung around Valencia, CA for several days. Our walks in Valencia brought us to a local park that had a ceramic bear with pictures of famous people and local celebrities. You will notice the picture of a family on the ceramic celebrating a Bar Mitzvah. Sorry we don't know when or who but thought it cute.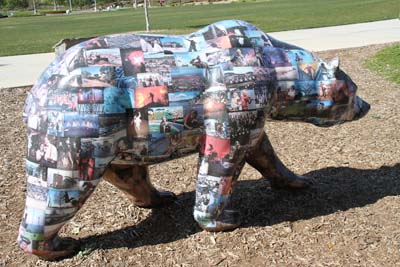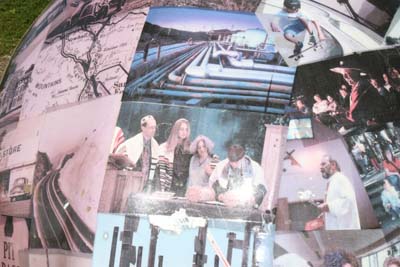 We left Valencia for a previously made reservation at Dockweiler in El Segundo where we planned to spend Passover. Our Wisconsin grandchildren, our daughter, her husband and two children along with my brother joined us for the week and seders at Richard's. After Passover our grandson Jesse hung around when everybody else went home and we spent several days with him including a post Passover meal at a famous LA, NY style deli and a visit to the Grammy Museum with Jesse and Richard.. After he left we had a few more days tying up loose ends and on May 3rd we left Dockweiler and headed East. That evening we spent the night in Ehrenberg, AZ and continued to
Camp Verde, Az for two weeks .While camping at Camp Verde we also visited the nearby Sedona, AZ area.
Williams, Arizona where we took a day trip on the Grand Canyon Railway to where else but the Grand Canyon. Debby didn't care for the ride but I did as I wasn't driving and the Grand Canyon is always spectacular.
Monument Valley
The Four Corners and Mesa Verde National Park
Pagosa Springs, Colorado
Santa Fe, New Mexico
Taos, New Mexico
Gunnison, Colorado and The Black Canyon of the Gunnison National Park and the Curricante Recreational Area
After Madison, WI for our grandson Jesse's graduation party. When we left Madison we were headed for a few days at the beach in Atlantic City but never got there. First we broke down coming out of Chicago and then limped into a Ford dealer in Indiana who couldn't help before the July fourth holiday so we limped to a campground we had stayed in when we were having work done by the Company that assembled our truck and took the truck to another Ford dealer. After several days the dealer informed us that he couldn't find anything and sent us on our way. We broke down again several hours later and limped into on of our favorite campgrounds in Streetsboro, Ohio and called several dealers, chose one and brought in the truck. They found a problem and thought they had resolved our problem and we tried to go on our way. Wrong. Less then a mile from the campground the problem repeated itself so we drove back to the dealer truck trailer and us. This time they found the problem with the oil pump but had to lift the cab to get at it. We spent one night at the dealership and then got a big tow truck to take us back to the campground. This time they fixed it but we spent our anniversary and the Fourth of July in the campground, walking in the Cayuga NP, Metro Bike Path and going to several very good restaurants on of which has a 25 rating from Zagat and the other owned by another highly zagat rated restaurant in Cleveland. When the truck was finished we left there and headed east. Several days later we were in Croton Point park where we spent the remainder of the summer before going to Susan's for the Jewish High Holidays.